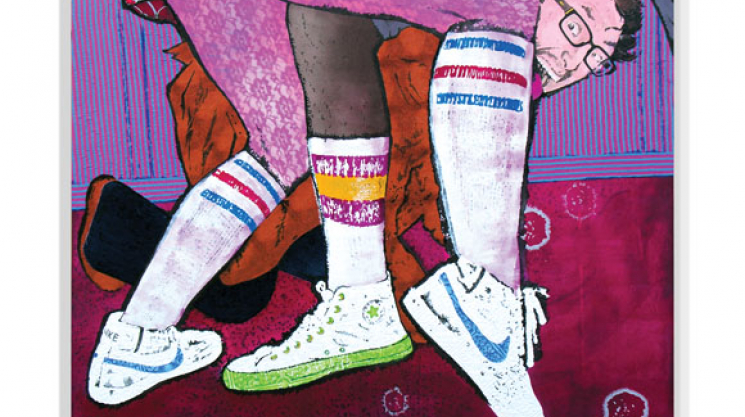 Thu, 05/10/2012 - 01:30 by Douglas Haddow
LATITUDE 53 CONTEMPORARY VISUAL CULTURE,  EDMONTON, ALBERTA.
Founded in 1973, by a collective of Edmonton artists, Latitude 53 lives in an old brick building that was once a dairy creamery. It's a not-for-profit artist run centre, lead by executive director, Todd Janes, and program officer, Robert Harpin. Latitude 53 is Alberta's leading contemporary art centre. It creates and promotes thought provoking local, national, and international visual art, as well as being involved in research and education. A haven for artists willing to take risks.
The gallery is in downtown Edmonton. Can you tell us a little more about it the neighborhood?
Centered on 104 St., just two blocks east of here, it's seen a lot of exciting changes in the last few years. For a long time, Edmonton's downtown famously seemed empty, mostly due to competition from suburban developments, especially the West Edmonton Mall. And of course, the winter cold. But things are changing, quickly.
I've heard the gallery is huge. Can you walk us through the space?
We have three gallery spaces. The big one, the Main Space, is just under 1000 sq. ft., and we program it with solo shows from Canadian and international artists, group shows with guest curators, and other projects, like 2010's National Portrait Gallery, which was a local initiative responding to the cancellation of the official project by the federal government. Next to the Main Space is the ProjEx Room, where we show a lot of works-in-progress, small shows and recent graduates. A lot of the work we show here is local, connecting to our community, but we have work from across the country too. Our last, and smallest, space is the Community Gallery. This is a new project, that started in the last few years, and we use it for a few things that all reflect our community involvement. Most often it's used by other community organizations that want to put a show together, and if we think they are for a good cause, we offer them sponsorship. Some of these we end up working closely on, and they can become a part of our programming, too. For the last couple of years we've also been programming mini-shows during the summer. That runs alongside our summer rooftop patio series, Just Beyond The Window, which is a fundraiser but also a big community celebration and meeting place each week.
With so much space how do you guys choose what types of shows to do?
We take submissions for the main space twice a year, and then organize a meeting of our programming committee who look at the work. The committee rotates from time to time, but some of our long-serving members are people who have been involved in Latitude 53 for a long time. Like our membership in general, they are a mixture of artists, academics and enthusiasts; people who are committed to the local community. Last year we had seven main space shows, almost that many in the ProjEx Room, as well as a few special projects, like site-specific work in public spaces, or our Summer Incubator Series where we showed works-in-progress from local, mostly emerging, artists in the Community Gallery. Alright, now the big question.
Who is your pick of artist to watch for 2012?
Jorden & David Doody. They are a collaborative artist partnership and will be showing in the largest room of Latitude 53 in August. And now a little from the duo themselves...
Jorden, David, when did you start creating art and what inspires you?
We began creating work as a full time collaborative in 2002, just after our son Joshua was born. It really was kind of unintentional. A DJ friend of ours asked if we would be interested in a live painting gig at a local club. I guess he was struck by the novelty of a young artist couple painting on stage, a two for one deal – hahaha, all for the sake of spectacle. But it worked out really well and we just stuck with it. Ten years later, we're still rolling. By far the most inspiring thing going, is living and working in Van City. We are surrounded by so many radical artists, who continue to encourage us to raise the bar. Being a part of this art community, part of this scene, is nothing less than inspiring.
Who are your heroes in art?
David: Jeff Koons and Bill Viola, one gets away with everything while the other tries to get away from every thing.
Jorden: Frida Kahlo. She was also married to a crazy artist and somehow survived.
Who are your heroes in life?
D: Arnold Schwarzenegger
J: Dr. Wendy Jacobson, the first woman on the moon.
When you guys aren't creating art what are you doing?
When we aren't making art, we are thinking about making art. It's a pretty consuming game, especially when you're sleeping with your studio mate. "Oooh baby, ooooh I love ya,…oohh and what do you think of that new shade of Cobalt Teal?…Ooohhhh."
What sort of artistic medium do you work in?
A medium is a pretty tight fit for two artists to work in, so we usually work in double extra large.
Haha, okay, so maybe I should ask what you would consider your clothing style?
Well, LookBook asked if they could photograph us at the Project trade show this year in Las Vegas, and then put us up on a big board titled, "Futuristic Tropical." Otherwise I'd say we're on the colourful side of hip.
What music do you listen to?
Do you listen to something specific when you are working? Our playlists shuffles pretty freely between Eazy-E and Edith Piaf. I mean come on, we grew up in the middle of the Canadian wilderness, why wouldn't we gravitate towards gangsta rap, sprinkled with a touch of mid-century Parisian soul, its only natural. As for when we're working, we don't necessarily listen to something specific. We try and keep it flowing with whatever the vibe might be. We listen to a lot of audio books; when you're in the studio together for 40 plus hours a week, for almost a decade, there are only so many times you can sing along with the Blind Melon discography.
So, did you both come from a crazy creative family?
J: My parents were pretty serious hippies from out east, who met deep in the forests of Vancouver Island, and then settled in the sunny Okanagan. My mom always made and dyed her own clothes, while my dad - a carpenter - built crazy houses to install my ma's stained glass windows. It's in my blood.
D: My Dad was a super cop, who moved from being a sniper for the Canadian version of SWAT, to the undercover drugs squad, and then to serious crime, focusing on unsolved murders. My mom ran an in-home daycare so she could spend more time with us. So I'd say yeah, fo shizza, they were hella creative!
Well… let's wrap this up. I mean everyone wants to know, do you have any pets?
Yeah, for sure! Two fighting fish, and, oh yeah right…two screaming children, Joshua Clearwater and Sierra Rain.
NICE.
The Doody's show opens August 19th. For more information, check out their website [twoartists.net]