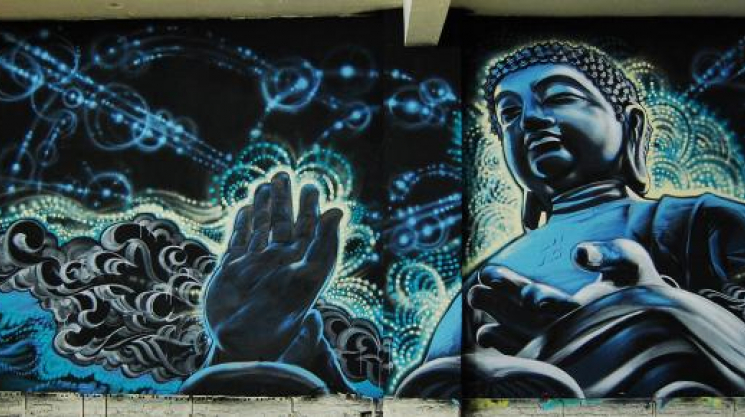 Mon, 07/15/2013 - 23:21 by Natasha Neale
Karyn Gray finds out she has a lot to learn when it comes to Montreal art scene legend Gene Pendon, known for live art installations and working with musicians, producers, filmmakers and art-minded street brands. Find out what she learned when talking to others, and the inspiring man himself.
Gene Pendon is a Montreal-based painter, illustrator and muralist. But if you're a 30 or 40-something-year-old Montrealer who was part of any number of scenes in the mid-nineties up until now, then you already knew that. Except for me, apparently. Shows what I know.
While Gene relayed to me a bit of his history as an artist, notably as the co-founder of Heavyweight Production House (HVW8) in 1998 and subsequently Heavyweight Art Installation the following year, I couldn't help but feel the slightest bit of familiarity. The picture he painted of Montreal at the time, touching upon the art, music, graffiti and skate scenes, has always felt to me like a Golden Age that I just barely missed out on, having moved to the city in 1999, and not really getting the lay of the land until a few years later. 
The scene he set was of a Montreal when graffiti had just blown up. When Shades of Culture graced the cover of the first issue of Vice, back when it was the Voice of Montreal. When Moog was a counter in the back of Science Records, and when people rocked out at Montreal favourites Jailhouse and Bifteck and Purple Haze. In fact, so much of what Pendon talked about was familiar that later that night I asked Revolution, from Shades of Culture, "Hey, do you know Gene Pendon?" With no hesitation he says, "Of course. He worked on the Mindstate album cover. Great guy, sick artist. Why?" Fair enough. Consider me schooled.
ION: Was being a professional artist something that you strove for consciously, or was it more of a snowball effect
Gene Pendon: There were always art materials around when growing up, so I grew up painting. I moved to Montreal as an art student, and stayed in the city working as a production artist for the film industry, and also worked in art education for inner city youth. I had also started a painting practice, drawing from early mural and street work, in the company of other artists from Montreal and Ottawa. Before the formation of Heavyweight Production House in 1998, I had formed another live painting crew that created art installations at festivals in both cities, and had just started participating in group exhibitions with the Montreal-based contemporary art gallery at the Saidye Bronfman Centre. 
The city of Montreal itself allowed me to emerge a practice as an artist, one that I later applied to the early stages of HVW8. At that time, in the early mid-nineties, being a uniquely creative city, there existed an appreciation in the arts, and the emerging DJ and club culture, and street brands. A lot of my illustration and painting work came from this environment, and grew into a professional practice with each encounter, including the formation of the Heavyweight's collective studios in '98. 
ION: So how exactly were HVW8 and Heavyweight Art Installation conceived?
GP: Around the mid-nineties, I had a studio in the Plateau area of Montreal, where I had been collaborating with Dan Buller and other artists, participating in group exhibitions, throwing loft parties and painting at live art nights. Later I formed a live art group with Dan and a few others, where we cut our teeth on the idea of live art as performance–creating free-form "happenings" of live creation¬–but had fun with it, getting stupid and wearing rubber wrestling masks and painting coveralls, and throwing paint around. It was loose, but it was in these performances that our confidence and chemistry started to develop and would contribute to the process in the HVW8 Art Installation tours. 
At the beginning of 1998, I met then graphic designer Tyler Gibney on a random client contract, where he hired me for a T-shirt design illustration. He had his office in the old Stornaway Gallery in downtown Montreal, where Dan and I had performed live painting years before. Tyler was designing concert T-shirts for clubs in the area, music marketing and designing for Vice when it was just a free weekly paper. He also had a publishing project called Heavyweight Sounds Magazine that he was getting off the ground. After out meeting, he offered for us to take over the empty floor above his office where we could start an art and design company. 
We moved in and formed a company partnership called "Heavyweight Production House". I brought my painting studio and equipment into the space, Tyler, his design office and turntables, and we invited fellow artists and designers to create a collective space. Our first year, we threw parties each month, selling beer to make rent, and featured all-star Montreal DJs, sold T-shirts, made club flyers and posters, and provided graphics for our friends' street brands. It became a drop-in spot for everyone from skaters who wanted deck and sticker graphics and DJs who needed album artwork, to clients who wanted murals. Graffiti kids would hang out and roll joints during the day, and sell us markers they had just thieved, and during our parties at night, Rastas, beat-boxers and MCs would take over the mics, and b-boys would come to cypher. All this activity added to our art form, and we'd have exhibitions and art openings in the space. Brian Armstrong, from our original collective drew an illustration of a local hip-hop group and wrote a shortened version of "Heavyweight" on a boom box in the drawing. It tumbled out as "HVW8". It was soon adopted for the company's website and as the enduring brand even today. 
By early 1999, we promoted our collective at the Montreal International Jazz Festival. The festival featured a venue dedicated to DJs and producers, a first for its mainstream programming, which in the past booked only live musicians. The program featured beat-makers, electronic and sampled music, house DJs and turn-tables, trip-hop and drum & bass, all of which were emerging movements in music in the nineties. We hung artwork in the venue during the festival, which evolved into a live painting installation where we would visually "sample" images and influences that related to the music. For the first Jazz Festival series, we drew from photo imagery of West African photographer Malick Sidibé, who had captured African pop culture in the sixties and juxtaposed it with improvised backgrounds that captured the spontaneity of the music and the live event. 
During that festival, one of the acts was Jake Wherry and Ollie Teeba, a.k.a The Herbaliser. They were doing a North American Tour later that fall with Roots Manuva and we approached them with the idea of taking what we had done at the Jazz Festival and putting it on the road, tagging along with them on their tour. They were open to the idea, and that's where the idea of a live art group began. Between Tyler, Dan and myself, we had all the elements of forming this new vehicle for HVW8 and coined it the Heavyweight Art Installation. We had a tour schedule of 24 cities in 28 days, plus two festivals, the CMJ in New York and the Coachella Festival in Indio, California. A month later, we came back to Montreal with a tour series and exhibited the work at the Saidye Bronfman Centre, and produced a catalogue of the work with a vinyl insert of two tracks from Kid Koala and Amon Tobin, with whom we had performed. That first festival and tour defined our activities and travels for the next five years, through the US, Puerto Rico, Europe and Japan. 
ION: What about painting in tandem with live music do you find so appealing or inspiring? 
GP: It's another dimension to creating paintings, in contrast to the method of studio work, for example. What was appealing for us in those first tours was the idea that a music audience could invest in the experience of the creation of the painting, in the same way as one would experience a music or theatre performance. The spontaneity of the live performance was part of the energy of the painting, leaving no time to second-guess brush strokes, lines and colours. 
ION: What are some of your most prized milestones as an artist? 
GP: Definitely having the HVW8 Art Installation in Juxtapoz Magazine, painting a mural at the Manifest Hope exhibition in Denver to support Obama's election, painting cover artwork for Earth, Wind and Fire and DJ Bobbito, and painting for the Adidas x Muhammed Ali Values project. 
Also being in a position to give back with my artwork to projects like the Steve Reid Foundation, a program set up by Giles Peterson in the UK, and most importantly, participating in a project in the city I call home, by honouring Canada's musical icon Oscar Peterson with a mural dedicated to his memory. It was created in the neighbourhood of Little Burgundy, where Oscar grew up in Montreal.