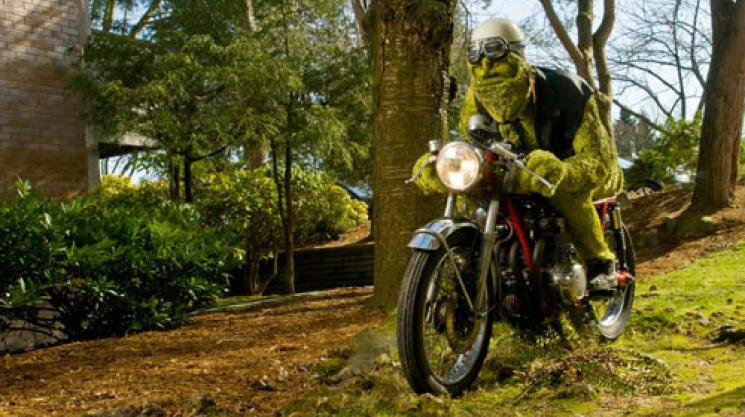 Wed, 11/18/2009 - 00:00 by AltaGrade
Perched above that little slab of Main Street where Mount Pleasant greets the Downtown Eastside, a young man is working (and drinking) industriously amid a camp of artists known as the Cartalera Talent House. It is here in his ghoulish grotto that Danny Vermette awakens the misunderstood souls of a paradise lost: creatures furry, frozen and towering as high as eight feet. Danny conceptualizes and crafts larger-than-life creatures, then, when they have reached maturity, releases them into the wild. Danny's monsters have become a staple of Vancouver's streets, storefronts and urban vistas—sculpted and situated in ways that demand attention and evoke immediate and unforgettable gutspins. As I write this I can't help but wonder what would happen if Dr. Frankenstein were alive today, only younger, better looking and… Oh, hello Danny.

So, where did you get your start in the arts?
Well, at birth… My mother is one of the craftiest people I know. She's a costume, prop and set designer for the theatre community in the Comox Valley, my hometown. She always encouraged me to pursue the arts and I learned a lot from her at an early age.
When did the love affair with monsters begin?
I'm not really sure when it began. I always loved pretending being someone or something else as a kid. I mean, what kid didn't? I remember being obsessed with E.T. and Star Wars. And again, my mom indulged my obsessions by building me the best Halloween costumes ever. I remember rocking the craziest E.T. and Wicket costumes as a little kid.
Why monsters?
Why not? It just happened. I never set out or planned on building monsters. The idea of crafting the first monster was for the release of Rick McCrank's eS shoe for Antisocial Skate Shop. I just thought it would be a fun thing to build.
How has your work evolved from the beginning to now?
It's gotten bigger. I am running out of room.
What characteristics do your monsters have in common?
They're all drunk.
Do you ever create monsters with real humans (maybe friends, lovers or enemies) in mind?
They all have pieces of friends mixed in there for sure. Each takes on its own personality, mood, voice and idiosyncrasies as I'm constructing it. I think I bleed a lot into them as well. I'm usually working at the studio late at night, having a few cold Luckys and blasting Suicidal Tendencies or whatever the flavour of the day is… so they just end up partying with me.
Considering your proximity to skateboarding, film and monsters, I immediately think of Spike Jonze and his upcoming adaptation of Where the Wild Things Are. Do you feel a certain kinship there?
I love Spike Jonze's work and I love the book. That's where it starts and ends though.
Do you see monsters as a) lovers, b) haters or c) something else altogether?
All lovers. All gentle. All drunk.
Who do you think is monsterlier, men or women?
I'm going to leave that one alone.
What frightens you?
Being stagnant. Not being creative or productive. That scares me a lot.
What's next for Danny? Something you're looking forward to this year?
Well, contrary to this interview I actually do a little more than just build monsters. I am looking forward to having my first solo show here in Vancouver at the end of the year… stay tuned for a date on that one. I am really looking forward to doing a massive build for Halloween at the Fortune Sound Lounge. It's not only going to be a reunion of a lot of my past characters, but some amazing new ones. Come check it out.