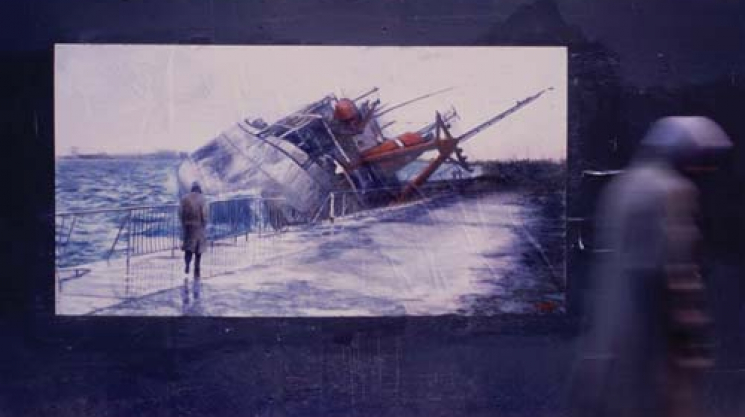 Vancouver-based artist the dark (aka Devitt Brown) has had many evolutions over the course of his career, changing mediums from stencils to posters, oil pastels, photography and more. He has spent years as one of this city's most impressive and consistent street artists and has shown at many contemporary fine art galleries both at home and internationally. Throughout these transitions the dark has maintained a strong and immediately identifiable through line to his work.

I met up with the dark at a café in Gastown on a typically rainy Vancouver day. As I turn on my recorder he intones "Dictaphone… It's funny because it has dick in it." The dark is a personality full of contradictions. On this particular morning, Einstein is on his mind. "I woke up in the middle of the night thinking about this. Kevin Harkess came up with a couple of different experiments to calculate the one-way speed of light, but nobody's done them because if they prove conclusive then Einstein was wrong. And then all of our basis for physical reality has to change."
From toilet jokes delivered deadpan to well-researched musings on physics, his intelligence, thoughtfulness and sardonic sense of humour keep those around him engaged, amused and at times offended—which as an artist, is not a bad thing.
We start our conversation where he started his art career, painting stencils on walls to get the attention of a girl he knew. "The first time I did it," he says, "I just thought it was really cool. Like wow—I can do this thing, and put this thing up there and it stays up there and nobody knows I've done it except me." The simplicity of his early days quickly evolved into his identity as the dark, one of a small but talented group of artists including Weakhand, Office Supplies Incorporated and Nokin who were getting up a lot and pushing themselves to do bigger, better, more. "It turned into me putting a little tag on everything so that people would know that I did it. Kinda megalomaniacal."
True to his alias, Devitt's pieces are brooding and thoughtful, saturated with the melancholy that is prevalent in many of Vancouver's artists—a shadow that he sees as being intrinsic to the nature of the city itself. "Vancouver's got a dark vibe. A lot of the people here are really fucked. The disparity between wealth and poverty is right out in the open and everybody can see it—but I was like this before I got to Vancouver, so I don't know what my excuse would be."
A change in medium came with a creative perspective shift. "At the beginning, ego kept me going, kept me interested. After a while, I felt like I had something to prove. And then something shifted a while ago where I started doing the oil pastel drawings, something in the process made me realize that I'm not a show pony, that this is something that's actually important. With street art there's so much clamouring to fame, people want to get up and be noticed, that's part of the whole ethic. And after a while, that gets kind of dry.
"
The dark moved away from stencils after his 2007 exhibit, Dystopia, a series of large-scale multilayer images of industrial and abandoned spaces that was shown at Elliott Louis Gallery. "When I was doing that show it kinda fucked me," he says. "It fucked my head, it fucked up everything. I just got lost in the cutting and the tracing and the drawing and the cutting and cutting and cutting and it just sucks. It fucking sucks."
And so his days of interminable stencil cutting gave way to a new artistic process, drawing large-scale photorealistic works with oil pastels. Some of the dark's most notable street pieces in this medium—Neptune's Wrath and Iconic Loss—went up in 2008 on the now-dismantled Water Street hoarding, just a few blocks away from where we sit. In part a response to the increasing prevalence of street art in galleries, with these two works Devitt took an opposite tack: "I was watching people like Barry McGee and Banksy and Shepard Fairey do all of these gallery shows, taking a street aesthetic and putting it on a canvas and putting it in a gallery. And I thought, well, what if I flipped that on its ass and took a traditional gallery aesthetic and put it on the street."
2009 ended on a high note with a successful and satisfying solo show Primary Scenario at Chernoff Fine Arts, in Vancouver. "The show at Chernoff was totally for me, and it felt really good to do it. Thematically it was very similar to some of the other stuff that I've done but there were some pieces in there that I've really wanted to do for a long time."
One can see in this recent work the influences of German artist Gotfreid Helnwein – as well as the methods of the great masters like Caravaggio, in their use of meticulous photorealism, chiaroscuro and dramatic light. Also, piquing his interest lately is the cadre of PoMo artists that include Damien Hirst and Murakami, artists whose work depends upon and encourages the commercial aspect of art: "Art theory has changed so that it makes the work a product, makes the concept a product, the whole change that's going on in the high-end contemporary fine art world right now. And it's interesting to watch, because at some point the snake's gotta eat itself, you know?"
As with many street artists, the dark has found that maintaining a balance between street art and gallery work is a difficult task. In a 2005 interview with DC tape sculpture artist Mark Jenkins, he mentions that he's done with doing shows and wants to focus on street art in the future. Looking back now, he has a different outlook. "I don't know what the balance is. When I did that interview, I was showing so much, and I was sick of it. I was just starting the whole gallery show thing and it was still pretty new and fresh, and I was still stoked on cutting stencils for the street. But now… I can sell my work for a lot of money in a commercial gallery. And that all of a sudden sort of changes the cost/worth equation."
He's not the only Vancouver street artist who has moved on to other things. Not many artists who were around five years ago are still out there hitting the streets. Recently, some new artists have popped up, but few have stuck it out beyond their first rainy winter. "The thing about street art in Vancouver," he says, "is that because you can't actually get anywhere with it unless you're really into it, you're gonna stop." And he's right—it's difficult enough to persist as an artist in general, let alone when the community of other artists practicing in the same field can be counted on one hand. Add half a year of rain and the necessity of working outdoors to the equation? "People fall off. Six months is long enough to forget about something."
But the dark has far from forgotten. "I gotta figure out where to put some street art up other than Gastown. I'm kinda glad that black wall isn't there anymore, it'll force me to go somewhere else." When I ask if he has anything in particular planned, he says, "I'm pretty angry right now so I'd probably put up something angry. I was thinking about whiting out a billboard and taking a brush and writing 'Go fuck yourself. -the dark.' Just stuff like that, where it's random and easy. It's one thing to spend two weeks on a drawing and put it up on the street, but I kinda wanna get back to doing simple things—maybe some one-layer stencils."
As we wrap up the interview, Devitt has a moment lost in thought and adds, "Honestly, I don't even know how I'm an artist. I don't understand it. I don't feel like an artist." He looks up and asks, "Is that it?" I nod and he smiles, looking relieved. He bends down to the recorder once again before I shut it off: "Dictaphone."