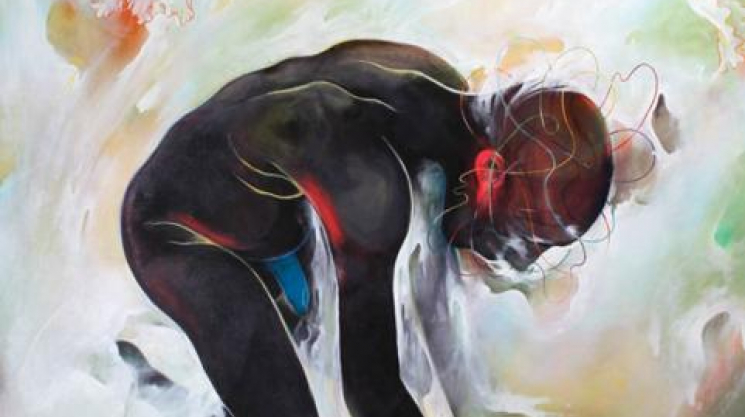 Wed, 06/27/2012 - 08:38 by Douglas Haddow
SCHOOL TIES
Jeremy Shantz isn't a name you're familiar with, yet. But you probably will be soon. He's a recent graduate from the outstanding and renowned UBC Okanagan's Creative and Critical Studies visual arts school, and is poised to take the art world by storm, with his hauntingly powerful yet soft paintings, and unique sculptures.
Shantz studied under his mentor, professor and artist extraordinaire, Gary Pearson. Not only a course director, Pearson is also an exhibition curator, art writer, and author of the book, The Creative Voice: Life and Art in the Okanagan. He has had exhibitions on four contents, all over the world, from Vancouver to Australia, with numerous and impressive residencies in art capitals, such as New York and Berlin.
He has high hopes for his star pupil, Shantz, and so do we. Shantz has won all and sundry of awards, including the Helen Pitt graduating award, the Faculty of Creative and Critical Studies Visual Arts Award, as well as being nominated for the 2012 Outstanding Student Achievement in Contemporary Sculpture Award, the winner of which is yet to be announced. We chatted with Shantz about his work, his life and his influences.
When did you start creating art?
I started appropriating bits and pieces together as early as I can remember. Although back then I don't imagine I recognized it as art or expression, let alone a way of life. I've just always been inspired by the world around me.
What inspires you and your work?
Everything! You name it:  people, found objects, tools, memories, situations. I just want to make my feelings and ideas tangible to the viewer.
Who are your heroes in art?
Basquiat's neo expressionistic attitude, Jeremy Fish's simplicity, James Jean's beautiful flowy lines, and Shige's mind-blowing composition.
Who are your heroes in life?
People who are raising a family and sustaining a way of life on their artistic abilities. Jeremy and Allison Riley, who run Tattoo Union in Van, and raise two wonderful kids. Dave and Jorden Doody, taking over the Canadian art scene, and with two amazing kids. That's a hero - showing us how great life can be, and what it means to HUSTLE.
When you aren't creating art you are ......?
Running a Detroit based non-profit organisation, called SHANTZDANSKI with my partner in crime Anthony Lavdanski. Stemming from a desire to help those in need, we strive as artists to pursue projects intended to support the creative endeavors of other individuals. I also love tearing things apart to see how they work.
What medium do you work in?
In 2D, I'm comfortable with acrylic, watercolor or oil. In 3D, I enjoy repurposing everything I can get my hands on. Assemblage is where I seem to fit in the genres of the commercial art world.
Can you describe one of your favorite pieces that you've ever done?
I was given a baby whale vertebrae last winter while on a surf trip to Uclulet. Later, I found a beautiful explosion-proof light case the same shape as the bone. I hollowed the bone and threaded it to fit the glass, filled it with beer and a small red plastic limbless man, balanced on an eagle quill attached to a rotary tattoo gun. The viewer can press a small red button and the little man, vibrates and froths the beer and blurs from one man into two.
What music do you listen to? Is it something specific when you work?
I could give you a list, but Daath Nix is kill'n it, as is Jared Greeve, and they could both use some hype. Plus I listen to them everyday, and they only make me hustle more each day. Go onto bandcamp and check them both out.
Where are you from?
I was born and raised in the beautiful Salmon Arm, B.C., in a small house, with a barn in the back and a bird sanctuary out front, on the south tip of the Shuswap.
Is your family artistic?
I am blessed with an amazingly artistic family who encouraged anything I wanted to pursue. My father is a metal sculptor and oil painter, my mother is an acrylic realist, illustrator and hairdresser, and my brother is a prolific painter and clothing designer. 
What would you say is your personal fashion style?
Skinhead/ lumberjack.
Do you have any pets?
I have a 14-year-old Akita, Loopie, and an orange four-year-old cat, Shithead.