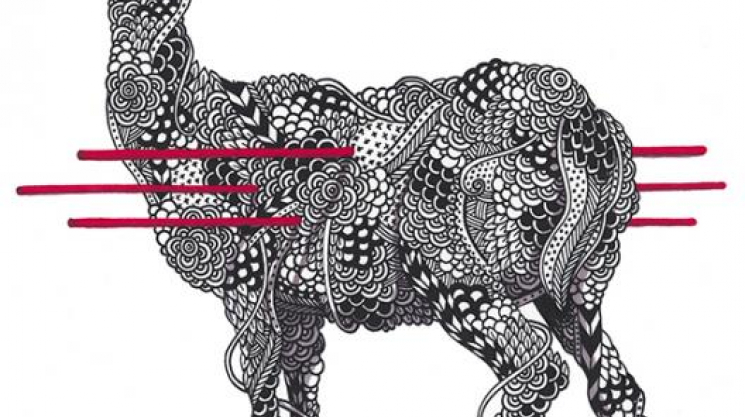 Artist Kirsten McCrea has been described as "the kind of person you would want to hang out with all day and try your best just to keep up with her." We like the sound of that, so we asked Melissa Proietti to do just that.
The first time I met Kirsten McCrea was in 2010, when she designed the branding for that years' edition of Montreal's Under Pressure festival. I remember seeing the images before knowing her, thinking they were stunning and being truly intrigued about the person who made them. Intricately detailed, her drawings created a cosmos of stylized images that could not possibly be taken in all at once but were harmonious. Who could have that kind of drive to complete so many different images in such a short period of time and have them work that well together? When I had the chance to meet McCrea I was not disappointed. The creator of these images was just as alive as they were; funny and humble, dedicated and energetic.
Originally from Edmonton, an adopted citizen of Montreal and a relatively new citizen of Toronto, McCrea hit the East Coast of Canada in 2006. Someone with talent and vision, who has been making art in many forms for as long as she can remember, McCrea enjoys working solo or in collaboration and is a self-described artistic hustler. "I'm a multi-disciplinary artist who tackles fine art, illustration, and collaborative art projects with a bunch of rad people. Or, to say that all in a less pretentious way: I'm a hustler."  
McCrea knows the hustle. Not only from the artistic production end of things but also from her own business project; Papirmasse. Founded in 2008 Papirmasse is McCrea's contribution to making art accessible to anyone who wants it. "An affordable art subscription that sends a monthly print with art on one side and writing on the other to people around the world. To date I've mailed out 20,000 art prints, all for the low price of $5 each! I have a real love and appreciation of art forms–like graffiti–that are populist in nature and more about expression and sharing of visual culture than about money."
In the past year, Papirmasse and McCrea's own productions have been gaining more and more notoriety, and visibility in the many places she has lived in and travelled to. This year has been a big year for McCrea so far, and the work just keeps coming. Having her work appear in a number of publications, publishing her soon to be released book Dan-D-Noser, showing a wheat paste installation at the AGO in Toronto, traveling to Mexico for a month, and not to be forgotten, planning her wedding, it is safe to say she has earned her stripes as an artistic hustler. 
McCrea's own work expresses a harmony between the grimy and gorgeous (her next series of drawings will feature blooming flowers on taxidermied animals) and challenges typically girly images by re-creating their meaning and existence. "While I would definitely consider myself a feminist, I don't consciously think about femininity very often. What I would like to focus on is pulling that girly-ness into a weird place, and having more tension between the beautiful and the ugly. I like things that are a bit gender-queer and don't conform to our standard ideas about what is for women and what is for men."
Always in a state of inspired creation, McCrea is influenced by many outlets, all different but still similar. Music is a constant in her life; she gets moving to the likes of The Gossip, Grimes, Girl Talk, Sparks and Rich Aucoin, and while in production she finds herself listening mostly to podcasts and audio books. It is no surprise then that her main influences are not static pieces, but the life force of others. "I find that what really inspires me in others is their attitude. I greatly admire those who toe the line between art that is beautiful and deeply moving on a visual level, yet still retains a deeper meaning. I like people who aren't afraid to get weird. I appreciate honesty." 
And the truth of the matter is, with Papirmasse doing better than ever, and an endless source of ideas streaming through the artist print shop–now stationed in her Toronto dwelling–McCrea won't ever have to worry about running out of ideas. She'll just have to be sure she can find time to keep everything going simultaneously. But as its been said, you can't knock the hustle.