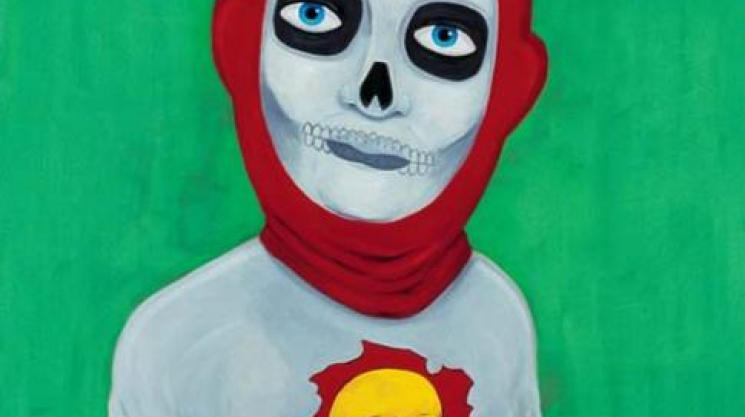 Andrew Pommier does a lot of things. He skateboards, he listens to T.I., he eats porridge, but most notably he does art. If any of Andrew's work looks familiar, it's because it probably is. Though Andrew's roots are in skateboard art, he has done graphics for a number of different companies from the likes of Adidas to RVCA to Stüssy to Zune, and is also a successful gallery artist. ION recently got to hang out and have a chat with Andrew at his studio.

"My earliest experience with art was when my mom used to give my brother and I sketchpads to keep us occupied in the car or anywhere we needed to stay busy. So my earliest memories were just drawing—drawing things out of my head, whatever kids draw—robots, army men, that sorta thing." Eventually, Andrew started getting into comic books, which is what brought him to the realization he wanted to become an artist. "You know, Superman and X-men and all that, and then I sort of did that for a while. Then I found skateboarding."
Whether it's an anime style drawing of a girl on a Hook Ups t-shirt or pieces by Damien Hirst, Kaws or Christopher Wool on the backs of Supreme decks, skateboard culture has always been tied to art. Andrew explains: "Both are solo pursuits. Art can be done with people, Skateboarding can be done with people, but skateboarding is about self-satisfaction, and art is about self-satisfaction." For Andrew, the line between art and skateboarding blurs even more: "Every day you are rolling through ideas on how to manipulate a skateboard and that just naturally is part of a creative pursuit," he says.
Andrew started skateboarding just before his 13th birthday, and soon took notice of its history and vintage skate graphics. "I was just blown away by what everyone was doing, like VC Johnson and Powell Peralta stuff and I was like 'Oh my god, I totally want to do this.'" After getting into skate magazines he quickly discovered that art wasn't just the graphics on the bottom of decks. "I'm reading skate magazines and they are talking about art shows. Thomas Campbell was doing art stuff, like 'Ohh, there's more to it than just doing skateboard graphics.' Which, you know, I love doing to this day, but I know there's more out there."
Andrew's work has extended beyond skateboard companies to include several successful art shows around the world. He is well known for the, often times masked, characters he draws. "A lot of stuff comes from daily observances, like walking down Hastings Street—it's definitely amazing, just kinda picking stuff up." As of late Andrew's work has been deemed "lowbrow," a tag that he isn't the keenest on. "I don't know what it means. When I think lowbrow, I think about Robin Williams and Juxtapoz [the artist and the magazine]. I mean, Robin Williams is amazing, but it's too big of a lumping of everybody."
Right now, Andrew is focused on his show at France's Spacejunk. His primary form of motivation for this big show: "fear." "Fear, yeah, that will do it. I have to fill a space with paintings that I'm making now. You know you need something to do every day. I'm not super busy with client work, so you know you wake up, eat a bowl of porridge, go to the studio. As long as I'm here I am doing something. Because there is no computer, the phone seldom rings and there are fewer distractions. The biggest distraction is afternoon beers."