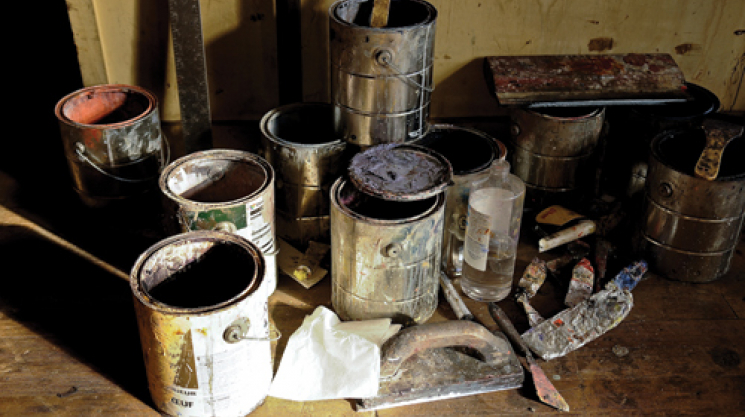 Mon, 12/19/2011 - 00:00 by Douglas Haddow
TAYLOR MADE
What makes someone an artist? Totally a cheesy question, right? But honestly, if you're willing to forget the bullshit and just think about that, what is it that makes someone an artist? When have you "made it" as a painter? It's not an easy question to answer.
I've wondered for many years just what defines an artist. We have degrees and exams to designate doctors or lawyers, but even those armed with an MFA do not think it necessarily gives them the right to claim the title of artist. There seems to be some immeasurable or mysterious test.
We the viewer/consumer (and therefore the judge and jury) require more of them. We need them to capture us. We expect artists to try to do or make something exceptional, to produce out-of-the-ordinary reactions in themselves, and in us. There are few people who can create such a reaction. However, when a painter puts in the time and effort and is able to create art that moves people, it's worth taking notice.
Johnny Taylor is a self-taught abstract impressionist painter. He refuses to work from sketches, photos or reference points. His paintings, which evoke elements of architecture, have an instantly recognizable language and pattern that play with the past, the present, and the future. His compositions incorporate distillations of visual phenomena – the city, structures, patterns of trees and nature. "I do not seek to represent specific subjects." He says "I am responding to the energies, forces and indefinite aspects of an active matrix."
ohnny first introduced himself to Vancouver's art scene when he put together a solo show in a nondescript film studio and featured six large works that had cumulatively taken him five years to create. The audience was treated to prodigious raw canvases covered in oil paint that had been worked into watercolor like delicateness. The grandiose scale and confidence were enough to take your breath away. The buzz about Johnny began.
In a city with the best of intentions but famous for inaction, Johnny soon found himself in a conundrum: one successful show under his belt and a gallery promising him a big future. Contract negotiations began and expectations were built up and unfulfilled. Johnny realized that at the end of the day he was the one who could best present himself as the artist he wanted people to see.
Within three years Johnny moved forward with a blockbuster solo exhibition that showcased twelve large works – 12 by 14 foot compositions. He defied expectations and created work using wood, plaster and glass. This show was a challenge to the viewer as much as Johnny was challenged to create it. Pieces demanded that you reach out and touch them to even begin to figure out how, and of what, they had been created. The work was transfixing.
But space to create and show art in an expensive city was becoming more difficult to find. Cuts to government investment in arts and culture had a devastating ripple effect throughout the community. Lucky for Johnny, while out on a walk with his dad one day, a serendipitous encounter with Mark Brand, one of Vancouver's most accomplished young entrepreneurs, turned into the opportunity of a lifetime.
Brand had just reopened one of Vancouver's most beloved buildings in the heart of Downtown: Save-On Meats, a four story building with 100 year old hardwood hallways, brick walls, two empty meat lockers, heritage style windows and the infamous Pinky the Pig sign. The top floor was vacant and prime space for an artist to use. Brand offered it to Johnny and without hesitation Johnny put his good fortune to use. Within a year he'd opened with his best show to date.
Hundreds of people hiked the four flights of stairs for the chance to view Johnny's most recent work. Quite possibly the jumpstart to his international career, this show opened the door to a plethora of opportunities worldwide including a upcoming show at the beautiful 6500 square foot Melissa Morgan Fine Art Gallery in California.
True artists are inventors. They create something new rather than simply copying what's there. Their art prompts new ways of thinking. They push the boundaries beyond what was thought to be possible. It's not the materials, or the gear. It's what they create with them and within us. If you seek out Johnny's work, it will create a reaction in you. You will see something evocative and yet unique. In his work, surface is as important as the paint.
Finger swipes of thick paint, smudges of oil sticks, washes, scratches and dents; filled in with wax, layered up, scraped away, and built up again. The process is complex, yet compositionally, the pieces are focused and restrained. Parts are left untouched and empty, drawing the viewer in with sharp perspective lines towards deeper hushed activity. What materializes appears like a floating city suspended in the atmosphere. "Like cities having a dream", he says.
So what's makes someone a true artist? Ask Johnny.
Photographer: Matthew Atkinstall & Eric Cairns