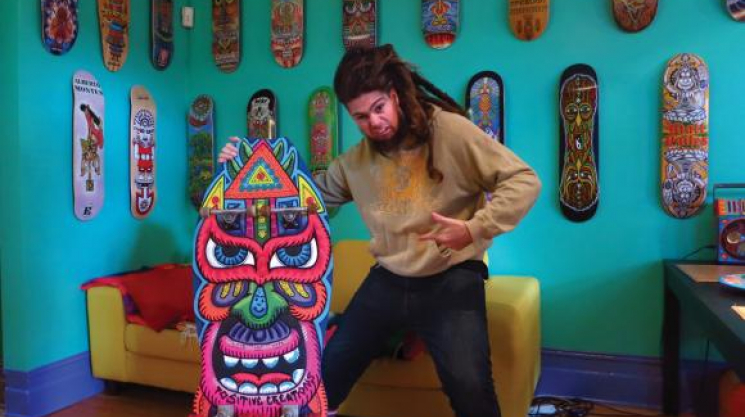 Wed, 03/26/2014 - 23:01 by Natasha Neale
Why does skate culture boast so many artists, and how does the skate world influence their art? Karyn Gray chats to three artists to talk about skate, art, and the relationship between the two.
I've never met a skater who apathetically discards old decks. Whether it's a sentimental bond between skater and board, a subconscious DIY need to repurpose materials, or a love for board design and aesthetics, I've noticed this as a common thing with my skater friends. Case in point: my apartment. Skateboards line hallway walls and have been carefully positioned in nearly every room. Though I'm not a skater myself, I live with one, and he admits that there was a time when he had dozens hoarded away, both broken and useable, under the bed, in the closet, everywhere. Personally, I love them for the art. Each is vibrant and unique – the scuff marks just adding to their character. Moreover, many of the designs have been created by friends in the skate scene - another reason to display them with pride. In fact, skateboarding and art seem to be intrinsically related. Almost every skater I know is an artist on some level, some by profession, some by hobby, but what's the connection? 
SKART
Michel Poulin, appropriately a.k.a. "Skart", has been a professional cabinetmaker and skater for most of his life. He was introduced to skateboarding by fluke in the mid eighties, when someone handed him an old plastic board one humdrum afternoon. This would later lead to Skart discovering the whole punk rock scene related to the sport (which he says suited him perfectly) and eventually incorporating his love of skate into his trade. I mean, seriously, this guy takes hanging your old decks on your wall to a whole new level.
How did you come to make hi-end skateboard furniture?
"Being a woodworker and a skater, uniting those passions together in my work came naturally to me, and it created something new. In my first series, the decks were used as cabinet doors. My goal was to subtlety include boards in finely crafted furniture, to quietly blend the boards in the design. To achieve that, I adapted the shape of the cabinet to follow the curves of the skateboard. The boards would then get overlaid with the same wood as the rest of the cabinet. The result is elegant high-end furniture. Ironically, it's the total opposite of the way I skate: raw and aggressive. To me, the challenge of making furniture with boards is similar to the one we face when skating: decks weren't made for furniture-making just like a jersey barrier or a pool wasn't made for skating. In both cases you need to use your skills and creativity to make it work."
Are you a board hoarder? What are some of the interesting ways you've repurposed boards?
"I definitively collect boards, both as art and art material. A lot of my skate buddies handed their old boards down to me, and this gave me the opportunity to experiment a lot. Some of them proved more successful than others. Apart from the furniture I make, one of the most interesting things I created with old boards was some cement trowels we used to float concrete in the DIY skate spot we're building."
Why do you think skateboarding culture boasts so many artists? What's the connection?
"The need for self-expression, self-motivation and creativity are all qualities found in both skaters and artists. I think people with artistic souls are attracted to skateboarding because they feel it has something they need. Skateboarding will stimulate your creativity simply because there are no rules, no regulations and no coaches.  Once you start being creative, it spreads to other areas of your life; the artistic soul then flourishes."
CHRIS DYER 
Chris Dyer spent much of his childhood in Peru, and moved to Canada in his late teens to attend university. According to Dyer, he was always an artist; as soon as he could build, draw, and paint, he did just that. Having become interested in skateboarding at an early age, he started painting his own board graphics in the nineties when the blanks were all he could afford. Fast forward 20 years or so, and he's become a renowned artist known for his bold designs and spiritual themes. His work, branded "Positive Creations", has been featured in numerous galleries all over the world, a coffee table book by Schiffer Publishing, and a full-length documentary about Dyer's life. On his style, he muses, "It's hard to describe your art in a few words, but if I had to generalize, I like to express myself by doing images that unite many different cultures and beliefs into one. I want to create bridges between scenes that might appear opposite sometimes and create peaceful oneness. I guess that's what I'm trying to integrate as a human as well."
What was the initial appeal of skateboarding for you? Were there many skaters in Peru back in those days?
"Skateboarding is something that has been important to me for most of my life. The first time I did it was in 1986 – sitting on one, going down hills – and I loved it. Later that year I got my first board for Christmas. The year after that, there was a wave of skateboarding that hit Peru and I had a gang of friends from school I would go to the one park in our city with to have fun every weekend. I still skate today. I never got too good at it, but it's something special to me. My freedom, my escape, my physical art expression."
In your documentary, I loved your comment about how you broke a lot of boards, but didn't really want to part with them -- you considered them to be friends. Can you elaborate?
"Well, your skateboard becomes your friend over many adventures, but it has a lifetime. I just don't have the heart to throw it in the garbage as if that relationship didn't mean anything. So I would keep my broken boards, which ended up making a pile, and by 2000 the inevitable recycling of these energy-filled pieces of sacrificed trees started becoming the canvases of my paintings for many years to come, hopefully giving them a way longer life."
What role does skating play in your profession? 
"I [still] make fine art on skateboards, but after 14 years of doing this, I am going more in a direction of making bigger installation or sculptural pieces, which allows me to say more than what I can inject into a single plank painting. I am also Art Director of Creation Skateboards, a conscious brand from California, so I design a bunch of graphics each year for them, and several other brands worldwide. It's been great working for this industry for the past decade because it has opened the exposure of my work to a wider audience."
How do you think skateboarding and art are related?
"Skateboarding is an art. It's creative and expressive. It's a way to rebel against a world that doesn't make sense many times. It is a tool of freedom, just as art is, so I have never seen a separation. The fact that skateboards carry art–graphics–on them just takes this to the next level because now we have a medium to say so much, to so many. I am blessed to have infiltrated the worldwide skate industry, to pass on my own positive spiritual message to kids who might only get the same old clichés other mainstream brands put out there."
MONSTR
Benjamin Tran, a.k.a Monstr, grew up in an artistic family in Annecy, France, where he would hang out in skate parks and practice graffiti. He later attended graphic design school, followed by art school in Paris, but he reflects that his real education came from the city itself. A drawer and painter with a particular interest in street art, Monstr would create elaborate scaffolding designs on rolls of paper, which he then glued to street walls of French cities. Today, he paints on canvas, skateboards, and walls. 
Do you consider yourself a skater? What interests you about skate culture and how are you involved in it?
"I'm an artist before a skater, because [for me] skating is just for fun and I don't live for it like skaters, but I do skate every day I can in Montreal. Street artists and skaters see the city with the same eye. Being outside is necessary to evolve in what we do and street artists see the walls and the street like a canvas, just as skaters see a place to ride."
What do you think your style of art says about you? Does the skate world play any role in it?
"My drawings are really illustrative and they describe mostly what happens in my everyday life. I work mainly in black and white. My art is inspired by my ups and downs, and the balance of life. Everything that happens to me is reflected in what I do in my drawings. My illustrations are of a group of friends that skate through the walls of Montreal chilling with beers in hand. My first experience with skate designs was with Maquisards, a group that organizes custom skateboard expositions called Art By Friends. The concept behind these expositions is that 20 artists paint 40 boards, so two boards each. I then designed a board for a company, and they produced about 100 of them. When I arrived in Montreal, I met the guys from the collective C'est Beau, a brand that makes shortboards out of used decks. Since then I often use boards as canvases to paint on. I think skating is a way to express yourself the same way I use the walls in my city. Alive, used, and always evolving."
What do you think is the connection between skate culture and the art world? 
"The skater and street artist mentalities are the same. That's why art is really present in skateboarding. By feeling of possession, skaters have always wanted their own boards to have their own style. So for the artists, the boards become a canvas open for creativity."  
CHRIS DYER PHOTOS: Facteur Malice & Danny Guay