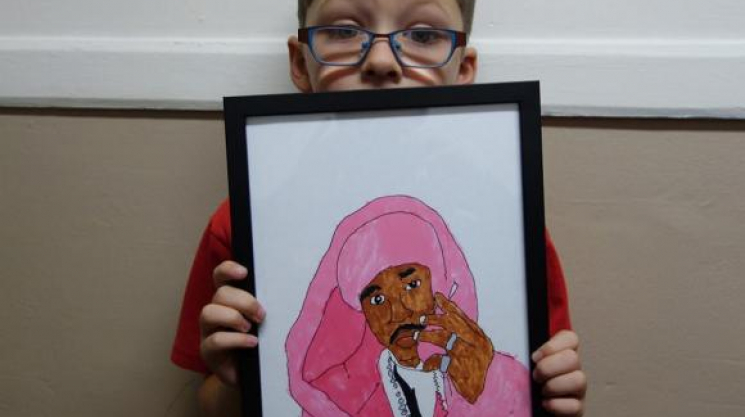 Fri, 02/27/2015 - 00:10 by Natasha Neale
What were you doing before your age hit the double digits? Were you creating art? Probably. Were you garnering the attention of some of the biggest names in hip hop with your craft? Probably not. Well, a kid by the name of Yung Lenox is, and we talked to Alex Usow of Rhek Creative who's curating Yung Lenox's very first show outside of the U.S. of A. 
How did you get to know of this young rap portraitist and artist?
I started to do these janky little drawings of rappers a couple years ago. They were cool, I liked them; I didn't care if they didn't look realistic. Anyone can draw realistic, not everyone can draw as bad as—I mean—with as much style as me. Then I found drawings like mine on Instagram. Totally awesome drawings of rap album covers drawn in a very free, uninhibited, outsider art style. I had stumbled across the works of Yung Lenox. We would obviously be friends; we both liked rap and we both drew like we were 7 years old. Except for one thing. Lenox was 7 years old (he's now 8) and I wasn't. 
But whatever, the kid was rad and his art was on point. I kept following him and saw the Yung God's inevitable accession into stardom and Internet fame. He was prolific, on fleek, and knew how to network surprisingly well for someone that young. I saw his art pop up all over on blogs, in magazines, on actual albums, and even an art show at Gallery 1988 in LA. 
So how'd you go from liking his work on Instagram to bringing him out to Canada for a solo show?
I ended up linking with his roommate aka his manager aka Skip aka his Dad and we bonded over rap jokes, graffiti, and dad jokes. I'm a fan of shaking things up and doing things different so the idea of bringing Yung Lenox, the Lord of Lego, the Prince of Pokemon, the Champion of Dessert to Vancouver manifested fairly quickly and now I'm throwing his first international show, "Magic Markers."
Along with original prints available, we hear there is going to be a limited edition t-shirt for sale at the show. Can you tell us what print of his this is going to be?
It's Yung Lenox's drawing of Ol' Dirty Bastard's album Return to the 36 Chambers. It's a limited run with only 50 available!
And finally, what would you tell your 8-year-old self then knowing what you know now?
It's a trap! 
And fast food hurts you when you get older. 
And being nice is cool. 
Magic Markers: A Yung Lenox Art Show, Friday February 27, 8PM-12AM, Fortune Sound Projects Space, 147 East Pender, Vancouver. Artist in attendance 8PM-9:30PM
Live Fast, Draw Yung - Teaser from DALLAS on Vimeo.