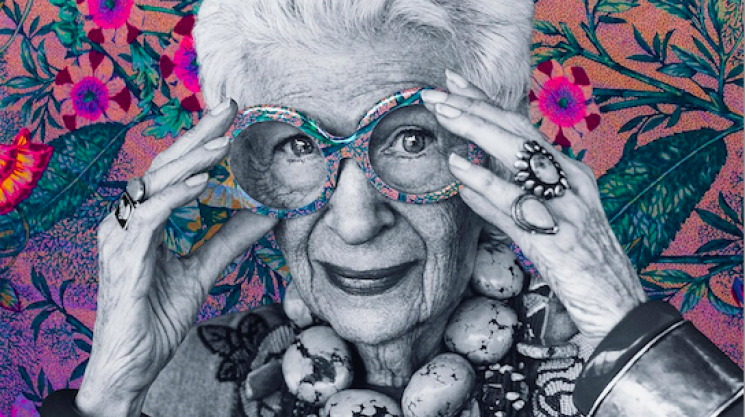 Iris Apfel is a fashion entrepreneur and interior designer who expresses her style with bold prints and layering of accessories like no other. The flamboyantly dressed 93-year-old style maven who has had an outsized presence on the New York fashion scene for decades is honoured in the film IRIS by the late documentarian Albert Maysles. A fashion icon, Iris—immediately recognized by her trademark large owlish eyeglasses—is a collector of fashion who has had her collection exhibited in various museums. Inspired by her mother who loved accessories, Iris is all about the process of finding her unique pieces and accessories more than actually wearing them. 
IRIS gives us a glimpse into Apfel's life; we see her selling her personal fashion lines on the Home Shopping Network and through MAC Cosmetics, and watch her get photographed for magazine publications. Maysles captures her spirit as she haggles at a Harlem street fair and reflects her pride as she takes the viewer on a tour of her closets in her Palm Beach and Park Avenue apartments—which are dressed as brilliantly and playful as her wardrobe. Some of our favourite scenes of IRIS are when we're shown amazing 16MM photos from Iris' travels and buying trips shot by her husband, Carl Apfel, who we also get to see celebrate his 100th birthday. We should also mention that you should keep watching as the credits roll, as there are more scenes of Iris shopping, receiving an award, and an adorable moment with her and one of her prized home decor statues, a RCA Victor Dog. 
More than a fashion film, this documentary is a story about creativity and how, even at Iris' advanced age, a soaring free spirit continues to inspires.
IRIS opens across Canada in the following city and dates:
Toronto, May 15 – The Bloor Hot Docs Cinema
Ottawa, May 28 – Bytowne
Regina, May 29 – Regina Public Library
Vancouver, May 29 – VanCity
Montreal, May 29 – Cinema du Parc
Edmonton, May 29 – Metro