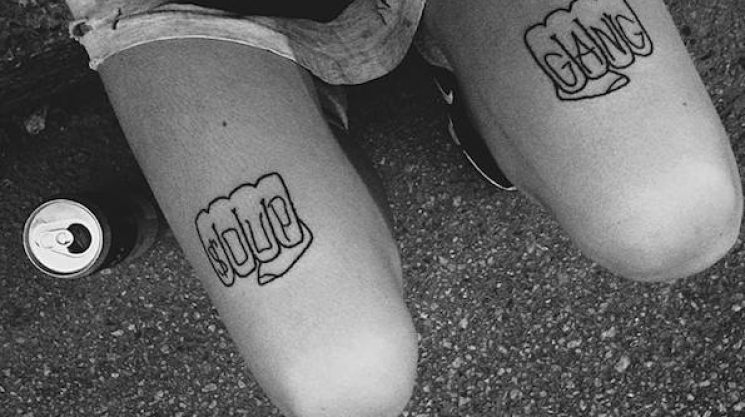 Old Techniques Never Die, Nor Even Fade Away:
Discussing The Art Of Stick 'N Poke With Artist Tristepoke (IG @Tristepoke)
While the likes of Pinterest and Instagram are getting more people through tattoo parlors doors every day, in the eyes of many the art still transcends a great deal of societal bounderies, calling out the practice as trashy or highly unprofessional. However, with 58 percent of adults saying they'd be confortable with a tattooed presedential candidate*, it's safe to say the stigma around this particular form of body artistry is slowly lifting. Ironic it's only happening now, given tattoos have been historically embraced by countless cultures around the world; from the traditional Japanese and Thai-style to the underground Russian prisons statement pieces, all the way to the Māori's Tā Moko practice.
But there's an even more interesting paradox lying within the tattoo community itself. As the standardized machine tattoos of today rule over the vast majority of the market, stick 'n poke's popularity is rising from the ashes, causing for a debate on hygienic measures and regulation. And if some are simply piggybacking on this new trend because it's accessible, there are quite a few artists for whom the one-time hobby becomes a perfected craft and a business. Thomas Girard, also known as Tristepoke on Instagram, is one of those artists. With growing requests coming through the social media platform, the young artist is looking at setting up his own studio this summer. He reckons his preference for stick 'n poke over machine tattooing is what set him up for success: "I'm obviously more used to doing stick 'n poke, but it's also what sets me apart. There aren't too many artists who specialize in the craft." For Toronto-based anonymous artist Homepoke, it was inevitable that we'd eventually see a revolt against machine tattooing. In a previous interview with VICE Canada, he states:
"With machine tattooing becoming so commoditized and popular, people were really appreciating tattoos for the cleanliness of the line, the brightness of the colors, the crispness of the finished product. So that's been the most valued aspect of the process at the time. It was only natural for clients to say, ´Fuck that. I'm going to do the exact opposite.´ It's a natural cycle of rebellion."
Canadian-born Jenna Bouma, who has now reached close to 100K Instagram followers, is another example of a talented artist making a living out of stick 'n pokes. Call it a backlash against mainstream tattooing culture or not, there is no denying that there has been a much bigger demand for machineless tattoos.
Tattoo artists nowadays may have this capacity of connecting more than ever before, but there's a hiccup and here's why. Within the industry, an apprenticeship is seen as a rite of passage and the basis for a great career. However, there are no apprenticeships in the shops for stick 'n pokes, and because of its accessibility, it allows for just about anyone to think they can tattoo. And if these people don't realize just how much time, work and effort it requires to make an actual career out of it, this is where long-established artists scream 'warning.' Familiar with this reality, Tristepoke isn't ashamed to admit he tattooed his first piece in a CEGEP's feminist group meeting room and that without the means to purchase a machine of his own, he began hand poking pieces instead. Entirely self-taught, he explains that while he did ask around and got advice from professional tattoo artists, his first pieces were done either on himself or on some of his closest friends who came forward to support his learning curve. "It took at least six months for me to start tattooing people I didn't know, but even then, it didn't happen too often. The reality is, when you say that you're a tattoo artist, people put their trust in you." Now, two years later, Tristepoke has a regular clientele and gets requests on the daily.
Because of its simplicity, some might see the body form artistry as amateur. For Tristepoke though, it's all about authenticity and creativity. "I don't mind the limitations. Sometimes I have to turn people around because their ideas are unrealistic to the technique. But I always try to work something out with the client. Unless someone sends me a design they've made, and I'm really into it, I usually prioritize my pieces." Using only black and gray tones for the moment, the young artist's drawing style could be described as bold and dark, with just the right amount of humor and sadness.As for the common myths? Tristepoke deconstructs them all. For him, if you follow the same professionalism and rules in place to look out for both artists and clients' safety, then there's no reason stick 'n pokes should carry any negative stigma. In fact, because the technique is less invasive, the skin even generally heals faster. Concerning hygiene, the young artist stands his grounds: one must take all the same precautions a shop would require - needle sterilizing, make sure the working station is clean and safe, etc. He grinningly adds: "The only thing that's different is that you're not sterilizing a machine - you don't have one!"
As tattoo culture slowly makes its way into pop culture, it's great to see dedicated artists develop different styles and approaches. And if the pitfalls of stick 'n poke tattoos were what, in the last few years, made the art form so appealing, having a new generation of artists working on sourcing out better materials and techniques is perhaps just what this centuries-old technique needs to get rid of the fashion trend title it should never have been given in the first place.
*According to a 2015 study from the Harris Poll.