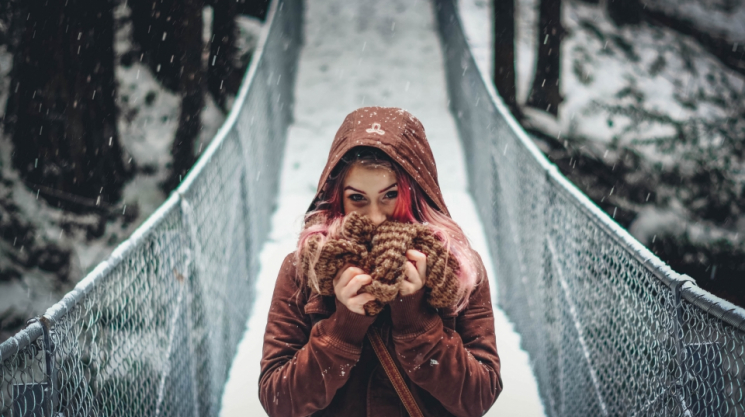 Mon, 01/16/2017 - 10:47 by karyn
"There's no time like the present."
When I was about 15 years old and obsessed with my biology class, I fell in love with the idea of becoming a surgeon. Ten years later, I find myself facing my tablet and my words - far away from diagnosing and treating injuries. You see, finding your lifetime passion isn't always easy. Some people take years to figure that out. For others, like Vancouver-based photographer Alex Chamberlin, the challenge doesn't reside in finding their passion, but rather in turning it into a dream career.
Chamberlin picked up photography a year ago. Just a little after high school. "I wasn't really doing anything that 'mattered' too much in my life, and I think that's where my issue came from. I wanted to find a way to see the world and also have my dream job." In this case, the said goal being to work on lifestyle campaigns for clothing brands and travel for it. "Being really young and doing this, I really want all people - but especially young people - to see that you don't have to waste time waiting for the right time to follow your dreams."
 A year into the adventure, he's found massive support in friends, family, a few brands here and there - Forged By Nature being one of them - and a Montreal-based streetwear brand, Kuwalla Tee. For this particular company, he shoots lifestyle photos every season. They've been one of his biggest supporters. "I really appreciate having that consistent support. It brings my ambitions up, and it keeps me motivated when things get tough." And of course, things do get tough sometimes. In fact, in the early stages of taking the plunge into photography, Chamberlin's number one challenge "was getting unmotivated by other people's success; understanding what I was doing wrong for me not to be where they were at." But, not one to dwell on the negative, Chamberlin's eagerness to travel and wish to one day shoot in Germany has always kept his head cool and focused on the present moment.
So in the upcoming year, forget University plans. Instead, Chamberlin hopes to collaborate and learn from people he looks up to; including local photographers, but also artists along the West Coast of the US/Canada, away from the urban high-paced life. He explains: "I love looking at urban shots, but whenever I've gone out to take them I just don't enjoy it. I don't get the same feeling as when I'm in nature. I think it comes down to the fact that I feel more at home when no one else is around. Almost like I feel when no one else is around I can really focus on what I want to do and my vision and just get it done."
And 'getting it done' he sure does. Wise and always on the lookout for new adventures, there's no doubt Alex Chamberlin is looking at an exciting career. It'll certainly be interesting to see to which part of the globe his hard work takes him. Shall we open the bets?
Alex Chamberlin, Vancouver-based lifestyle photographer, for this week's Artful Vision.
IG @alexjamesc