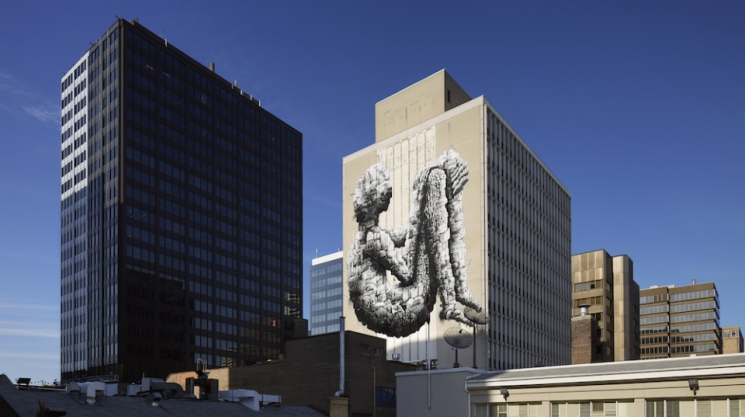 "A city always contains more than any inhabitant can know, and a great city always makes the unknown and the possible spurs to the imagination." ― Rebecca Solnit
If you are a Toronto resident, you might have noticed Canada's newest public art landmark: an 8-storey human-shaped mural overlooking the city. Painted by international artist Phlegm, the piece is located at what most would consider a commercial hub -- one where traditionally, art doesn't mix with business.
Founding director of STEPS Initiative, Alexis Kane Speer leads a collective of artists, activists, urban planners and community developers on a mission to use art for revitalizing public spaces. Thanks to a unique relationship between the organization and Slate Asset Management, the collective's latest project has come to life in the heart of the ever-so-busy Yonge + St-Clair community. "We immediately recognized [the collaboration] as a fantastic opportunity not only to create art in the local area but also to engage local stakeholders in the neighborhood," explained Kane Speer.
After ten months of planning and community engagement measures, British artist Phlegm was finally brought on board. His remarkable technical skills combined with his impressive work, often composed of "odd figures and a narrative structure," was a perfect fit for the project. "The wall had technical challenges: the artist had to be comfortable working on a moving swing stage and not being able to get perspective for a while," continued Kane Speer. If the mural itself is spectacular regarding its size, it's meaning is also incredibly well rendered. "The human form is reflective of the city as a whole, and the shape is comprised of all the local landmarks and different elements community members raised as being really important and reflecting the area."
With such a vision and impressive result, it's no surprise the project has already garnered local and not-so-local attention, helping people who don't usually interact with the arts and culture sector see street art and graffiti from a different angle. Admitting the organization's growth keeps steady, it wouldn't be surprising to see traditional commercial advertising quickly be replaced by this bold and cutting-edge approach to tackling urban challenges (fingers crossed)!
Alexis Kane Speer, Founder at the STEPS Initiative for this week's Artful Vision.
Twitter: @UrbanARTivist
Photo: Ben Rahn/ A-Frame