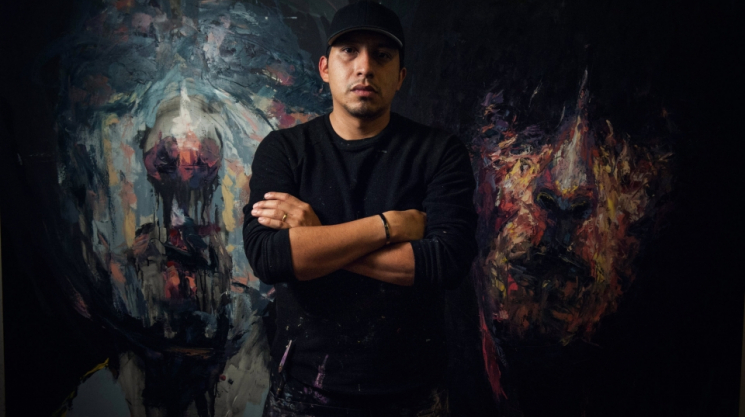 "A poet is someone who uses a single image to convey a universal message." - Tarkovsky
 More than a mere spotlight on talent, the Artful Vision seriesis an attempt at understanding artistic self-discovery, hardship and epiphany moments in which artists found their vision. This week, amongst the usual roster of artists at the start of their careers, I have the pleasure to introduce Toronto-based Colombianvisual artist Carlos Delgado. As an internationally recognized artist, his dynamic series of work are held in private collections in Canada, USA, Europe, Asia, Australia and South America and "explore the subtleties of emotions and experiences as expressed through the face and the body." To highlight the 30th piece of the series, we discuss his not-so-easy upbringing into the art world, epiphany moments and the challenges he still faces today.
It was only four years ago that Carlos Delgado dedicated his full attention to art. He had been in Canada for about three years and had been facing multiple challenges on top of quickly realizing living from his art without a formal education in the field was going to prove itself challenging. At the time, he wasn't exactly fluent in English, had to adapt to an entirely different system, and was juggling small part-time jobs to make ends meet. "I was doing so many different things, working in companies, selling... but I wasn't happy. [...] Being in the system... is nothing about freedom." So, to instigate change, Delgado moved to Toronto, where he found a studio and could be in touch with different artists. Rather quickly, he was given the opportunity to take part in a mural project in the city. "Through all this process, I met different artists, I had the chance to work with collectives doing murals, but still, I wasn't happy. I had my studio, but I wasn't happy with my art."
Similarly to experiencing a writer's block, Delgado was struggling with his aesthetic and creativity. He was trying to produce realistic art, and more often than not, became frustrated with the outcome. In fact, for a while, he destroyed everything he painted. "It took me four years to realize that for me, it isn't about creating a specific artistic aesthetic.It's about my personal expression and the process of using creativity to say something."
Delgado's interest in art takes its roots in Colombia, at a very young age. In his motherland, however, his dreams of becoming an artist were practically bound to fall flat without access to a formal art education. It was the woman who soon became his wife, and who always saw his potential, who pushed him to take a leap. Carlos Delgado has no secrets. His artistic process is organic, and he's not afraid of making mistakes. His work, showcasinghuman emotions like compassion and nostalgia, reflects on what it means to be human as well as the cultural and social aspects of his environment. He speaks a universal language and paints primarily for people's expressions. "Trying to connect with people for me is very important."
Though his current technique may seem defined from an outsider's point of view, Delgado is nowhere near settling. Going with the flow, experimenting with new materials and ultimately, offering something different to the current art market will always be a huge part of his practice. "For me, art has always been about more than just creating art. It has always been about connecting with people through my art and in person. People often come to me to ask for advice: 'How do you live from art?'... Just try. I don't know how it happened; maybe I was just lucky. The reality though is that I work, work, and work."
Carlos Delgado, Toronto-based visual artist, for this week's Artful Vision.
Instagram:@artcarlosdelgado