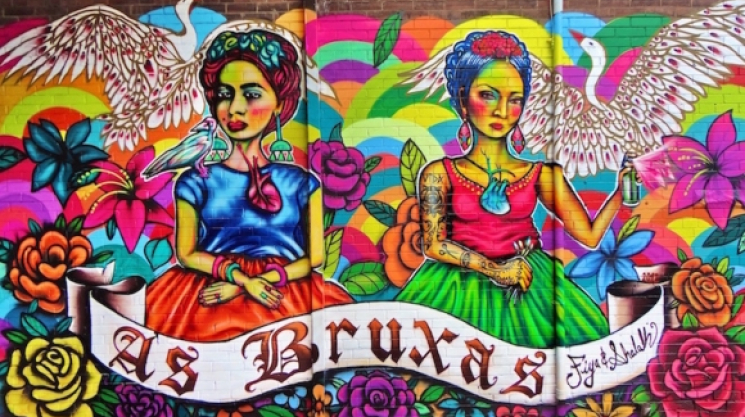 Thu, 06/23/2016 - 11:37 by karyn
"If art is to nourish the roots of our culture, society must set the artist free to follow his vision wherever it takes him." - John F. Kennedy
More than a mere spotlight on talent, Artful Vision focuses on the moments of inspiration which came when artists found their vision. This week, amongst new artists and upcoming great names who are usually given the spotlight here, I introduce you to Toronto-based artist Fiya Bruxa. Her visual stories expressed through canvas, mural, graffiti and installation have been internationally recognized and exhibited in some of the finest galleries. As a means to highlight the 10th piece of the series while also inspiring anyone in search of some artistic leap of faith reassurance, we go over her upbringing and breakthrough moments only to conclude with two precious pieces of advice.
Strongly involved different communities and organizations surrounding her, Fiya Bruxa uses art as a tool for social change. She strives to make the world a better place, and she's not alone. "When you ask yourself these long trajectory questions - 'what is this path?' - and you see all of one's actions amount to something, little by little, and no matter how small they may be, they can connect you with other people, communities or organizations that believe in the same value system [as you]." If her vision keeps flourishing over time, she feels the principles and values guiding her everyday life have always been the essence of who she is.
As a child, Fiya Bruxa had already manifested a vivid interest in the arts. Her mother, supportive of her creativity, would let her paint on the furniture at home. "We were given the freedom of expression." Raised with both art and performance, she first devoted herself to performing arts - she worked in film, television and theater. However, after some time, she questioned the context in which she was working, which led her to graffiti and street art, leaving performance behind for quite some time. "This gave me freedom and full expression. [...] I was able to tell stories the way that I wanted to and in public spaces, which is a very powerful thing in itself." If Bruxa at that point embraced graffiti's value systems - "on your terms" - she explains it was only "over a few years of working in worlds that seemed separate that I was finally able to merge [them] and start applying art in social community empowerment terms." The realization first came internally; she describes: "There was something inside telling me that my spirit couldn't breathe if I didn't create art. I'm a storyteller; I reflect things that I see in creative forms. [...] I realized that as an artist, I didn't want to produce for the gentrification or the curatorial purposes of creating a product that will be sold." As I ask her what advice she would give an upcoming artist hesitant to take his leap of faith, she replies: "The first step is the importance of recognizing and acknowledging one's value system. The second step is to analyze, question and understand the context within which you are creating: what are the value systems of that context." While she believes in everything being a possibility, she also strongly values and believes in hard work, as "hard work will always go somewhere".
Fiya Bruxa, international award winning visual artist, actress, writer and filmmaker, for this week's Artful Vision. Catch her at some of her workshops and lectures in the Toronto area, or in some of this summer's festivals. Instagram: @fiyabruxa