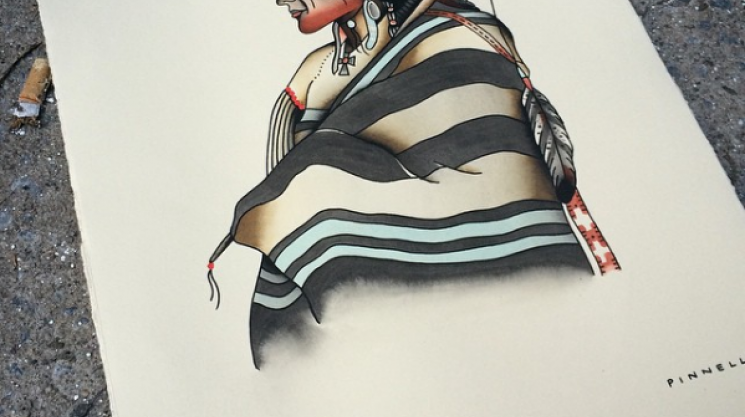 Tue, 08/02/2016 - 08:31 by karyn
"Tradition is not the worship of ashes, but the preservation of fire." - Gustav Mahler
There's something quite fascinating about a chain of events. Tattoo was not always part of Malcolm Pinnell's life. In fact, he's only about two years into his career, and strives to dig deeper into the non-commercial side of the craft. The Montreal-based artist sees his work like more than just a transaction: "[I like] this idea of [living off tattooing] as a background thing. Feeling in someone's work that it's way more than just a job or this commercial thing, that it's [a part of the artist]." Safe to say he's come a long way since his appreciation for another fellow student's small snowflake tattoo, a few years ago.
Pinnell's career took off in Montreal, where he initially practiced sketching drawings of things he wished to get for himself. His vision of tattooing then was entirely different then as it was all about stereotypes: slick back haircuts, vintage booth decorations, collections, and so on. Things changed when he met Rich Fie in New York City. "I had a media directed vision of tattooing and how I was supposed to see it." Rich was different and had what Pinnell describes as a refreshing view on tattooing. For Fie, tattooing was not a trend; it was a craft he learned from a long lineage of artists at the time NYC's tattoo scene was taking off. "When I met Rich, that's when it completely flipped the switch. [...] For me, it was a very pivotal moment, and he probably doesn't understand how much I think I owe him." With the utmost respect for some artists who led the way, Pinnell appreciates the mentality behind apprenticeships, being open to opportunities, hard work and building a sensitivity to know what clients are looking for.
Heavily influenced by his NYC escapade, his drawings, vision and whole way of being changed. And he's more than okay with that. "I feel like it's more organic. I feel like it's hard for someone of my age to be as genuine about saying 'I'm a classic tattoo artist' or 'I'm only gonna do classic design', because there's no history to our place in that." When questioned on what parts of his experience of life he brings to his art, he responds: "I honestly feel like very much still figuring that out. I think that's a lifelong thing."
Incredibly humble and open to every opportunity that comes his way, his goals aren't style related per say. "Rather than saying that 'this is my style', I'm more shooting for some level of quality and creativity within tattooing." And well, if you take a peek at his art you immediately get a glimpse of that, as he uses cardboard for drawings and paintings, adding character and feel to his craft. Within his practice, Pinnell challenges the very polished, pristine and clean cut view of nowadays tattooing. And he has only started to push boundaries.
Malcolm Pinnell, Montreal-based tattoo artist at Tatouage Electric Avenue, for this week's Artful Vision.
Instagram: @malcolmpinnell