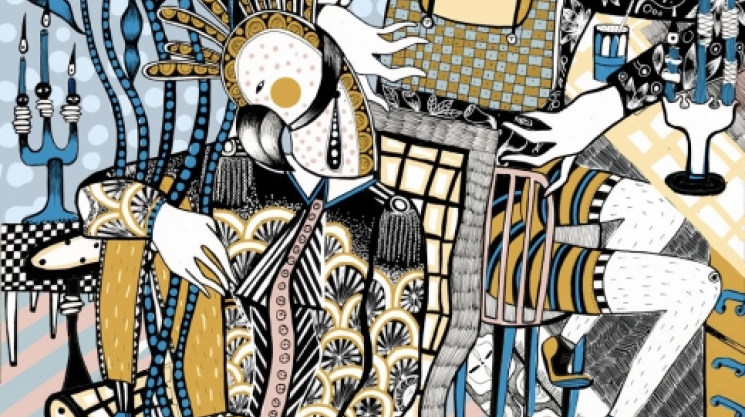 Mon, 04/25/2016 - 12:00 by karyn
"Your craft or your voice can do so much for you." - Ola Volo
There are such dramatic ups and downs when pursuing something so seemingly intangible such as art. For Ola Volo, a freelance artist and illustrator based out of Vancouver, feeding off her creative multiculturalism outlet is like exchanging vows with what she's passionate about: it's for better or for worse. When work isn't as commendable as she'd like it to be, it takes a toll on everything else.
A little over four years ago, Volo was sitting in class listening to lectures given by successful male artists she couldn't relate to. "I couldn't feel more farther apart," she recalls. She couldn't piece how they had reached that status. In all fairness, it was not until her last year of college she fell in love with art. More specifically, articulate illustration work, lovingly acknowledging and celebrating the world's subtleties through rich symbolism and elaborate forms. Her college's graphic design degree may not have appealed to her, but she was doing well and took the opportunity to study abroad in Holland. However, as there was a definite language barrier, Volo went into a self-realization research mode, after which she fell in love with illustration. She sketched day and night and shared work with other artists who, despite not necessarily understanding English, in a way still spoke her language. She felt like she had found her people.
Be that as it may, the facts remained: she was a broke Bachelor of Fine Arts graduate, hence the appeal for marketing. Six months in and unhappy, things went flat-out south: "I completely burnt out to the bone. I was working 60-70 hours a week. I hit rock bottom. I realized I couldn't do something I didn't believe in." Though Volo had many fears about putting herself out of work, quitting her job was the only way. She recklessly booked a plane ticket to New York City and started freelancing. "I had to come to terms with the fact that not having a 9 to 5 job doesn't mean you're not working or investing in your vision. It just means you're living a different type of lifestyle." Four years later, as we chat about her successfully propelled freelancing art career, Volo describes committing to art as some sort of experiment with her life, an attempt to see where art can take her and vice-versa. "I think that's the biggest gift I got out of pursuing art: it built my core."
Ola Volo, artist and illustrator based out of Vancouver, British-Columbia, for this week's Artful Vision. Instagram: @olavolo