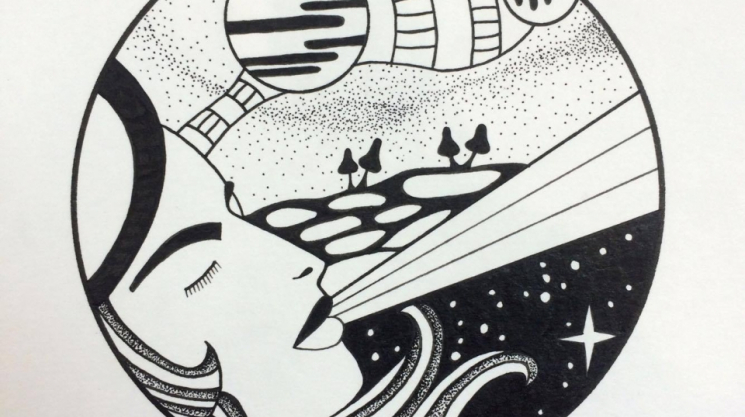 Fri, 09/23/2016 - 07:09 by karyn
"There's always a learning curve, where you've got to learn what your subject is all about." - Brad Gilbert
Learning curves and apprenticeships: two concepts quite familiar to Pascale Marinier, a young Montreal-based tattoo artist. Poking (literally) her way into the tight-knit industry, one could describe Marinier's learning journey as eye-opening. "Being a tattoo apprentice is probably one of the best things that happened to me." Apprentice at Enigma Tattoo since March 2016, she came into the industry with a fearful or nervous mindset. In fairness, who wouldn't wish for an internship to be the start of something -- both personally and professionally?
Hailing from studies in science and physical rehabilitation, Pascale Marinier brings mindfulness and perfectionism to her art. "Considering that I haven't been tattooing for many years, I am currently still working on developing a style, but I am aware that for clients, friends and family, my work has its own vibe." She cares about what she outputs and feels even more rewarded when she can bring other people's ideas to life. Grateful she got her chance, Marinier explains there are a lot of different people practicing the art, and there are loads of different ways to do it as well. "I realized that it might not be as easy as I thought to gain trust from the people working in the industry, but I'm definitely looking forward to proving I deserve a little place in the big world of tattooing. It's art, and opinions are opinions; not everyone will love your art."
At the moment, Pascale Marinier showcases a portfolio filled with dotwork and pointillism, and while she currently mostly works with black ink, she plans to start experimenting with colors. And with the great support she gets from her entourage, her future is nothing but bright. "It's pretty nerve-racking to try stuff on people permanently but at the same time, it pushes me to do my best and to be satisfied with my work -- which was a rare thing when producing art on paper. [...] I am completely amazed at all the support I get from my clients, friends and family."
Pascale Marinier, Montreal-based tattoo artist for this week's Artful Vision.
Instagram: @pascalemarinier