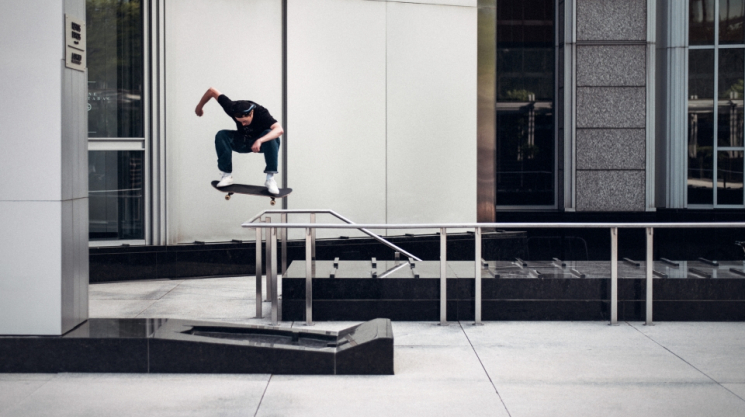 "There is no end to education. It is not that you read a book, pass an examination, and finish with education. The whole of life, from the moment you are born to the moment you die, is a process of learning." -Jiddu Krishnamurti
You could easily find Ryan Lebel wide awake at 2:00 AM. Working as an editor from home has given him complete flexibility in terms of time management, and late nights seem to be working best for the Montreal-based photographer and retoucher. But this luxury came with time, effort and bold moves. "I grew up as a skateboarder on the East Coast, and discovered early on that photography was a great way to heal a sprained ankle. With New Brunswick being a bit slow for opportunities, I decided to leave my hometown and venture out to the big city." A challenging transition to say the least, but one that paid off. "Back in October, a friend of mine had an interview coming up with a skateboard magazine. We went to a spot near the U.S. border and found the ideal rail. I knew everything had to be perfect; the lighting, composition and timing. [...] A few days later, I found out the shot was going to be the magazine's cover. Had I stayed in my hometown, I know I couldn't have achieved that." What I love about Lebel's mindset is that with him, the only way is forward: it's all about living and learning.
Like most of today's photographers, Lebel considers social media to be his biggest marketing outlet. And while he's been working with magazines and art shows more, I ironically found his work through Instagram. I guess that's no surprise being that I'm an arts and culture collaborator -- social media tends to be where I find inspiration. But things are slightly different for Lebel. "I get inspiration from my surroundings. When I recognize a moment that I want to capture, I have to be ready to document it. That is why I always carry a point and shoot film camera with me; not in my bag, but by my side." For the Montreal artist, photography is all about capturing an original moment in space and time and retouching, the aftermath of the action. "As a photographer, you control what's in the frame and how it is lit. You're creating a unique scene, which is both challenging and fun. Usually my goal is to make the photo look the way I remember my eyes seeing the scene." You'll quickly understand from Lebel's pictures that his natural inclination is to shoot skateboarding; after all, it's where his journey all began. However, he does provide a wide array of services. He explains: "Everything else is a branch from that point of origin [skateboarding]. Like any creative person, I feel the need to interpret the world around me, so I go through phases and photograph what I am inspired by at the time." And with a list of clients like Red Bull, Converse, Empire, Dime, RVCA and The Image Salon, one could say the Ryan Lebel's future is looking bright! Sometimes, it's all about making that one brave decision. As the poet Virgil once said, "fortune favours the bold."
Ryan Lebel, Montreal-based photographer and retoucher for this week's Artful Vision
Instagram: @lyanrebel