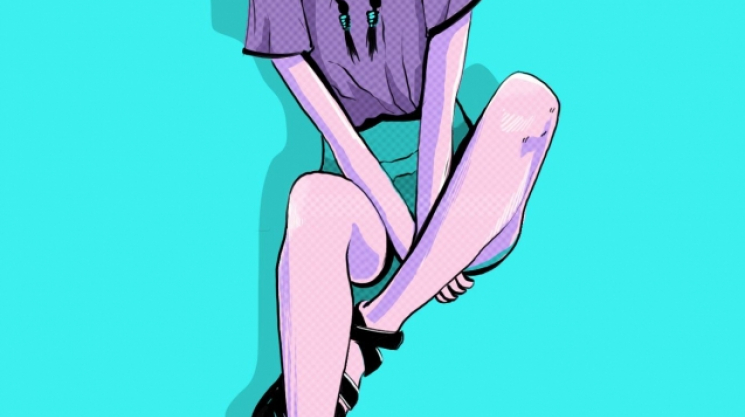 Fri, 09/30/2016 - 16:28 by karyn
"Красотаспасетмир"('Beauty will save the world') - Dostoyevski
Illustration, art, literature, raccoons, muffins and aliens. That is how Montreal-based freelance illustrator Valaska describes her world in six words. Currently juggling both a career and the near end of her advertising illustration studies at College Salette, Valaska's rising presence in the city's art scene is one to watch with attention.
"Being a freelance artist is a challenge of course, and making the big leap sometimes takes a wake-up call." And Valaska's wake-up call came a few years ago when going through a hard time; she realized she had to respect who she was to find happiness and see past the storm. "I headed towards the world of arts," she explains. Self-taught artist for the most part, Valaska see pros and cons to her learning journey: while she enjoys the rewarding feeling of discovering things on her own, she admits she suffered from a significant lack of artistic fundamentals, such as perspective and human anatomy. "I want to insist on the fact that a good teacher can save you years of introspection with a simple critique, in a single sentence correctly delivered." Did she find her learning curve and career launch harder because of a non-conventional art upbringing? She answers yes and no. Through friends and acquaintances, she progressively began to get commissions, and the next logical step in Valaska's mind was to seek the full potential of her main passion.
Strongly inspired by Russian literature -- Dostoyevski being a "personal legend" to the young illustrator, Valaska occasionally tracks down the emotional belonging she feels to a 19th and 20th-century Russian culture and society through her art. When questioned on what she gets commissioned for the most and what style she aspires to develop, she answers: "So many people ask me for tattoo sketches, but mostly I get very excited about the world of concept art. I aspire to one day become a freelance concept artist. Oh, and portrait commissions also, I just love making portraits."
As for other career aspirations? She's working on giving her branding a strong and singular identity by finding connections with other artists, participating in various art events and developing favourable business agreements with future clients.
Valaska, Montreal-based illustrator & artist for this week's Artful Vision.
Instagram: @valerialaska