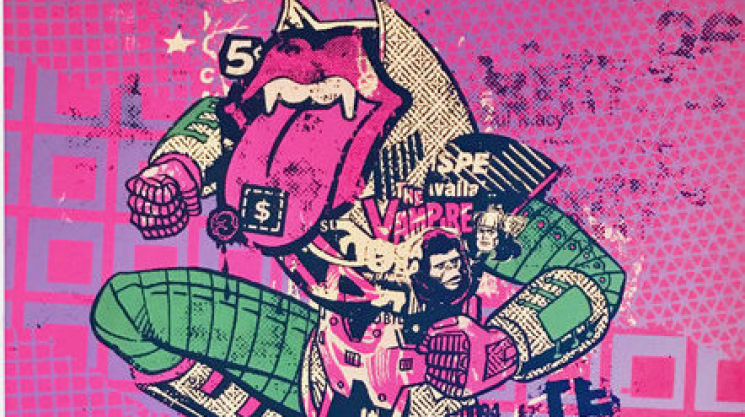 The iconography of superheroes is imprinted on us at an early age. Just try closing your eyes and imagining the pointy-eared silhouette of Batman, the building-to-building strands of webbing connecting Spider-Man to his New York cityscape, or Captain America's red-white-and-blue Vibranium shield. It's all there, right? Ohio artist Paul Rentler is messing up those memories, distorting decades' worth of backstory with his character-mashing collages. In a piece referencing one of the most tragic moments in comics history, Spidey's head is lopped off in favour of a pyramid, the blank stone walls of the neck-topping structure obfuscating the grief of holding dead girlfriend Gwen Stacy in his arms. In another, the Incredible Hulk's chiseled abs and balled-fists become less imposing when the mushroom-shaped dome of a Super Mario Goomba tops of the total package. Rentler's cut-and-paste jobs are as hilarious as they are head-scratching.
"I like taking bits and finding ways to fit stuff together, the puzzle that it is," the collagist tells ION on the line from his Columbus-area home, where he works from the basement. Informed by years of contorting magazine and colouring book images for personal zines, and time spent as a professional screenprinter, he notes that his starter pieces weren't as blatantly butchering Marvel and DC's roster. That's clearly changed.
"At some point it became fun to take more recognizable elements from all the stuff that was branded upon us in the 80s and 90s and play with it, twist it around a bit," he says. "If I made myself chuckle, or made something feel weird....it became a more rewarding piece to make."
Rentler's oddest creations are racking up likes on Instagram, and he's also selling work through his website. A recent full-colour print blurs Lex Luthor's 80s era battle armour with the brazen, fuck-all attitude of the Rolling Stones' big-mouth band logo. Look deep into the lime green-and-cotton candy pink plating and you'll find a chimp from the Planet of the Apes, part of the logo to vintage horror book Vampirella, and a mail-order ad dollar sign dabbed onto the tongue like a psyche-altering piece of blotting paper.
The artist's attraction to hero fiction was kickstarted in his youth by old episodes of Super Friends and inheriting a collection of hand-me-down comics from an older neighbour, but his approach is also indebted to the empowering nature of the colouring book. He explains:  "I've always loved the idea of colouring books, what they were designed to be: 'colour this, make it your art, throw it on the fridge.'"
While putting his particular twist on copyrighted characters seems like he's walking into a legal minefield, Rentler's managed to make it into the industry. He currently works with DC Comics offshoot imprint Young Animal, the quirky creative hub headed by My Chemical Romance frontman Gerard Way. "He liked the juxtaposition of the comic book stuff and the creepy stuff, and then just the black and white boldness of it being like a rock and roll zine," Rentler says of being scouted by his boss, whom he praises for his encyclopedic knowledge of the medium.  To date, Rentler has prepped collage-style alternate covers for titles including Doom Patrol and Cave Carson Has a Cybernetic Eye. His roughshod design textures also appear in ads and the line's back-of-the-book Editor Notes.
While the hook to Rentler's work may be the norm-unsettling blending of familiar characters, there's more going on than simple mash-ups. It's the well-crafted composition that makes these pop culture exploding works stick with comics fans.
"I didn't want to lean whole-heartedly on just that I pulled from  popular imagery. That's the line that I'm always skating, I'm always trying to figure out the balance," he says. "It's more about marrying elements together that look like it was one cohesive, it should be and always was one cohesive thing."
With his art trafficking fast through social media, Rentler's vegetation-laced, big-eared Mickey Man-Thing  and the doubly-villainous Skeletor/Doctor Doom hybrid have entered the pantheon. These mutations may not make it into proper comics continuity any time soon, but they at least look better than Composite Superman.