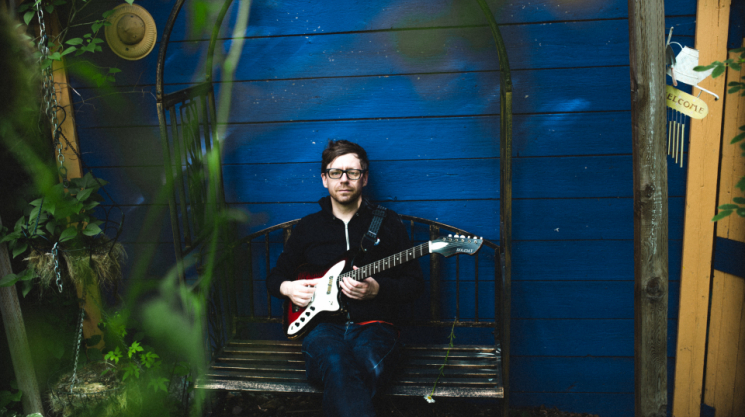 Wed, 06/06/2018 - 09:28 by karyn
Matthew Swann is a rarity in the music business in this day and age. Performing under his Astral Swans moniker he crafts thoughtful, introspective songs that contain some pretty powerful themes as well as some pretty powerful hooks. With his newly released sophomore album Strange Prison, Swann has created a set of extremely personal songs that at the same time are instantly relatable to any listener. The album tackles an array of subjects such as mental health issues, trauma, the duality of people and the uniting power of art.
"These songs are all deeply personal," Swann says on the phone from his Calgary home, "but it's storytelling through characters that don't necessarily exist as human entities." Take for example the song "Prison Builder". A definite album highlight, the track is languid and dreamy featuring Swann's distinctively honest vocals and an extended dirty and distorted guitar solo that closes it out. "That song is essentially about someone who's literally working on building a private prison in the US. I wanted to analyze the circumstances of the people who will eventually be there. When writing it, I could be the incarcerated individual or the person putting them there.  I like exploring human behavior through songwriting, these situations I could see myself in and all sides of the narration. It's a commentary on solipsism. We are all limited by our life experience and the circumstances we were born into and everything that has informed. The window we look into the world is very individual but the themes are universal."
Recorded with Preoccupations' Scott Munro and Vancouver's Dan Mangan, Strange Prison is a textured and varied collection that recalls the work of Hayden and Elliott Smith but that still feels like the work of a singular artist. "The last record I did was made in my apartment with my friend Brad Hawkins. It's much more of a low fi record. Everything being done in a complete take. The playing and singing were done live. Strange Prison is a slicker record and that was intentional, for sure," Swann explains, "There's a lot of space though. It has room to breathe. These songs require a bit of fragility and space and grime and disruption and noise."
When his last album All My Favorite Singers Are Willie Nelson, was released in 2015, Swann toured in two very unique ways. "I did a tour with Hayden and Dan Mangan in these massive venues, 2000 seat theaters." Swann shares, "Then I did the complete opposite tour, tiny house shows on a macro level." Was this a response to playing such large rooms at the start of the tour? "Not a response to it, more complimentary to it," he explains, "I got to approach the songs live in a different manner. I really like doing smaller and DIY shows. Most of the giant tour I did solo with just a guitar. The benefits of a tour like that are great. In the exposure sense it's nice but I am not typically making music that appeals to that many people in each of these cities. On my own there are only so many people that fit into the demographic of people that want to hear weird, psych-y death songs." Swann laughs, "But it's just different ways to share the art with people that respond." This time around Swann will be performing across Canada and around the world promoting Strange Prison, including a tour of Japan. "I have no idea what to expect, I don't know if they will like it," Swann says with some excitement in his voice. "Nine shows and it's been really well organized and it's come together really nicely."
Sharing these songs with people that may relate to them is important to Swann. Being a songwriter has helped him to overcome, or at least face some of his own issues. "There's a heaviness to the record thematically but with the fundamental goal of transcendence through beauty and art to step beyond the horrors of the mundane." Even though the subject matter can be dark, Swann explains, "It's not nihilism for sure, I feel there is a hopefulness to it, a way to use beauty to step out of this stuff and revaluate." This stuff Swann's referring to are issues the singer has been dealing with his whole life and that he is becoming more comfortable dealing with.  "I'm being more upfront about mental illness, OCD and tourettes, things like familial trauma, things that I've always hinted at but that I'm able to be a bit more forward about it. It feels right now." This need to be honest for Swann is something that really shines through the raw subject matter of Strange Prison and really elevates the material. "A lot of it is just seeing the need for normalizing the dark and difficult and the more internal aspects of being a human. These are not uncommon problems and I think we are evolving to a point where we can evolve past the stigma of what it means to think and feel in certain ways. I had a lot of real awful shit that happened during the course of making this record, which is a different story, but the whole reason why I make music and write songs is to use beauty and art as a way to overcome these things and to deal with the challenges of being a human being. I don't want to lie and I don't want to present myself as a person that I am not. Morally greater or more mentally or physically fit then the way I am."
With Astral Swan's Strange Prison the honesty may not be the pretty but the way Matthew Swann is able to translate this pain and make it relatable also makes it wonderfully beautiful.
Astral Swans plays a special show this Saturday, June 9th, at Massey Books, 229 East Georgia Street, in Vancouver.