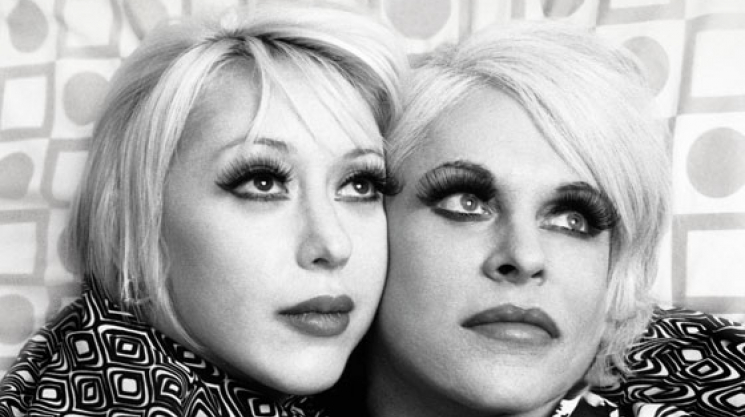 Deep down, it's just another love story. Two people find each other and realize that this was what was missing—that now, things are right, how they were always supposed to be. The way that these two people, Genesis P-Orridge and Lady Jaye Breyer P-Orridge, showed their love is what sets them apart and is the subject of Marie Losier's documentary The Ballad of Genesis and Lady Jaye. Losier's intimate 16mm photography and the testimony and narration of Genesis combine to make a love letter to the departed Lady Jaye and a tribute to their enduring bond.
They married in 1993 and, instead of having children, decided to create themselves in the image of each other, to create a third being they called Breyer P-Orridge—this quest to create a new gender they called Pandrogyne. Genesis got breast implants, they both received numerous plastic surgeries to more resemble one another. Awaking in the hospital, hands clasped, Genesis looked down and said, "These are our angelic bodies." It's tempting to overrule this movement as a plea for attention but seen through the eyes of Genesis, it's a declaration of love and commitment, a spiritual act, a meeting of two minds and souls through the joining of their bodies.
A few useful facts are glossed over that would have added more context to their story; namely that Lady Jaye died, tragically, of stomach cancer (it's never made entirely clear what happened) and secondly, that these surgeries were paid for by a legal settlement between Lady Jaye and Rick Rubin, after she was badly injured while escaping a fire at Rubin's house.
Genesis describes his tumultuous upbringing in England, how his youthful malaise turned into the birth of industrial music, how everything came together when Lady Jaye came into his life. Losier, for her part, finds the archival footage, the angles, the moments, that make this story both sui generis and universal. Together, they've created a ballad.