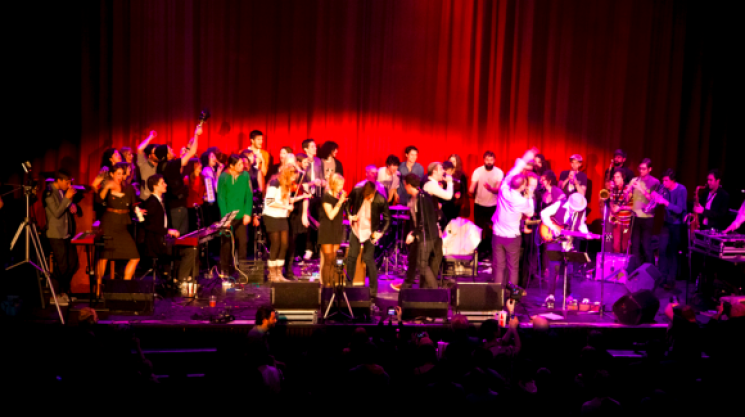 Mon, 01/21/2013 - 13:26 by Natasha Neale
On January 17th some of Vancouver's biggest musicians came together to perform Beck's songbook, Song Reader  - released by the publishing house McSweeney's in December of 2012. The twenty songs have never been released or recorded by Beck, and the only way to hear them is to read and perform the sheet music.
This is exactly what transpired at the Rio Theatre, to a very enthusiastic and responsive sold-out crowd for what was dubbed "BECKstravaganza".
Noah Walker of Vancouver band, The Broken Mirrors (who also performs with many of the other bands on the bill), enlisted the help of the 20 bands to bring the album to life.
Christie Rose, Ben Rogers, Pineapple, The SSRI's, VanDriver, Company B, Debra Jean, beekeeper, Rococode, Mother Mother, Hey Ocean!, Paul Pigat, Leah Abramson, Buckman Coe, Jesse Waldman, Headwater, Hilary Grist, Khari McClelland, and CR Avery, each took the stage to perform a song from the song book, many accompanied by The Broken Mirrors as well.
The organizers took to the stage first to play "Sorry", probably one of the most similar sounding to Beck's radio-hits. Immediately following this, Christie Rose came out to sing "The Wolf Is On The Hill", which was my first inclination that there would be more folk/country songs in this book than I expected. But that's Beck for you.
Ben Rogers performed "I'm Down" (another very country tune) next, after being introduced by Walker, who stated that Rogers does "a mean Beck impression." Most of the band, Pineapple, were on hand to play "Saint Dude" and were followed by the SSRI's, who got a HUGE reception from the crowd for their rendition of "Heaven's Ladder".
Walker read some of the fake song titles that are found on the artwork in the song book, this included the first few bars of a song called "Won't You Fondle Me" which was then played by VanDriver, who executed it perfectly, drawing laughs from the crowd.
The Company B singers did an amazing job on "Old Shanghai", with The Broken Mirrors backing them up, as well as a saxophone, and one of the ladies even had a kazoo to top it off.
A crowd favourite, not to mention overwhelming musician's choice for favourite performance, Debra Jean Creelman sang the haunting "Please Leave A Light On When You Go". It prompted a large chorus of "OOO's" and "YEAH's!" from the group of performers watching from the side stage.
Expertly placed next after a lot of folk and country was the very odd song "We All Wear Cloaks", a match made in heaven for the band beekeeper. Near the end of the tune a few of the musicians came out in cloaks and masks to dance around the stage, and upon prompting, they had the audience dancing in the aisles.
Rococode, belted out the haunting "The Title Of This Song" with a little help from Mother Mother, including Jeremy Page on saxophone. Huge crowd reaction and Ryan Guldemond declared that Laura Smith (of Rococode) "sang the shit outta that last one". It was Mother Mother's turn immediately afterward and they performed a Beck medley ("Little One" From Sea Change, and "Nightmare Hippy Girl" from Melow Gold) that led into the intermission.
To start out set two, Hey Ocean! played the sexy, sultry, and dark "Why Did You Make Me Care", which is quite a feat since they included the ukulele - one of the happiest instruments there is.
Paul Pigat's take on the jazzy "Rough On Rats" was very Tom Waits-ish (think "Alice"), yet almost sounded like it could be in a Pixar movie (I'll go with Ratatouille).
Leah Abramson sang "Don't Act Like Your Heart Isn't Hard" – a sleepy country song that left people whispering comparisons to Kathleen Edwards' voice.
I had never seen an electric ukulele until this evening, when Buckman Coe put a bit of a reggae-ish twist on "Eyes That Say I Love You". It was definitely one of the most unique performances to the night.
Perfectly suited for a duet, "Last Night You Were A Dream", was done by the man who most dressed the part, Jesse Waldman. A folky slow dance of a song, could have only been outdone with the addition of a pedal steel to the mix.
Headwater and friends were out next to do the VERY country "Now That Your Dollar Bills Have Sprouted Wings" (man, there are a lot of long song titles in this book). I have to say, Noah Walker did an amazing job pairing songs with artists.
"Just Noise", was performed by Hilary Grist on the piano, and brought the "Ooo's!" back out of the crowd. This was followed by a song that, for me, stuck out from the others in the book (in a jarring way); "America Here's My Boy" is a mournful and patriotic going-off-to-war song, sung that evening by Khari McClelland (with some of Vancouver group e.s.l. on cello and trumpet).
To close out the night CR Avery (along with Company B, Hannah Epperson and more), came out to do the call and answer song "Do We? We Do" (after instructing the crowd to get up and dance, and to "punch a photographer" – which I wasn't too happy with seeing as I had my camera in my hand. No one did though).
The audience definitely got their money's worth, yet were crying out for more when it was all done. The entire assembly of musicians obliged with a rendition of "Where It's At", with everyone crammed on the stage.
As I exited the theatre I passed probably a dozen groups of people taking, all exclaiming "That was awesome!" and "How cool was that?!", and I agree. It is a real treat to have that caliber of musician on the same bill, let alone performing something that most people wouldn't get a chance to hear otherwise. That is, unless you look on YouTube, or go to Song Reader to see the uploads from fans performing the song.
If you missed out on the sold out show, the entire evening was filmed and recorded, so soon everyone can hear the renditions. Kudos to The Broken Mirrors for putting together an amazing evening and to Beck of course, for creativity and some damn fine tunes.