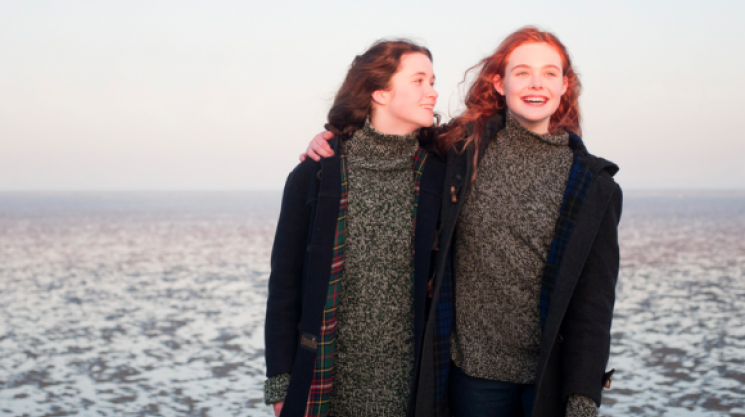 Thu, 04/04/2013 - 07:57 by Natasha Neale
Elle Fanning shines in this emotional portrayal of life in London in 1962. Set against the backdrop of the Cuban Missile Crisis, Ginger and Rosa, by three-decade spanning acclaimed director Sally Potter, cleverly parallels the fear-filled historical threat of nuclear holocaust, alongside the sexual revolution and the troubled adolescence of its title characters, the shattering of their friendship, and more than troubling family dynamics.
While I admit the movie started off a little contrived, more concerned with the beauty of the scenes— each shot is a beautifully constructed photograph—than the uninspired dialogue, this let up as the film went on, and became an appreciated side note, along with the film's music, rather than the focus.
It begins with the best friendship of two teenage girls, Ginger (Elle Fanning), and Rosa (Alice Englert), embracing life, politics, and freedom, playing truant and worrying about their future. This is framed by Ginger's unstable family life, with a frustrated painter mother, Nat (played by the beautiful Christina Hendricks) and pacifist, romanticised father, Roland (played by dreamboat Alessandro Nivola).
As the drama unfolds, in their personal life, and society around them, Ginger and Rosa paints a portrayal of men and women that echoes powerfully throughout the entire film. Ginger's once romanticised father's mask slips, her friendship with Rosa unravels and she plunges into an emotional tirade, mimicked by the world around her and her concerns of human extinction and personal devastation.
The attempted English accents, straight out of the Austen era instead of radical sixties London, become easy to bypass after a while as the honesty of the movie overshadows. Enjoyable, but not an easy watch at times —with the palpable drama, watch-from-behind-your-hands moments—this is a memorable, beautiful and painful coming of age drama. A great ensemble cast, including Annette Bening (she is forever flawless), with Fanning as the near perfect anchor.
Ginger and Rosa is out on general release in Canada on Friday April 5th.