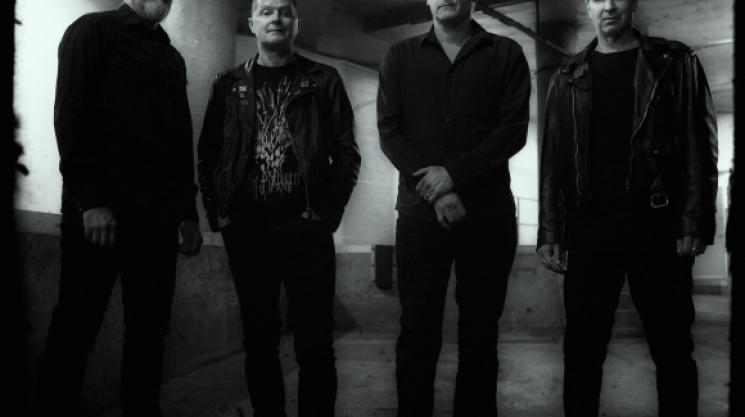 Wed, 06/19/2019 - 13:06 by karyn
In the 1980s, Vancouver was a bit of a hot bed for alternative music. Punk, Post Punk, New Wave and New Romantic acts were the toast of the town. At venues like The Town Pump, Luv A Fair and The Commodore, local acts would play to large crowds every weekend and were as much celebrated as any touring act of the day. Right in the middle of all this were The Gathering. The band formed in 1985 and almost immediately were performing onstage with luminaries of the scene. After the release of their debut EP, Let It Shine, the band hit the road and shortly after decided that the project had run its course and moved on their separate ways.
Flash forward to 2017, there is a resurgence of Post Punk bubbling up from the underground in clubs around the world and the four friends of The Gathering decide maybe it's time to get back together and see what happens. Well, what happened is the band went into the studio, namely Jacknife Sound, with producer Jason Corbett and made the ReTransmission EP. The EP was the key to rejuvenating the act, and since then they've gone on to hit the stage with legends of the time like The Alarm and The Grapes Of Wrath.
Now, The Gathering have just released some brand new songs. Again with Jason Corbett, the band went into the studio and cranked out a wonderful collection of post punk and new romantic hits guaranteed to garner nostalgia for that era of music or, in turn, propel a new generation into discovering what came before. All dark synths and chiming guitars, Love Songs is definitely a blast from the past but forward-looking enough that it doesn't lose any relevance. The four tracks that make up the album are the kind that can easily get you on the dance floor or through a moody night by yourself at home. Whatever direction you choose, it's nice to have The Gathering back in action and it's exciting to see where they go from here.