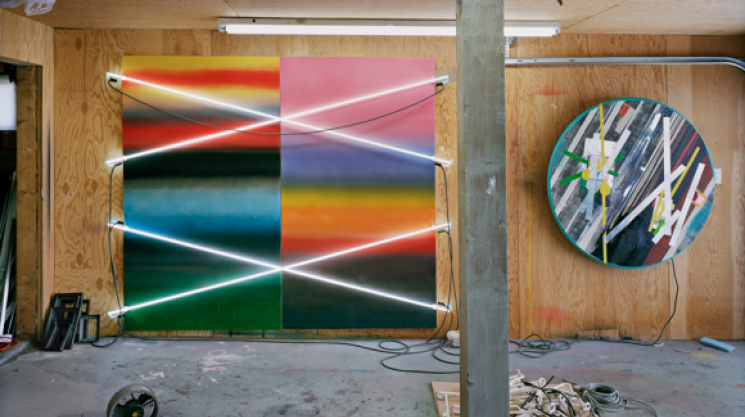 Fri, 10/06/2017 - 13:13 by karyn
Why do we value art? Is it because it makes us feel alive as it unveils a part of ourselves? Is it because we see it as a social tool for change? Or perhaps is it simply because eavesdropping is second nature to humanity, and art provides us with an incomparable intimacy with a creative's mind?
Regardless of our reasons, we, as viewers, usually get to see what is the final result of the artist's endless hours of research, tests, roadblocks and 'ah-ha' moments. We visit the exhibition at its launch, share drinks and conversations, and call it a night when we feel like we've gotten that much closer to understanding the artist. The creative process and the setting that allows it, however, isn't often given the limelight. The Artist's Studio, an ongoing project by Hamilton photographer Joseph Hartman, challenges this exact idea.
Printed in large formats - 30 by 40 inches or 40 by 50 inches - the exhibited photographs composing The Artist's Studio invite the viewer into each space, creating an incredibly immersive experience. Traditional studio spaces to this day remain unique to each, and Hamilton's photographs give an unheard of, soft and insightful perspective into the crafts, but also personalities of over 100 Canadian artists.
The Peter Robertson Gallery is open Tuesday through Friday, from 11:00 am to 5:00 pm, and Saturdays from 10:00 am to 5:00 pm. The Artist's Studio will run until October 10th, 2017. For more information on the exhibition or Joseph Hartman, get in touch at info@probertsongallery.com.
The Artist's Studio
Peter Robertson Gallery
12323 - 104 Ave. NW, Edmonton, Alberta
probertsongallery.com