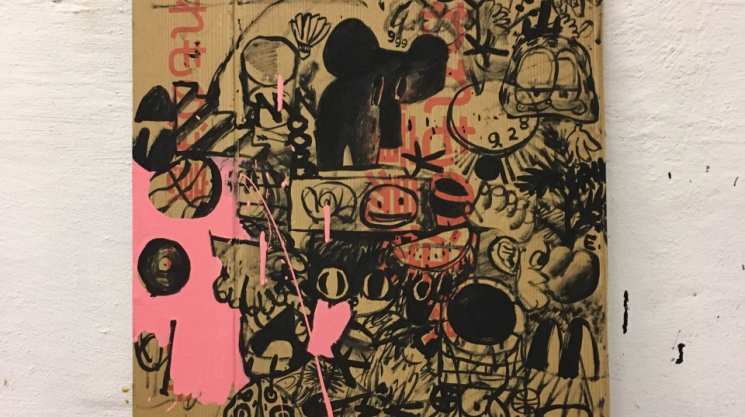 Mon, 10/17/2016 - 09:23 by karyn
Known for his dynamic and imaginative yet historical artworks, contemporary artist Tessar Lo's aesthetics return in "BOX", a new exhibition presented at Mi-Yu Gallery by Art Works Consulting. Featuring artworks on pieces of cardboard containers that once belonged to the streets of Chinatown, the viewer learns to appreciate the simplicity and the character of the chosen improvised canvas. Furthermore, its inherently changing state makes it imperfect, dusty and transitory and leaves the door open for discussions "revolving around purpose, repurpose, location, and the slow change of these things and of all actual matter".
"BOX" is the perfect occasion for the viewer to seize a good sense of Tessar Lo's art practice. As the artist emphasizes on the importance of the authentic processes of discovery, expression, and transformation, he uses the cardboard he found flattened, cut and folded on the streets and recycles them to produce notes, doodles, drawings, paintings, cut ups and reassembles - every stage emerging and merging "organically between repeated trials of doing, looking, and looking again".
If things are often created with the purpose of representing something perfect and ideal, Tessar Lo's artistic process in this case showcases the opposite. "BOX" is all about embodying a change of state and working with imperfect or bruised up materials to create perfectly flawed canvases to be worked with.
Tessar Lo's solo exhibition of all works on found cardboard is set to run from Friday, October 14th, to Friday, November 4th, at the Mi-Yu Gallery on College Street, in Toronto.
"BOX"
Mi-Yu Gallery
703College Street, Toronto