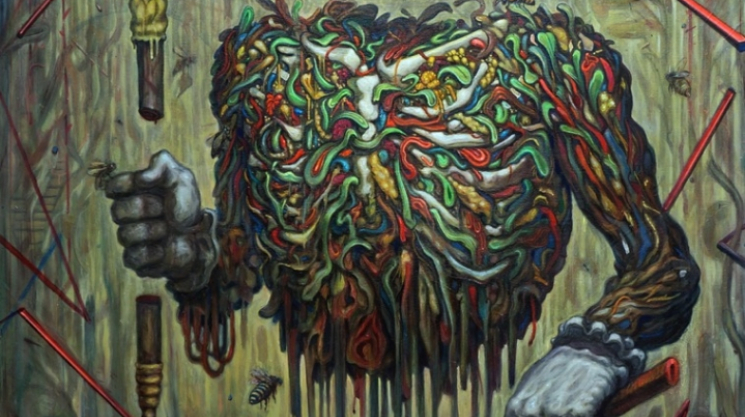 Thu, 11/17/2016 - 11:06 by karyn
Montreal visual artist and muralist Olivier Bonnard is one to take risks and be creative. A fast-rising artist to say the least, Olivier Bonnard's work can be found across the globe. However this week, no need to travel the world to get a glimpse of his vision. If you live in Toronto, or perhaps just passing through, make sure you stop by Olivier Bonnard's first solo exhibition "Contortions."
Inspired by the artist's fascination with observing the variations of individual perception and reality, "Contortions" features nothing less than a mixed media sculpture, 6 large-scale paintings, and 20 illustrations. This unique solo show is an open-arm invitation into Bonnard's half realistic, half fictional oneiric world of vast, enigmatic gardens "where creatures and idols compose a world in decay."
Bonnard's installments, now well sought after, always leave a strong emotion behind. Exploring every corner of his imagination, the painter's surrealist narrative and appreciation for detail might leave you uneasy at times - his characters don't always have a happy ending - but therein lies the beauty of his art: it has no limit.
Will you dare catch a glimpse of Montreal artist Olivier Bonnard's unfamiliar world? If so, "Contortions" is on view at Rally, in Toronto, until this Saturday, November 19th. The gallery is open Tuesday through Saturday, from 12 pm to 5 pm.
"Contortions"
RALLY
12 Ossington Avenue, Toronto, Ontario
Inquiries: rally@hermannaudrey.com
Contortions -- An exhibition by Olivier Bonnard from Hermann & Audrey on Vimeo.