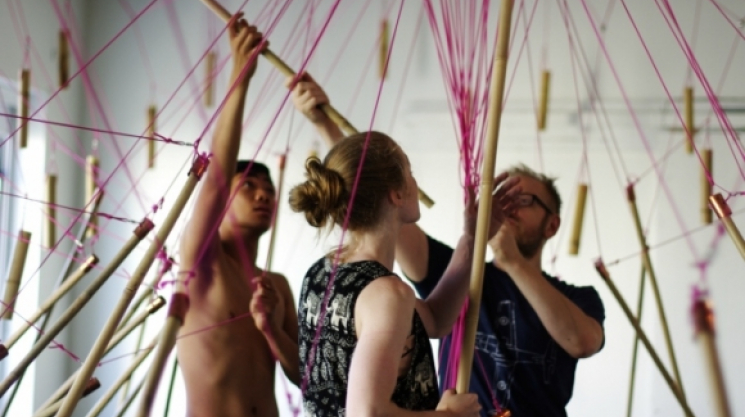 Wed, 05/31/2017 - 13:09 by karyn
As the Festival TransAmériques returns to Montreal, both an installation and a performance conceived by choreographer, dancer and teacher, Lee Su-Feh's 'Dance Machine' stands out by its unusual invitation: allow for visitors to take part in an immersive dancing experience. Exploring the human body for the last 30 years, the Vancouver-based artist offers through this new show a unique perspective on time, bodies and the sense of belonging, all at once.
Accompanied by thoughtful artists, the audience is invited to reflect upon the concepts of 'place' and 'belonging' while wandering round the 'Dance Machine,' a massive sculpture made of 64 pieces of bamboo, suspended by cords from a copper disc pierced by holes. As the artists and visitors interact with the installation, different textures and sounds unfold in tune to the movements made: "Artists and visitors alike are connected to the heart of a machine that intensifies the possibilities of the body for a brief, enchanted moment."
Described as a "playful, yet also meditative experience" this performance is bound to sweep you off your feet. Admission is free from 12:00 PM to 6:00 PM, and shows are scheduled every day from June 1st to the 4th.
Dance Machine
Édifice WILDER - Espace Danse
1435, rue de Bluery, Montreal
http://fta.ca/en/show/dance-machine