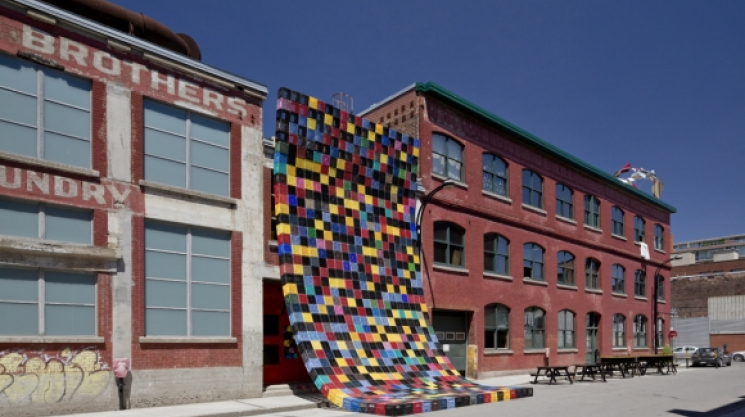 Fri, 05/05/2017 - 12:30 by karyn
The Darling Foundry was founded and directed by the non-profit organization Quartier Éphémère. Had it not saved the foundry from its demolition back in the early 2000's, the ever-blossoming visual arts space might have never seen the day. Today, the nature of this gallery is defined by its two adjoined former industrial buildings in the Old Montreal. While one allows for public exhibitions, outdoor installations, art panels, occasional performance events and educational activities, the other one avails of affordable artist studios.
What sets the visual art center apart is its other objective to bring together both the local and international art scenes together, by hosting international residencies along with its locally produced and curated works. To quote the gallery itself: "The opening of these residencies to curators makes it possible to cast a critical eye on the work of artists on site and, more broadly, on the Montreal art scene. The presence of international professionals is an extremely stimulating part of the organization's dynamic: it gives artists an opening to the world, and an opportunity to test their ideas and techniques and create durable relations with another country."
And with its two mains galleries - one for artworks which need the architectural context of the Darling Foundry and the other for exhibitions that can be presented without - no visit to the Old Montreal's visual art center is ever dull.
Current exhibitions include:
-   
"and- in. the light of this" by Dineo Seshee Bopape (March 9th to May 21st, 2017)
-   
"Comme tout le monde, les choses mortes" by Céline Huyghebaert (March 9th to May 21st, 2017)
-   
"Super F13 Part 1 to Part 2 Redesign Studio Room" by David Arseneau (March 9th to May 21st, 2017)
Darling Foundry
745 Ottawa Street, Montreal, QC
(514) 392-1554