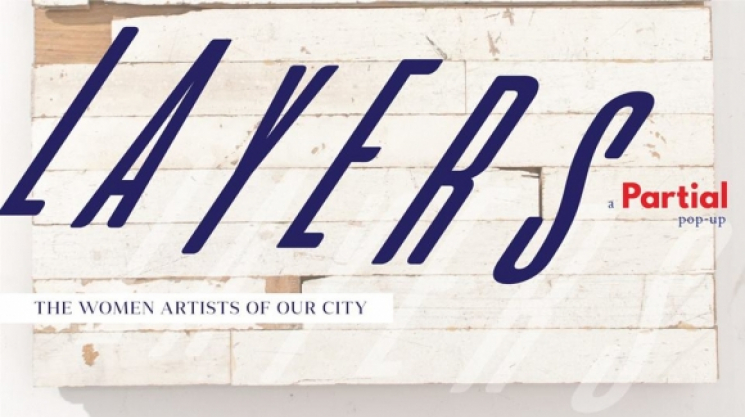 Mon, 04/10/2017 - 10:59 by karyn
Women have been involved in the art world in every corner of the globe and in every way imaginable. Despite this, to this day, many still struggle to be fully recognized for their practice and artistic expression. And in an era where a newly elected president - Trump - can quickly sign an executive order that advocates say "rolls back hard-fought victories for women in the workplace," it's never been so important to put women forward and fight for equal rights. But enough politics, let's keep this to the arts.
This month, Toronto's Partial Pop-Up Gallery is putting together an all-women exhibition featuring the works of 18 local artists. The show will be supporting 'Sistering: A Woman's Place' - a Toronto-based women's organization offering practical and emotional support through different programs - by donating proceeds from the opening reception and 5% from all rentals and art sales.
Layers' opening reception took place on April 6th with some fun and drinks. However, the show will run until April 20th, 2017, with free entrance. Layers features the works of: Lizz Aston / Anahita Azrahimi / Lori Ann Bellissimo / Sandra Brewster / Nicole Crozier / Linda DeLuca / Christina Essue / Katelyn Gallucci / Laura Heaney / Elisabeth Heidinga / Kaitlin Johnson / Olga KlosowskI / Nadine Maher / Vanessa McKernan / Adria Mirabelli / Frances Patella / Lauren Pirie / Dori Vanderheyden.
Opening hours: Monday to Wednesday 12-7 PM, Thursday/Friday 12-8 PM and Saturday/Sunday 12-6 PM. For more information, contact hello@partial.gallery.
Layers
Partial Pop-Up Gallery
1446, Dundas St W, Toronto, ON.