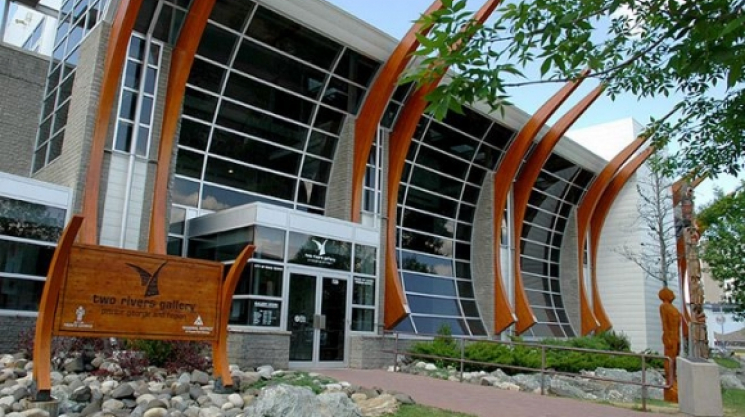 Wed, 02/22/2017 - 10:09 by karyn
The evolution of Prince George's public art space goes back almost 70 years -- to the year 1949, precisely. However, under its current name, given in June of the year 2000, Two Rivers Gallery is now considered a locally vital visual art center. Run by the non-profit Prince George Regional Art Gallery Association, its mission includes encouraging lifelong learning through the arts, providing opportunities through participation and exhibition and creating an environment for artistic and cultural expression.
The art gallery, conveniently situated in the center of a geo-inspired building, provides protection from the external environment, while also allowing natural light to flood in the exhibition rooms. Skylights also allow the building's second floor to function similarly to light-mixing attics of 19th-century Picture Galleries. Overall a very beautifully looking space, every aspect of its design symbolizes something locally or industry relevant, which is perhaps quite unusual, but also fascinating.
Current exhibitions include "AND....", showcasing work by British Columbia-based artists to mark the 150th Anniversary of Confederation of Canada, "Broken Paths," by Tara Nicholson, Patrick Dunford, Jeremy Herndl and Susan Barton-Tait and "Friends I've Met," an exhibition by Elmer Gunderson. Two Rivers Gallery is opened Monday through Sunday, but you can visit the gallery for free all day and until 9:00 pm on Thursdays! For more information on current exhibitions and opening hours, visit http://www.tworiversgallery.ca.
Two Rivers Gallery
725, Canada Games Way, Prince George, BC.
www.tworiversgallery.ca