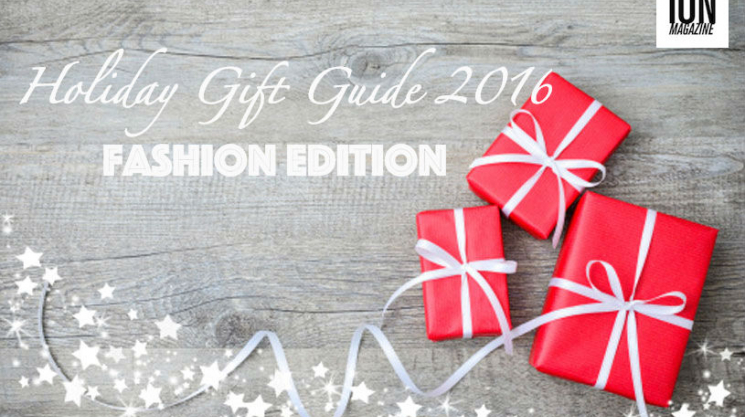 Fri, 11/18/2016 - 08:30 by karyn
The holiday season is coming, y'all! We've picked out some of our favourite fashion Wants & Needs this year to get you in the shopping spirit. Extra bonus: most of our picks are Canadian companies.
Leisure Italian Wool Bomber
This midnight blue bomber jacket from Vancouver company Leisure is crafted from fine Italian wool, and detailed with a brass zipper, side pockets and flexible rib trimmings. We're pretty sure this piece will make you look like a million bucks even if you just rolled out of bed with a Sunday hangover. The perfect item to splurge on this holiday season! Get it here. $465.
Matt & Nat Fleury Bag
This gorgeous satchel from Montreal "mat[t]erial & nature" brand Matt & Nat is bound to make the recipient all kinds of happy (especially if it's you). Each bag is made using their signature vegan leathers and eco-friendly materials like recycled nylon, cork and rubber. This model comes in five colours, including this gorgeous royal blue. Get it here. $145. 
CourageinViolet Multi-Layered Anklet
Made to order in Toronto, this multi-layered anklet from CourageinViolet is an accessory you shouldn't live without. Show off those ankles with this gold piece that'll pair well with sneakers, heals, and even your slippers. Who says you can't look fly when you're lounging around the house eating olives straight out of the jar, watching The Queen? You don't do that? Weird. Get it here. $21 USD.
Brunette's Fries Before Guys Crew
We all love fries of the French persuasion. Whether they're classic, waffle, steak-cut, curly, crinkle, shoestring or part of a poutine, fries should always come before guys. Mark your intention to eat more fries with this crew neck from BRUNETTE the Label. Since 2015, this Vancouver-based brand has been making it their mission to ensure you have something awesome to wear while you're out, about and straight up nailing this whole thing called life. Get this crew neck today and then get yourself some fries. Get it here. $79.
RAINS Rain Jacket
It rains sometimes this time of year. It messes with your hair, your clothes and your shoes. With the jacket collection from Rains you get protection from the elements plus you'll look dope. What an aptly named company! Rains. It's like they knew what they wanted to make and didn't bother to come up with a silly name. Respect. Get it here.  $115.
Econica Organic Lingerie
Mentionables > unmentionables. We all need undies to act as a barrier between us and our bottom-clothes. We eat organic foods, why not wear organic undies? With econica, you can get made-to-order organic cotton knit panties that will protect you from whatever underwear is supposed to protect us from. Crafted in our nation's capital (the real capital, Ottawa, not Toronto) econica also makes cashmere underwear and cotton bralette/panties sets for when you're feeling fancy. Grab a pair of the vintage lace set in navy. Classy. Get them here.  $95 USD.
Roots Sage Dress
Does it get more Canadian than Roots? Unless you're an actual beaver, you're probably looking for ways to wear local designers and with the Sage dress from Roots, you can do just that. One of our country's most-trusted brands has moved beyond sweatpants in the last decade and really come into their own as a casual fashion powerhouse. Plus, the Sage dress will keep you warm in the coming months when the weather gets all pissy as it is wont to do in this country. Get it here. $98.
Ashbury Davidson Sunglasses in Hyper Brown Tortoise
Sunglasses. We need 'em. Our eyes are wicked sensitive and UV rays are out to destroy our beautiful peepers. Did you know that you can wear sunglasses all year round and not just in the summer? With these hand-crafted acetate frame Davidson shades from Ashbury in Hyper Brown Tortoise - a colour ROYGBIV is totally jealous of, BTW - you can protect your eyes from the sun during all four Canadian seasons; Summer, Fall, Hockey and Construction. Plus, you'll look rad which is always a bonus. Get them here. $85 USD.
New Regime Knitted Pullover
Long sleeve knitted pullover in cream and burgundy. Two tone rib knit crewneck collar, cuffs and rib. "N" chenille patch on front. Tonal stitching. I mean, this sweater is just dope. Get it here. $140 USD.
Official Standing Rock T
Showing your support of Standing Rock is fine and dandy, but having the proceeds of shirt purchases actually helping the cause is way, way better. Beware of the oodles of sites peddling similar shirts with no transparency that don't actually do anything to help. When you get one from Omaze, 100 % of the net proceeds of these shirts go to Shailene Woodley's organization Up To Us, which is protesting the building of the Dakota Access Pipeline on the ground. Get one here. $25 USD.
40s & Shorties Crying Game Socks
Because socks don't have to be boring. Get them here. $12 USD.  
Converse Chuck Taylor All Star II Counter Climate
You know that wet stuff that falls from the sky, ruins your Converse sneakers and gets your feet wet? Now you can wear your Converse in the rain. The RAIN. Yes, the same stuff that drops from above can now drop onto your shoes with no consequences. Built for the outside world, these sneakers are made of water-repellent translucent rubber with a Nike Lunarlon insole cushioning, padded non-slip tongue and micro-suede lining. They're the same Converse style you know and love but with the Counter Climate's you can jump in puddles instead of jumping over them. Get them here. $75.
Penfield Embossed Crew Neck
New to Penfield for Fall/Winter 2016, the Farley is a classic crew neck sweater with embossed logo branding across the chest. This subtle detailing ensures the Farley is easy to wear and versatile. It may not be Canadian made, but it's made in Massachusetts, and that's pretty solid. Get it here. $140 USD.
Janemount Catcher in the Rye Pin
As one of the most influential books of all time, The Catcher in the Rye will forever hold the throne as the book that was emo before emo was emo. Now you can wear Holden Caulfield on your sleeve with this rad pin from janemount. Each pin is made of hard enamel with raised gold-plated outlines that J.D. Salinger would totally get a bang out of. Actually, he probably wouldn't because he'd think we were all big phonies but whatever. Get it here. $11 USD.
Tuckshop Toques
Rep your neighborhood with Canadian-made, 100% Acrylic toques from Tuckshop. From Griffintown to Dundas to East Van and even south of the border, they've got you (and your head) covered. Get them here. $38.
Muttonhead Unisex Baseball Pant
An essential in the Muttonhead roaster since day one,  these Toronto-made unisex baseball pants are designed for comfort and versatility. Built to last, you'll be sure to hit a few home runs in these guys.
Get them here.  $128.
McQ: Grey Varsity Swallow Dress
Alexander McQueen was nothing short of a genius. Known for his haute couture and putting antlers on things, McQueen also made more casual clothing like this dress. He's been gone for more than five years now but that doesn't mean that his designs can't live on in your closet and on your body because you can't buy this dress and let it hang in the closet. That'd be a waste. Wear this McQ Grey Varsity Swallow Dress all winter. It's 100% cotton so if you want to sleep in it, no one will judge you. Get it here.  $495 USD.
Adidas Superstar 80s Primeknits
Adidas has been synonymous with style since back in the day. Fun fact, back in the day is an actual measurement of time, like once upon a time or that one time. Here's another fun fact: When you get these new Adidas Women's Superstar 80s Primeknit Shoes, you can travel through time and see back in the day for yourself. Well, not exactly. However, you do get awesome throwback sneakers that look like they're from the 80s but are actually new. Get them here. $150.
123 Klan Oh Merde Crewneck
It's really trendy to wear a shirt with a French word on it. Instead of settling for Oui or J'adore Paris, keep it fun with everyone's favourite French cuss word. From Montreal-based 123Klan and Bandit-1sm, the Oh Merde crewneck expresses how we're all feeling. Get it now before there's none left and you'll really be saying oh merde! Get it here. $42 USD.
Vans Optical Checkerboard Umbrella 
This Londer Undercover X Vans collabo aims to bring back the umbrella as a high quality fashion accessory. No more flimsy ones left behind by someone at your last get-together, please. With a black and white checkerboard pattern, malacca wooden handle, beech wood shaft and 24-inch frame, this guy is no joke. Get it here. $190.
KateandCait: Bandage Pin
What if you wanted to wear a bandage but didn't have a booboo? What would you do? You'd get this bandage pin by KateandCait. Stamped in gold tone metal, hand filled with hard enamel and polished to a luster, each pin is handcrafted and made to order. At least with this pin you get the power of a bandage without the pain of a scrape or whatever you'd need a bandage for. No owie needed, just a jacket to pin this on. $12 USD.
Secret Wood Rocky Lagoon Ring
Ever wanted to visit a lagoon in the Rockies but don't have the time? With Secret Wood's Rocky Lagoon Ring, you can keep the Rockies wrapped around your finger. The Rocky Lagoon ring is hand crafted in Canada with beeswax and fine woods like light oak. That's good wood! Plus, no two rings are alike because each piece of jewellery from Secret Wood is made from scratch so you know you're getting something really special. Check it out here. $90 USD.
Forever 21: Metallic Quilted Bomber Jacket
Forever 21 is probably not somewhere you do your shopping. That's fine. You don't have to buy all your clothes from there but you do need this Metallic Quilted Bomber Jacket. It's gold and shiny. Come on. You know you have to wear this every day. It'll look great with jeans, leggings and a skirt. How many pieces of clothing do you own that can do that? Probably many but whatever, buy this anyway. $43.90.
Blame Betty: Sourpuss Western Shirt
Shirts are the best. They really are. Calgary's Blame Betty has this amazing shirt that every dude and dudette needs for November. And December. And January. And February. And March. And April and maybe even May depending on what part of the country you live in. The Sourpuss Western Shirt is rockabilly, it's country, it's stylish and it should be worn by you. Right now. Go get it. You're still here? Go get the damn shirt already! On sale: $39.50 (Reg. $79).