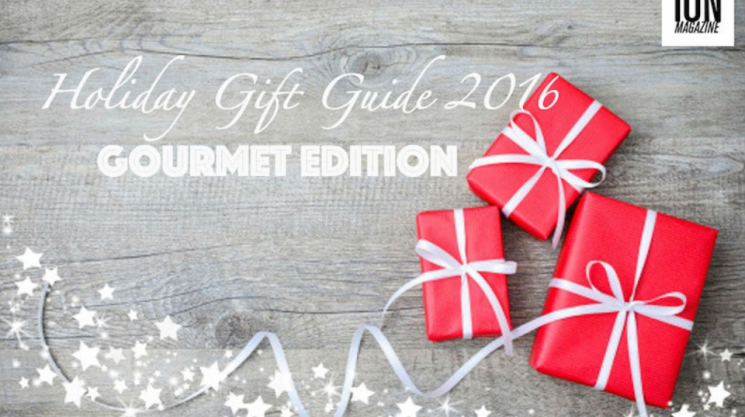 Thu, 12/01/2016 - 07:48 by karyn
Looking for the perfect gift for the foodies in your life? Check out our 2016 Holiday Gift Guide: Gourmet Edition for some delicious inspiration. As always, most of our picks are Canadian companies.
Tonic Maison: Ginger Ale Syrup
Carefully crafted in small batches, 3/4oz Ginger Ale offers a fruity and spicy taste. Ideal for preparing the perfect Moscow Mule, it can also spice up blonde beer, or simply be added to hot water for a perfect Grog. Each 500ml bottle can make up to 25 cocktails. $25.
Eau Claire Distillery: Three Point Vodka
There's no right or wrong way to drink vodka. In a martini, in a Caesar, on the rocks, neat – however you drink it, make sure you try Eau Claire Distillery's Three Point Vodka. This premium vodka is produced and bottled in Turner Valley, Alberta and made with pure mountain water. The result is a smooth, polished flavour that makes you want to stick a straw right into the bottle and sip it like soda. But remember, it's not soda, it's vodka so drink responsibly, k? $46.95.
Detour Coffee Roasters: Dark Roast
Burlington's Detour Coffee Roasters' Dark Roast should be in your coffee maker right now. It's rich, robust – what a word, robust! – hearty and has a hint of molasses and spice notes. In fact, the spice notes are from black pepper which is something you wouldn't think would work in coffee but it totally does. There's also hints of dark chocolate because anyone who's anyone puts hints of chocolate in their coffee. No go be someone and get order a batch. $15.50.
Lucky Bastard Distillery: Carmine Jewel Liqueur
Straight from Saskatoon comes Carmine Jewel Liqueur. It's tart, it's flavourful and it's made of Saskatchewan-grown organic carmine jewel dwarf sour cherries. Say that five times fast! You don't really have to do that but you should get this liqueur from Lucky Bastard Distillery. They don't use additives and preservatives in their liqueurs which means you're getting quality booze for your mouth. If you're looking for something to sip while you Netflix and binge eat Cheetos chill, this is it. $35.
Manning Canning: Spicy Pickled Carrots
We're all pickled inside which is why you should get a jar of Toronto preservation company Manning Canning's Spicy Pickled Carrots. Eat them on their own, put them in your Caesar, throw them in salad – there's no wrong way to eat a pickled carrot. Well, there might be. Not sure how much research has been done on pickled carrot eating but whatever, let's just say that however you want to eat these is fine. Just eat them. $8.
Phil & Sebastian: Herbal Cascadian Peppermint Tea
With fall weather comes colds and flus. With colds and flus comes sore throats, fevers and runny noses. We're going to get sick. It happens. Stock up on lozenges, pills, and tissues, and try Phil & Sebastian's Herbal Cascadian Peppermint Tea. Although, the tea isn't going to cure you it does contain eucalyptus and is caffeine-free. Calgary-based Phil & Sebastian take peppermint leaves from the Pacific Northwest and turn them into a bright and flavourful tea. Serve it hot or iced and soothe your aching throat. Compliment the tea with some Nyquil, and Vitamin C tablets and you've got yourself a fun night. Or at least a night without a sore throat. $14.
Vancouver Island Salt
Instead of getting your parents to grab you one of those giant Costco sea salt thingies the next time they come visit, ramp up your sodium chloridegame. Go for flavour with Vancouver Island Salt Co's Infusion Pack. Hand-harvested from the cold, clear waters of the ocean that surrounds BC (re: the North Pacific. Geography!), this four-pack features Orange and Lime, Balsamic Vinegar, Roasted Garlic and Blue Cheese. Make summer '16 the summer of salt! #salty. $20.
Newfoundland Chocolate Company Saying Bars
Newfoundland gets a bad rap for being a foggy prison with boiled dinners but it's really a magical place where you can see icebergs from your window and everyone is BFFs. They also talk funny, in a good way. Learn to speak Newfinease while satisfying your chocolate cravings with Newfoundland Chocolate Company's Newfoundland Sayings Bars. Get them now otherwise you'll be as stunned as me arse. (Not really because that actually means that you're stupid, which you are not since you're smart enough to order these bars.) $5.
Transcend Coffee
Sometimes you want to end your day with a nice espresso. For people that can handle caffeine after 8pm -- it makes some of us bounce off the walls, okay?!? -- try Edmonton's Transcend Coffee's Espresso. With notes of roasted almond, dark chocolate, cherry and caramel, it's like drinking dessert. Order a bag today and you won't be sorry, or sleepy, unless you're one of those magical people that can handle having caffeine at night. $19.
Hungry Buddha Pumpkin Spice Coconut Chips
Try these delicious Pumpkin Spice coconut chips from Montreal company Hungry Buddha. The perfect stocking stuffer or holiday snack, Hungry Buddha Pumpkin Spice chips are gluten and dairy free, with zero trans fat and zero cholesterol. Need a seasonal addition to your coffee or hot chocolate? The pumpkin spice chips are a perfect topping for drinks or dessert recipes. Available at Loblaws, Bulk Barn and Sobey's. $2.69/ 40g bag.
Skratch Bastid's Hot Sauce 3-Pack
If you're one of those people who puts hot sauce on everything you need to purchase Bastid's Hot Sauce 3-pack. Made by one of Canada's best scratchers (aka DJ), Skratch Bastid, this hot sauce collection features Original (hot as eff), Garlic (hot as eff and kills vampires) and Jamaican Jerk Rub & Seasoning (hot as eff and flavourful for days). These hot sauces will also fit in your bag. Swag. Get them before they get too hot and sell out. $28.
True North Delivery Co.
True North Delivery Co. helps our snack options extend far beyond a double double and an order of Timbits. With their limited edition boxes, you get Canadian products to snack on shipped right to your door once a month. Or, you can send them to your pals overseas who've never laid eyes on a ketchup chip. Either way, somebody's getting a box of Canadian goodies that will turn ordinary snacking into a patriotic duty. $22.99.
Preservation Society Gift Box
This gift box from Montreal's Preservation Society contains eight 60mL jars, a mixture of jam, marmalade and chutney. Bust it out on Christmas morning while you open gifts, or offer it to a lover of preserves. It's the best solution for when you can't pick just one flavour, all tied up with a bow. $37.
Two Oceans Sauvignon Blanc
When you're running out to the SAQ/LCBO/liquor store for a bottle of white, grab some Two Oceans Sauv Blanc. This dry, light-medium bodied South African wine has gooseberry, herbaceous, grassy, pink grapefruit & fresh lemon aromas with soft lingering citrus & gooseberry flavours. This delicious pick is perfect for gifting or sipping while you decorate your apartment or wrap some gifts. $9.95-11.45 (depending on location).
Lamberti Santepietre Pinot Grigio
Two bottles are better than one. While you're grabbing that bottle of Two Oceans, why don't you just go ahead and pick up some Lamberti Santepietre Pinot Grigio as well? This versatile and flavourful Italitan white makes for a crowd-pleasing addition to any holiday-themed celebration and goes perfectly with turkey, tortière, or even that entire platter of cheese and Christmas cookies that you're probably going to polish. If gifting it, pair it up with some Sardo premium select marinated artichokes and black olive tapenade. It's sure to be a hit. $11.95- $15.35 (depending on location).
Looking for some fashion gift ideas? Check out our Holiday Gift Guide: Fashion Edition here.