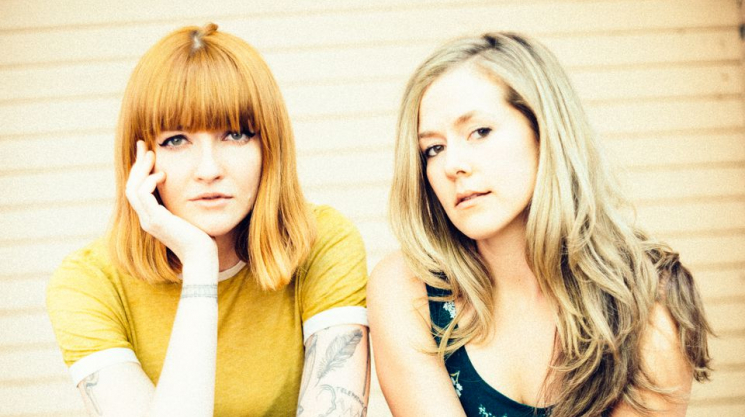 Thu, 08/25/2016 - 05:52 by karyn
This September, for the first time in over 30 years, Glenn Danzig is going to step onstage with the rest of the Misfits to perform horror rock anthems like "Where Eagles Dare," no doubt leading thousands of devilocked devotees at the Denver and Chicago Riot Fests through its sing-along of  "I ain't no goddamn son of a bitch." 
Interestingly, the same song has been integral to another punky reunion this year. A backyard jam in L.A. between La Sera leader Katy Goodman and Springtime Carnivore's Greta Morgan found the pair of off-and-on collaborators softening up the sounds of the overdriven anthem, serving up the original's lyrics about eating an "omelette of disease" not behind jaded eyes, but with a smile. The sonic subversion led the twosome towards putting together a full album of surf, folk, and retro-pop takes of iconic in-the-red cuts from the Replacements, the Gun Club and more as Take It, It's Yours.
Just ahead of the album's release, Morgan took the time to tell Ion about the off-the-cuff conditions of putting together her and Goodman's genre tribute, how slowing down Bad Brains has helped her better appreciate the punk poetry of vocalist H.R., and what other nihilistic numbers she's been blasting through her stereo these days.
How did you first meet Katy, and when did you decide you'd want to make music with her?
I first met Katy in late 2012 through mutual friends.  Katy is a rare type of person who is talented, effortlessly cool, and unbelievably funny, but is also very approachable.  She's a true blue.  I knew immediately when I met her that I wanted to be her friend. 
Katy and I hung out a few times before we started showing each other new songs and then began collaborating in various ways. She and I recorded this physics love song called "Space Time" under the name Books of Love and made a music video for it. I toured in La Sera as the second guitar player in Europe and Springtime Carnivore opened.  It's just a joy to play music with her. 
Who was is it that suggested putting together a bunch of remodeled punk and new wave songs?
She and I were goofing around in my backyard playing Misfits when we kept singing the lyrics of "Where Eagles Dare" over and over and adding harmonies to it: "I ain't no goddamn son of a bitch".  It felt like a huge revelation to have the song sung like a 60's girl group with harmonies.  We started to explore the idea of what other songs we'd want to cover and, pretty quickly, we started working on Take It, It's Yours. 
What did you take away from the original songs after deconstructing them in the studio this way?
Deconstructing these songs made me aware of a greater sense of poetry in them than I'd heard before. Many of the lyrics in the originals are eclipsed by the speed and aggression of those arrangements. When we slowed them down and/or added space, we could isolate the heartbreak and longing in many of these tunes.   
What's the most surprising transformation found on Take It, It's Yours? 
Probably [Bad Brains'] "Pay To Cum". In the original version of the song, you can't actually hear the words clearly. We re-imagined it as an open ballad where you can hear that it's a love song about freedom: "And so it's now we choose to fight/ To stick up for our bloody right/ The right to sing, the right to dance/The right is ours... We'll take the chance."
Katy started her year off by releasing the latest La Sera album, while you're gearing up for the release of the next Springtime Carnivore LP, Midnight Room, in October. Where did the making of this album come along in relation to the creation of Midnight Room, and how different was the vibe between making the two?
Take It, It's Yours was a totally spontaneous project.  We had these durable classics and all we had to do was "take them to the playground," so to speak. It was experimental, surpassing, and very easy-going. Very low stakes and no pressure. The record ultimately feels like sort of a pleasant surprise to me! There was something about being in Drew Fischer's studio with Katy where I felt more capable than usual as a musician and so I was able to play drums, guitars, vibes, piano, etc., very easily and effortlessly. Katy played bass and tons of harmonies and added great arrangement ideas and a few guitar solos and then, magically, we had a record. 
Midnight Room came to me sort of the opposite way, where I saw a vision for the whole record at once and then I steadily worked to uncover and construct the songs and orchestrate the recording of it to match a dream in my head. I felt the record beforehand as a sonic landscape of cobalt blue skies, thick starlight, and existing in that place between dreaming and waking.  
Both are magical ways to make a record, but just very different approaches!   
I read that there were a number of other songs that you two had wanted to record before whittling it down to the ten found on the record. Can you share what three of those songs were, and what they mean to you?
X "The World's A Mess (It's In My Kiss)"  - Katy and I both love this song and wish it could have worked, but it somehow felt like an outlier once we started arranging it in the universe of the record. "The World's A Mess" is about the fear-state of the world being about to boil over, which I imagine anyone who reads the news can relate to. Somehow the "it's in my kiss" feels like a sweet counterpart to me, like, "The world's a mess, but come here to find some love".  I don't think that's how they intended it that way, but that's sort of how I read it.
Blondie"11:59" -  Wow, weirdly also slightly a 'threat of apocalypse' song!  Interesting that neither of these made the record. One could also say this song is about grabbing life by the horns, chasing the moment while you're still alive, etc.
The Vibrators "Whips and Furs"  - We've played this cover live and loved it, but there was something about our arrangement of it that felt too poppy and hokey compared to the other tracks. The other recordings all had a "it's 1:30 am and I'm cleaning up after the party. I'm tired, but still wanting a little more conversation..." feeling. The Vibrators version just felt like a party dance song.
Katy Goodman and Greta Morgan's Take It, It's Yours is out August 26 through Polyvinyl Records, while Springtime Carnivore's Midnight Room sees release October 7 via Autumn Tone.