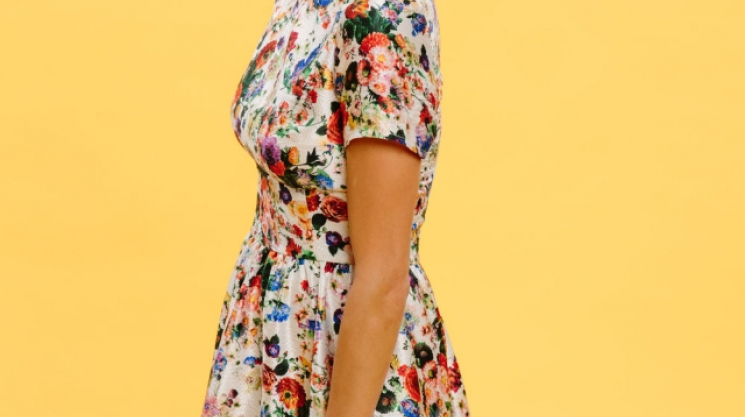 Wed, 05/17/2017 - 13:12 by karyn
Leisure is a Victoria based women's fashion brand created by Jessica Kerr, who took a bit of time out to talk to us about building her brand, her eye for fashion, her love of BC, and some of her favourite pieces. (Remember that wool bomber from our holiday gift guide? That's definitely one of ours!)
Have you always had a keen interest in fashion? 
I have not always been into fashion the way that I am now; now it is my passion and my hobby. It has become a major part of my everyday life.  Now going into designer stores is like being in a museum. I could study the techniques and construction of every garment and easily pass a few hours in one store. In retrospect, it has been a natural progression for me. I have always been a bit of a particular dresser. When I was really young my mom could never get me dressed because I would say the clothes were not comfortable enough. By high school I always found my clothes could use a little tweak. I did not have the skills then so I would cut my clothes up and put them back together with some thread and a glue gun!
You didn't start off in the Fashion Industry. When did it occur to you that having a career in Fashion was a possibility?
When I finished my masters, I realized that I would have to start my own business. It wasn't because I had envisioned doing that right away, but because I wanted to continue living in Victoria. When your interest is fashion but you live in Victoria, the options are a bit limited! I had also watched close friends start their businesses and thought now is a good time to take that kind of risk.
What inspired you to start your own brand? 
I found that there was a gap in the market. I was shopping and not finding anything I wanted. I needed a wardrobe that was versatile, elegant and comfortable. I also wanted clothes that fit in a way that did me a favour and that were timeless. I like long lasting clothes that I can wear repeatedly, for years. The other integral piece was that I found the right people. It takes a very talented team to put together all our garments from start to finish.
We understand that travel is a big priority in your life. What are some of your favourite places you've visited? How has travel played a role in the clothing you envision?
That is such a tricky question! I love so many places for different reasons. With so many places to go to it is hard to justify going back to the same place twice unless it is exceptional. For the sake of keeping this as brief as possible, I'll go with the tried and true places that I could keep going to year after year.
During my MBA I specialized in service management and ever since I have had a great appreciation for hotels. If I were not in fashion, I would be in the hotel industry. I must confess that a large part of my travel revolves around hotels. You can never go wrong with the Hotel-Du-Cap in Antibes and make sure to stop at the restaurant Tetou for the amazing tomato Provençal dish! I don't particularly like tomatoes, but it's almost worth a flight to France just to have that dish! The Villa Feltrinelli on Lake Garda is like the quiet, intimate little sister to the Villa d'Este on Lake Como, both worth visiting. The Italian lake region might be my favourite place. Lake Como and Lake Garda are so enchanting with the history of the villas and the old slow paced living. Dressing for dinner, dancing to the piano and enjoying a cocktail on the lake while you watch the beautiful wooden boats go by; it transports you to another time. Ballyfin in Ireland has become a tradition for me every September. It is an incredible place where you feel at home. Every room is different. It isn't furnished like a hotel; it is furnished like an estate with beautiful art and antiques. It's about relaxing and enjoying the countryside, having tea and sitting by one of the many fireplaces. Oh, and the daily fresh-made cookies! Next on my list is a visit to Amangiri in Utah and then off to Japan in the spring for cherry blossom season!
The clothing I envision is always shaped around places I have been or places I want to go. I love looking at the past and present fashion in each location. I also design for a life on the go. I need a few key items in my suitcase so I can look put together, not lazy, and preferably items that do not wrinkle because I don't want to iron them! We are always looking for the best fabrics for Leisure that don't wrinkle easily that remain luxurious.
What are some of the things you love most about living in Victoria? Is it a nurturing environment for the work that you do?
Victoria is so beautiful! Maybe it is because I am relatively new here (8 years, so kind of new?), but it blows me away. The mountains, the ocean, the freshness. It is not the ideal location for what I do, it would be easier to live in New York where you have the garment district at your convenience, but then you lose the charming life in Victoria. I prefer living here and visiting working fashion districts frequently, that is my ideal balance. I am consistently on the go, but I believe the peacefulness of coming home to Victoria recharges me every time.
Can you pick three of your favourite pieces from your collection and tell us why you believe they should be wardrobe additions?
The Linen Tie Front Mini is one of my favourites, you can wear it every day. It works for all levels of casual and fancy. I wear it with flip-flops then throw on a wedge and I can go everywhere my day requires. I love, love, love the Floral Structured Hem Dress. The print is so happy and the horsehair hem is such a luxurious detail. It is unique and it will certainly garner attention at whatever event you're wearing it to! Cotton voile button up -- a lightweight cotton voile makes this dress casual, but the shaping we designed for it is more fashion forward. It also happens to be surprisingly flattering when you put it on! I wear it with sandals and feel quite put together.
What are some important considerations people should be making when choosing their wardrobe?
I always ask myself, "Is this trend for you?" While I love fashion, sometimes there are trends that are not complementary to my personal style. I love a woman who is confident and elegant, she never has the trendiest item on, but she always looks comfortable in her skin. That being said, fashion wouldn't be fashion without designers who push the envelope. It is like a work of art, but someone must make the practical things, the things that you can wear repeatedly and that make you look your best, and 9 times out of 10 it won't be that really trendy item.
When not wearing your own brand, where are some of your favourite places to shop?
When you make your own clothes, it makes it challenging to buy other ones in your same price point because you are always thinking I could just tweak this and that and then it would be exactly how I want it. I find that I save up and buy fewer pieces, but from the designer category. My go-to places are Moda Operandi and Net-a-Porter. You grow such an appreciation for the construction and time that goes into those garments such as Valentino and The Row. While those brands are on opposite ends of the design spectrum both produce clothing that have taken time and are of the utmost quality. Another change for me has been that I do care where my clothes are made. I did not always, but once you are a part of a cycle and you recognize all the parts to it, it is hard not to appreciate when a label says Made in Canada or NYC or Italy.
What are some of the biggest challenges you face as a brand owner? What's the most gratifying thing about it?
It seems like there are new challenges every day, but that is what makes it so interesting. In the broadest sense, I would say that switching back and forth from being business minded to creative has been the biggest challenge, because most of the time those two mindsets have opposing ideas.  It is very difficult to juggle both. We are still very new, so everything seems like an accomplishment for us, but I think the greatest thing is seeing someone you don't know wearing your clothes. It's like Christmas morning!
Have there been any people who have particularly inspired you or helped you to become a success?
I don't know anyone else in this industry so most of my inspiration has come from reading about how other designers got their start. I admire Victoria Beckham for all her transitions and how different each of them have been. From being a Spice Girl to launching her denim line Rock & Republic to her now successful designer collection, she has accomplished so much all while being a mother of four!  I am also always inspired by anyone who takes the risk and starts a business. It takes a lot of courage to put yourself out there and even more to fail and try again.
Check out leisure-thebrand.com.