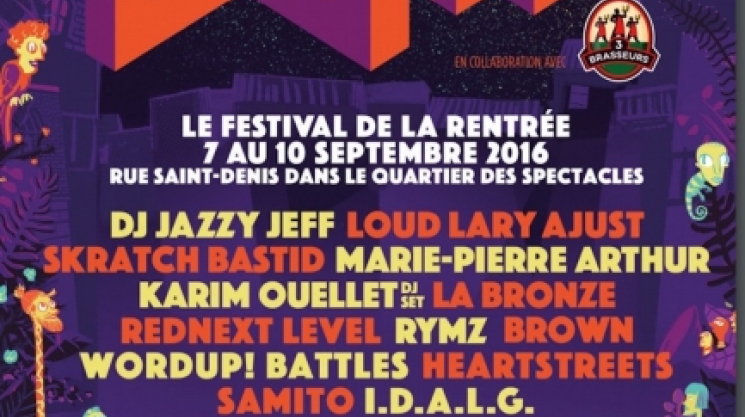 Mon, 09/05/2016 - 13:44 by karyn
School's back in session which means you need to celebrate with  OUMF's Festival de la Rentrée and DJ Jazzy Jeff. No, the Fresh Prince won't be there, he's busy creating an army of squinty children who don't understand how capital letters work but you should go to this festival anyway and listen to DJ Jazzy Jeff spin. Besides Jazzy Jeff, the lineup includes Scratch Bastid, John Jacob Magistery, Marie-Pierre Arthur, I.D.A.L.G., Corridor, and more. It's a who's who of Québec talent plus a guy from Nova Scotia (Bastid) and of course, Will Smith's BFF.
Located on Rue Saint-Denis in the heart of the Quartier Latin, this fest has more than live music.
Comedy: The Gala Humour de la Rentrée (back to school humour gala) is hosted by the funniest of the funny, Eddy King, and features Didier Lambert, Jay Du Temple, Étienne Dano, Charles Deschamps, Mélanie Ghanimé and a special surprise guest. Who doesn't like to laugh? Nobody.
·     
Street hockey: This game is more than your average street ball match, it's the OUMF team against Balle Haïti. The Balle Haïti team is coached by former Hab, Georges Laraque so you should probably check that out. They're pretty good.
·     
Skate competition: Show off your moves and if they're the best moves of all the moves, you could win a prize. If you don't skate, you should watch others do tricks and flips.
·     
Mini putt: This is not your dad's boring old mini putt course. This is an urban course created by local Montreal artists. Plus, mini putt is fun.
·       A climbing wall: You should listen to some live music and then climb a wall. Or climb a wall while listening to live music. Don't worry, they have protective gear for you to wear.
There's also gaming, everything from Jenga to video games, a live rap battle, dancers, a burlesque theatre circus, and food and drinks because you need to stay hydrated and full while you enjoy the sounds of DJ Jazzy Jeff.
OUMF's Festival de la Rentrée takes place from September 7th- 10th in Montreal's Quartier des spectacles. Check the website here for details, including the schedule.