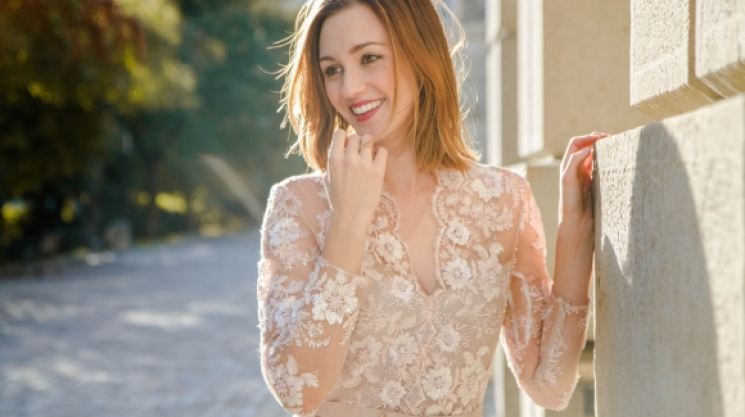 Wed, 12/28/2016 - 10:58 by karyn
The Local: a tête-à-tête with some of the scene's hardest working heroes.
Born and raised in Toronto, Katherine Barrell is an actor, producer and most recently a director. She studied at the prestigious George Brown Classical Theatre School where she fell in love with the intricacy of film acting soon after graduation. Barrell has a strong love for comedy performance and studied improvisation at the famous Groundlings Comedy School in California. Since then she has appeared in numerous television shows in both Canada and the USA including Lost Girl, Murdoch Mysteries, Saving Hope and The Listener, among others. She has also starred in several feature films, including The Scarehouse and Girls Night Out. 
On the other side of the camera, Katherine had produced seven short films, most notably her comedy short, Issues, which was named one of the top three Canadian short films of 2013. Through her production company, Kit Media, she developed Issues into a television show that was optioned by Edyson Entertainment. She is currently adapting her most recent short, Dissecting Gwen, into a half hour comedy. Her directing debut, Cannonball, was inspired by the sudden passing of her late business partner, Kent Nolan, and is currently running the festival circuit. Although acting continues to be her focus and first love, Katherine's newest endeavour is directing, finding it the perfect marriage between her acting roots and business brain. 
Where do you call home?
Toronto, Canada!
Go-to breakfast spot?
Mildred's Temple Kitchen in Liberty Village for their incredible scones or Mitzi's cafe on Sorauren. They have creative dishes that change seasonally to include local produce and I love the low-key neighbourhood vibe.
Go-to for a late-night bite?
Lakeview Diner on Dundas West has been in business and relatively unchanged since 1932 and is open 24 hours.  It is definitely the west side hang out for 4 AM poutine!
What are some of your favourite things to do in the city?
I love taking my pup, Bernie, to Trinity Bellwoods park.  They're a huge grassy area where he loves to play and it's so much nicer than the gravel-filled dog park.  When I want to escape I take the ferry over to Toronto Island - it makes you feel like you are in cottage country. 
Go-to place for clothes?
I love shopping for clothes at the Kind Exchange, they are a local consignment shop chain with locations all over the city. I find so many unique pieces there!  For good-quality basics I love Wilfred by Aritzia.  It also makes my Canadian heart happy to spend an afternoon at The Hudson's Bay (North America's oldest department store, just shy of 350 years old).   They carry everything under the sun and I love their designer section at the downtown Eaton Centre location in Toronto. It's a beautiful department store.
Drink of choice?
Whisky Old Fashioned.
Favourite local gallery or artist?
Artscape in the Distillery District is a wonderful hub of local artist studios - from textiles to paint, metalwork, leatherwork, pottery.  I love discovering new work here.  Also a shout-out to The Storefront Theatre who I believe are doing some of the most interesting stage work in the city right now and cater to a younger generation of theatre-goers to keep the artform alive!
Favourite good cause?
I am a brand ambassador with @GirlTalkEmpowerment and their #PinkBox initiative, which deliver positive message lifestyle products to women age 12 and up.  I followed the awesome work of Girl Talk for a few years before I became an ambassador.  This amazing organization runs courses throughout the year which provide leadership opportunities for girls, positive body image counselling, teamwork seminars and confidence building. 
What do you love about Toronto?
I love our diversity.  I love that within a twenty minute walk I can get authentic cuisine from almost anywhere in the world.  I love that when I walk down the street I see interracial children, same sex couples, and hear a myriad of different languages.  This makes Toronto one of the best cities in the world as far as I'm concerned.
What's a spot from the past that you really miss?
Honest Ed's is a Toronto Landmark.   It's a massive hodge-podge discount store of everything - literally everything you can think of - spread out over three floors and two huge warehouses with no apparent organizational display method.  You just go in and hope for the best!  One of my first memories of moving to Toronto over ten years ago was going there with my roommate and trying to find dish towels.  We got lost in there for hours and had a blast discovering all the kitschy treasures.  It is set to close December 31 of this year, which I know will be a very sad day for many Torontonians.
Likewise, what's a new place that you enjoy?
Cures Studio is my go-to salon.  Whenever I feel like life is spinning out of control I run over to get a manicure or pedicure and I immediately feel like I have my shit together.  The work is so meticulously done and it lasts so much longer than anywhere else I've gone.  Their facials are also amazing!
What do you love most about playing Nicole on Wynonna Earp?
I love the connection to the fans and the interactions we have.   I feel like for the first time in my career I am playing a character who is really contributing some good to the world.  The relationship between Waverly and Nicole is opening up much needed dialogue about confidence, self-worth, queer representation and equality.  It's given my career a whole new level of purpose and I will be forever grateful.
How do you try to combat stereotypes and
clichés in your role?
My first approach to the work and the WayHaught relationship is to approach the playing of it as I would any other relationship, gay or straight.  It is two people falling in love period, and my treatment of that doesn't change just because they are two women.   It is important to remember that I do not make the decisions for what happens in the story, that is the job of our amazing Showrunner, Emily Andras, and her writing team and they are doing a fantastic job.  I am just the mouthpiece for the character. Outside of my role on the show I try to be as active with social media and fan outreach outs as I can to promote positive representation for the queer community and hopefully ignite some important conversations about more queer representation in the media.  I am really looking forward to speaking at ClexaCon in March 2017, a Media and Entertainment Convention of LGBT women.
Who is someone who has really inspired you in your career?
I am really inspired by my core group of girlfriends who are in some cases also my business partners: Farah Merani, Carys Lewis, Rebecca Hales, Kate Drummond, Kimberly Sue Murray, Sara Booth, Mercedes Papalia.  My girls are all multidisciplinary filmmakers. They work as actors, producer, writers, directors, often wearing many hats on one project.  We are lucky to live in a time when film equipment is much less expensive than it used to be.  These women are using their resources to tell the stories they want to put into the world and breaking down barriers while they do it.  I love that if I'm feeling stuck my inspiration is only a phone call away.
What inspired you to start your own production company, Kit Media?
Early in my acting career I was struggling with feeling helpless and waiting for the phone to ring.   I didn't know when my next audition was coming, let alone pay cheque, and I decided that I wasn't going to spend my life waiting for someone else to give me permission to do what I loved.  So I started my production company and making the films that I wanted to see.  I also realized that I had no right to complain about my industry -  the blatant sexism, the glass ceilings, the ageism - if I wasn't going to put myself in a position to change it.  I knew this meant I had to get on the other side of the camera.  Producing and Directing is a huge part of who I am as an artist.