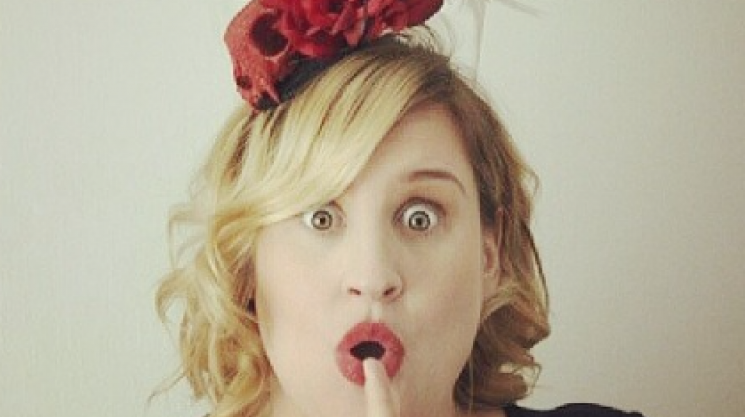 Tue, 09/27/2016 - 11:57 by karyn
The Local: a tête-à-tête with some of the scene's hardest working heroes.
Sheena Snively is a plus-size body confidence activist, college media professor, social media guru, and a fun haver / fun maker. Comedy has been a passion of hers for many years. She has recently embarked on a new endeavour -- hosting her very own digital series for CBC Comedy, with new episodes posted Wednesdays and Saturdays. The new show, entitled That's What Sheena Said, will feature a mixed bag of celebrity interviews, sketches, and of course Sheena's signature "Man on the street" segments. Her fashion is predominantly featured in the series, and often garners attention and buzz on various social media platforms. Sheena is an MTV Alumnus and has been a featured panelist on Showtime and The Movie Network. Being plus sized has not affected her drive to be one of Canada's most beloved hosts; in fact it has made it easier for her stand out from the pack. In addition to her work on television and online, Sheena has also contributed to several docu-films, including A Perfect 14 and Skull World.
Where do you live?
Hamilton, Ontario aka The Hammer aka Hamiltoe.
Favourite breakfast spot?
My favourite breakfast spot would have to be "Papa Leo's Restaurant" on the Hamilton mountain brow. They make a Crab Cake Benny for crying out loud! It consists of crab cakes topped with poached eggs and a chipotle & cheese sauce! ZoMyGawd! Yum!
Favourite late-night eats?
My favourite late-night eats would have to be shawarma from one of the shops in the "shawarma triangle" in the Hamilton downtown core. They all have a "famous garlic white sauce" that I could literally drink like it was a cup of coffee. What is this sauce? I do not know. It could be anything.
What are some of your favourite things to do in the city?
If you're talking about Toronto, my favorite thing to do is grab some lawn seat concert tickets at Molson Amphitheatre and try to weasel my way to the front. One of my tricks is buying two giant beers and walking confidently as if I have seats somewhere I don't. Then if I get stopped by security I say, "Really, you want me to put down my drinks, purse, etc."? Most of the time it works. Yes, that's a bit scammy but fun nonetheless. #lifegoals
Where is your go-to place for clothes shopping?
Being plus size I have a few boutique-type stores I love love love shopping at. They are all independently owned by lovely ladies who know how to werk and support body positivity, which is something very important to me. Gussied Up, SexyPlus Clothing, Your Big Sister's Closet, and Voluptuous! I do my rounds between these amazing stores!
Drink of choice?
Golden Glow from the Arbor in Port Dover! End of story!
Favourite local gallery or artist?
My favourite artist would have to be David Irvine from Gnarled Branch. David creates amazing Re-Directed Art, which consists of things like the StayPuftMarshmallow Man taking over a small village or Street Fighter characters throwing down at Jesus' last supper. You get the point! It's amazing!
What do you love about your city?
I love the rough and tumbleness of Hamilton, which directly coincides with the revitalization that is taking place in my city! I have lived in Hamilton for many years -- 17 to be exact. I have seen some pretty ugly stages, weathered the storm of the unpleasant. I'm so proud to call myself an OG Hamiltonian.
What is a spot that no longer exists that you really miss?
This is a very easy question for me! LICKS! I loved Licks so much, the nature burger specifically. In the early 2000s there were well over 25 locations. Now there are only four. I also totally dig their taters and cream, hold the chives please!
Conversely, what's a new place that you've discovered?
The newest place I have discovered isn't even in Canada. It's in New York State. I have recently discovered the Catskills! Think lovely vintage resorts (like Dirty Dancing) being bought up and up-cycled on a large scale. I stayed at a motel that Kate Pierson of the B-52s owns! You can just imagine the décor! Vintage, stunning, and retro all balled into one. There are tons of places like Kate's and I can't wait to explore them all.
Check out this link to her digital show.
Twitter/IG: @sheenasnively