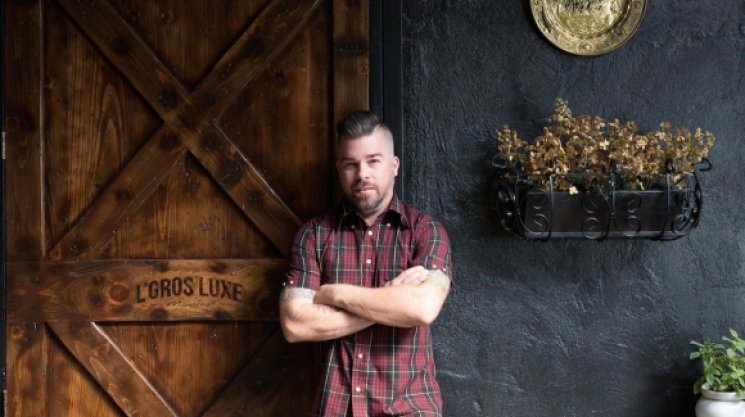 Mon, 03/21/2016 - 11:56 by karyn
The Local: a tête-à-tête with some of the scene's hardest working heroes.
Alex Bastide has been an entrepreneurial force to be reckoned with for twenty years. Driven by his passion for skateboarding, music and underground culture, he opened the first Underworld Skate Shop in Montreal in 1995, followed by three other stores -- including one in Vancouver -- and founded Cabaret Underworld, a venue that housed countless shows and events over the course of its run. With his partner, Tamir Schlanger, Alex is now the owner of L'Gros Luxe, a five-location restaurant chain (Plateau, Mile End, Vieux-Longueuil, Sud-Ouest and Quebec City) that offers a fun cocktail menu, food menu that's more than 60% vegetarian (a priority for the vegetarian restaurateur), and a relaxed setting. From Underworld to L'Gros Luxe, Alex has always been an active entrepreneur who is fully invested in each project -- from the business plan and creative design, to publicity and social media management. We're just happy he had a minute to talk to us!
 Where do you call home?
Montreal, Plateau.
Go-to breakfast spot?
Aux Vivres. I try not to eat greasy food. Vegan breakfast spots are hard to find in this city.
 Go-to for a late-night bite?
Plan A: Le Chien Fumant. Good vibe, great drinks and food, and beautiful decoration. Plan B: Asian food because you know they will be open. 
 What are some of your favourite things to do in the city?
Walk around random neighborhoods for hours and find new random spots, like coffee shops, bars, restaurants, art galleries, clothing and record stores. I also really appreciate all the street art and graffiti everywhere. I basically try to get loss in my own city. It's the best way to discover our fabulous town. Montreal is so massive. And we have over 5000 bars and restaurants. It's endless!
 Go-to place for clothes?
Urban Outfitters, Frank & Oak, and Naked & Famous warehouse.
 Drink of choice?
Old fashion or anything with bourbon or whiskey.
 Favourite local gallery or artist?
Station 16. I live two seconds away from there! It's chill and they work with really cool underground artists from all over the world.
 What do you love about Montreal?
I really appreciate living on the Plateau, mostly because its super central and I can find whatever I need within walking distance. Montreal has to be one of the best cities in the world. We have a great mutli-cultural population, great music and art scenes, beautiful architecture, and the people are friendly. We have la joie de vivre, and it shows when you're walking around at any time of the day. We really know how to live it up in a peaceful way. Let's be honest, this city is very safe and we must appreciate and embrace that fact.
 What's a spot from Montreal's past that you really miss?
Restaurant-wise, I will have to say Vélo-Burrito because they were making the best burrito in town hands down, plus they would deliver to my house seven days a week. And I had many good nights at the Roy Bar (RIP). It used to be the place to be for sure.
 On the flip, what's a new place that you enjoy?
I really appreciate Jatoba lately. It's a beautiful restaurant, very good customer service, great drinks, awesome food with many veggie options. Everything I like in one place!
 Final thoughts?
Shout out to all the L'Gros Luxe staff and customers. This adventure has been super amazing so far and I am very proud to share this wicked project with everyone. Good clean fun!