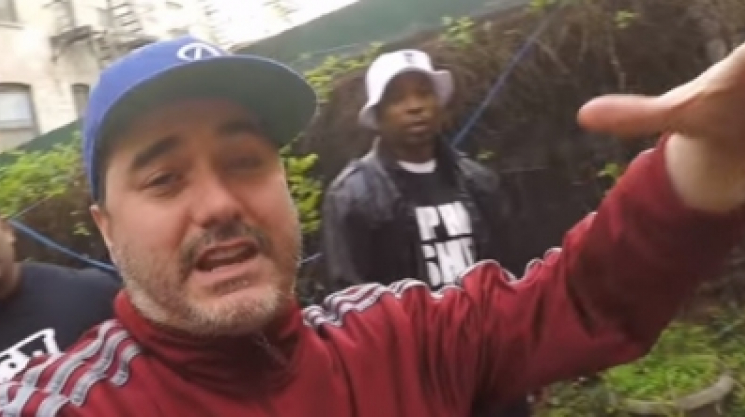 The Local: a tête-à-tête with some of the scene's hardest working heroes.
Orion Revolution Curiel is a true Montreal skater who discovered hip hop at a young age, starting with b-boying in 1983, and then becoming a DJ in the late 80's with a hip-hop/reggae night at long since closed ONYX bar. He started writing rhymes in 1988 and then co-founded the hip hop group Shades of Culture in 1992. Throughout the 90's, he DJ'd his way through a few residencies, including the last year of SONA's run before the famed after hours club closed its doors, and for much of the 2000's he co-hosted Montreal's much-loved, award-winning hip hop radio show "Off the Hook." In addition to working in the music industry, Curiel has been a part of the video game industry for 12 years and has his name in the credits of 75 titles.  He, along with D-Shade and DJ Storm, are currently reviving Shades of Culture for an EP release set for pre Xmas. (Did you check out last week's video premiere for "Hip Hop Sh!t"?) Oh, and he's still skating.
Where do you live?
NDG is the spot in Montreal I've lived the most. I've been there for the past 25 years.
Favourite breakfast spot?
La Binerie on Mount Royal is my fave spot because it really has the best classic French Canadian style breakfasts, with their famous beans à la Québécoise and you can get Shepherd's pie and tortierre as a side dish.
Favourite late-night eats?
When I was DJing regularly I used to love going to The Main for a smoked meat poutine or a classic smoked meat sandwich... Oh, and I adore their steak special, which has a great liver entrée. 
What are some of your favourite things to do in the city?
I love driving around town and staring at the 1700's classic stone architecture, and the hills have made for some great late night street skating. MTL also has such terrific outdoor events, so sitting on a stoop and people watching falls into a favorite pastime as well.
Where is your go-to place for clothes shopping?
Skater extrordinairre Marc Tison's closet has been my go-to "milk lounge" for the past few years, since I no longer hold any clothing sponsorships of my own. The price is unbeatable and Tison has overflow of the exact styles I like.
Drink of choice?
Bajan rum punch has been my favorite for the past few years. I learned the classic 1234 recipe in Barbados but my own tweak reads 1-sweet 2-sour 3 hard 3-weak.
Favourite local gallery or artist?
My new favorite gallery is Station 16 and, as for artists, I would say that I'm feeling Miss Me, Beeforeo Smart and OMEN, with a life-long Number 1 going to Raymond Akira Betts (RIP).
What do you love about Montreal?
I love Montreal because it is physically a beautiful city but I also love that it's full of world-class artists of all kinds and everybody does things out in public so you can walk around almost any neighbourhood and see or hear all types of artistic endeavours going on. It's the city with the most character in Canada as far as I'm concerned.
What's a spot that no longer exists that you really love?
The Euro Deli was a great Italian spot that I knew since I was a kid and throughout my life until it closed due to rental disputes with greedy landlords. Also, Quasimodo, which then became Purple Haze (and then Saphir, and now TRH-Bar). Back in the late 80s, Quasimodo was the spot. We would dance and play pool. Then, when it became Purple Haze, I worked as a bartender and Shades of Culture practiced there. 
What's a new spot that you've discovered?
Rotisserie Local Jerk is an uber tasty spot that just opened and it serves up some really yummy island snacks and meals. I wanna work with those guys so I can learn the secrets to good jerk chicken.
How do you think your neighbourhood has changed over the years?
NDG is changing quite a lot day by day since the new Super Hospital has opened here. It's caused a lot of interesting gentrification as well as city planning changes, some of which I find good, some bad. Either way, I still love my hood and will stay true for life.