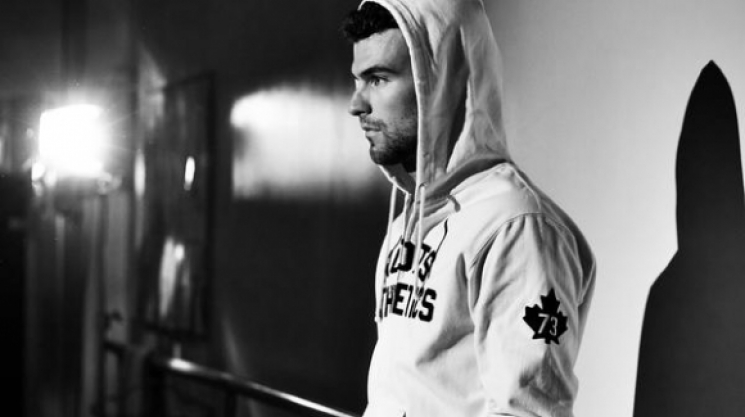 Tue, 10/25/2016 - 11:17 by karyn
The Local: a tête-à-tête with some of the scene's hardest working heroes.
The journey of Eric Radford's Olympic success has not simply come from his athletic excellence. It is the man behind the athleticism who has developed the strength and intelligence to manage the forces that could have become barriers to his success. By following his instincts at a young age and innately learning how to adapt to changing environments and relationships, Eric developed a platform to support his success and pursue all of his passions. Eric is a musician and composer, a die-hard gaming enthusiast, a voice for the LGBT community and a true supporter of emerging designers. He and his skating partner, Meagan Duhamel, are medal contenders for the PyeongChang 2018 Olympic Winter Games, 2014 Sochi Winter Olympic Silver Medalists, 2015 and 2016 World Champions,  and 2013 and 2014 World Bronze Medalists.
Where do you live?
HOMA aka Hochelaga-Maisoneuve in Montreal.
Favourite breakfast or brunch spot?
Sunday brunch at the Sofitel.
Favourite late-night eats?
Peanut butter chicken.
What are some of your favourite things to do in the city?
In the summer, have a drink on a terrasse, and in the winter go to a spa in the Old Port.
Where is your go-to place for clothes shopping?
Basically Saint-Catherine Street from Crescent to Place des Arts. Parasuco and Le Chateau are two brands I've always loved.
Favourite local brands?
Denis Gagnon and Phillipe Dubuc.
Drink of choice?
Belvedere & soda or an Old Fashioned.
Favourite local gallery or artist?
Musee des Beaux Arts.
We hear you're an accomplished musician. Is it purely recreational or do you compose in addition to your skating career? How do you find the time?
Music is my other passion that balances my skating. I composed my own music for the Olympics in 2014 and this year I composed Patrick Chans' long program. I usually have time to play in the evenings, which helps to center me.
What do you love about Montreal?
I love how Montreal mixes European with North American. The entire city has a unique style, from the architecture to the various styles of clothing people wear on the streets.
What's a spot that no longer exists that you really miss? There was an amazing little restaurant/bar called PicaPica that had the best "Gambas Bravas". Unfortunately it's no longer there.
Likewise, what's a new spot that you've discovered?
Just recently I discovered an excellent restaurant called Hoogan et Beaufort. The food was incredible and the vibe and ambience was hip and chic.
You've traveled all over the world for competitions. Has there been a city that you especially loved?
It's so difficult to choose just one...but if I have to choose I would go with Barcelona. I love the pace of life in Spain and the food is fantastic. When travelling for competitions, I always do try and find time to explore. I do have a spontaneous side to me and enjoy an impromptu adventure. I try and share some of the experiences I am blessed to have on my Instagram.
What do you look forward to most when returning home?
I always miss my piano after being away for a long time. I look forward to getting home and losing myself in my music.
Do you have something you're most proud of when it comes to all of your career accomplishments?
Winning my second world title will always be a special moment in my life. Nobody expected us to win but Meagan and I went out on the ice and made it happen when it mattered the most.
The Canadian cold is fast approaching. Any skating tips for those looking to step up their game at the skating rinks this winter?
Wear a lot of layers! When you start skating it can be cold, but once you get moving you warm up quickly.
Favourite skating spot?
The Old Port and Parc Lafontaine are both excellent spots for a skate.
Photo: A Plue Creative