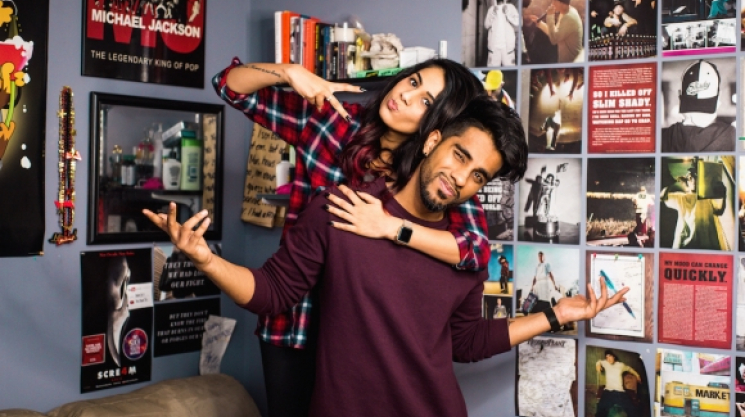 Mon, 06/05/2017 - 15:02 by karyn
The Local: a tête-à-tête with some of the scene's hardest working heroes.
International YouTube sensations Harjit Bhandal and Jaz Saini of the hit YouTwoTV channel have officially been named as one of the top five finalists for the 2017 iHeartRadio MMVAs "Fan Fave Much Creator" award. YouTwoTV was created out of Jaz and Harjit's passion for producing unique content and making people laugh. Since its official launch in February of 2016, the channel has garnered over 120 million views. The Brampton born pair have become in-demand brand ambassadors and have partnered with major companies on several campaigns including Google Canada, Bell Canada and Nestle Canada. They were recently awarded the Brampton Citizens Arts Acclaim Award, and nominated for the Brampton Board of Trade's Brampton Top 40 Under 40 award.
Where do you call home? 
Brampton! We were both born and raised in Brampton, Ontario. 
Go-to breakfast spot? 
Fran's! 
Go-to for a late-night bite? 
Burrito Boyz or Sonny's in Brampton! 
What are some of your favourite things to do in the city? 
Eat and shop mostly. We are such foodies, so if you ever see us in public we are most likely stuffing our faces! 
Go-to place for clothes? 
Adidas, Urban Outfitters & Top Shop! 
Drink of choice? 
Gin & Tonic or Bubble Tea (specifically Mango Bubble Tea).
Favourite local gallery or artist? 
PAMA in Brampton is always hosting local artists to showcase their talent. We love how much the city supports the creatives! 
Favourite good cause? 
To Write Love on Her Arms (Suicide Prevention). 
What do you love about your city? 
The diversity, culture and most importantly... the food! 
What's a spot from the past that you really miss? 
Prince Sushi. It was a little sushi spot in Mississauga, Ontario that we used to always go to and they randomly closed down last year. We're still heartbroken over this. RIP Prince Sushi!  
Likewise, what's a new place that you enjoy? 
Blaze pizza. They opened one up on Yonge and Dundas and we're absolutely addicted! 
Who is someone who has really inspired you in your career? 
We think out of everyone in the world, we inspire each other the most. There is no way we would be where we are in our career without one another. #RelationshipGoals 
What inspired you guys to start making hilarious, relatable videos? Are you ever surprised at how much people have responded to them? 
We have always been in love with creating content and we loved making content together. Naturally, we were drawn to making videos about things that have happened to us or that we find relatable. We're very surprised at the response. A year ago we were working three jobs trying to figure life out, now we call YouTube our full time job. It's crazy how much we've grown since we started. We are seriously blessed to have received this much love and support!
The winner for the "Fan Fave Much Creator" category will be announced on the night of the awards show, June 18th.  People can vote for them on the Much Music website or by posting on social media using the tag #YouTwo4MMVA. Good luck, guys!