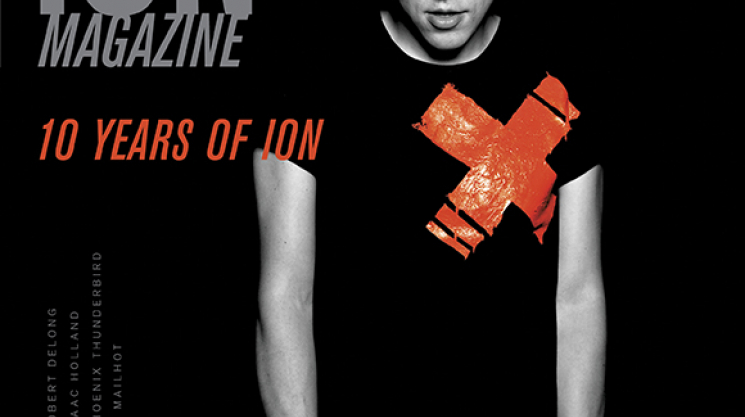 Thu, 04/11/2013 - 12:50 by vanessa
I have written, and re-written, this letter three times. The first one was an "Academy Award" style speech thanking all of the people that have contributed to the magazine over the past 10 years (thanks guys, couldn't have done it without you). The second was a sappy "Thank you for liking us" letter, to all of the readers that have picked up ION Magazine and taken the time to let us know that they appreciate what we are doing (thank you all for supporting the magazine). The third one was a very realistic, and kind of depressing letter talking about the hardships that come along with owning and running an independent publication. It was after writing the third version of this month's introduction letter that I finally settled on this, a heart-felt love letter to all the people that have thrown their hat into the ring and started a magazine in Canada.
Ten years ago—April 2003—there were four independent magazines that launched in Canada: Butter, Color, ION and Strut. We all came out with our magazines in hand, proud of our first issues and ready to face the publishing world with our rose tinted glasses firmly in place. As the months passed, and the reality of the business that we had chosen became more evident, we all started to feel the strain. A few years in, two of these publications closed their doors. It wasn't that these magazines weren't good, because they were both exceptionally good. As a matter of fact, I would say that one of those was one of the best magazines that Canada had produced. It was just that it is hard to keep a magazine going in the changing landscape of publishing.
There have been many magazines start up since the beginning of ION, and I have had the pleasure of meeting a handful of the people that set up these magazines. The conversation usually begins with, "Yeah, the magazine is going great! Never better", but about 10 minutes in, once our guard is down, we all have the same thing to say, "Wow, it is a lot harder than I thought it was going to be". It is a hard job, but at the end of it all, we are all creating a product that we are proud to share.
So, to all the people out there that have started a magazine, whether it is still in print or not, I just wanted to say, you are awesome! The late night productions, the sacrifices, the debt, sometimes it can all seem like a waste of time, but there are lots of people out there that are loving what you do, and I am one of those people. Without independent magazines, Canadian publishing would have no soul. You are contributing to the culture of this country, and you should be proud of that. Thank you for sharing a bit of yourself with us. We really do appreciate it, even if we don't get the chance to tell you in person.
Finally, thank you to all of the people that have contributed to ION, and any other independent publication, we really appreciate your hard work and devotion. And to the readers, thank you for picking up and supporting magazines like ION. Without you there would be no point in doing what we do. At the beginning of this letter I mentioned that there were four magazines that came out at the same time, which means that one of those magazines is also celebrating 10 years. Congratulations Sandro and Color Magazine on your 10 year anniversary too! I would love to take you guys for a drink but I am in publishing, so I am broke. Let's just meet at Crab Park, share a bottle of wine, and drink to another 10 years of doing what we love.
Cheers!
Vanessa Leigh-Publisher of ION Magazine