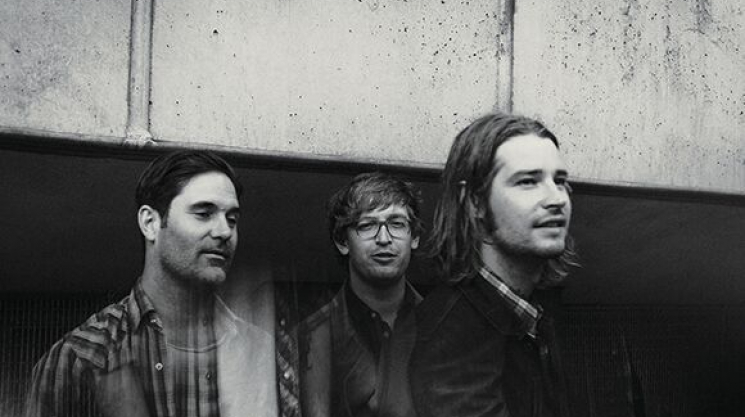 Wed, 03/02/2016 - 16:05 by vanessa
METZ has a new album, correctly titled "II," and much like their 2012 self-titled Sub Pop debut, it's an absolute ripper: a buzzing, cascading riot of sound driven by guitarist and vocalist Alex Edkins, drummer Hayden Menzies, and bassist Chris Slorach, that pushes and never pulls, but still manages to offer ecstatic and rewarding release. There's a sense of earnest familiarity about it that makes it stick, but not a single note feels secondhand. It's energizing and cathartic music for the busy-brained. This sentiment feeds the sense of mythos surrounding METZ's acerbic noise-rock, which percolated over years in sweaty garages and underground scenes in southern Ontario.
It started in Ottawa. Having spent their 20s grinding it out in the city's punk and hardcore scene, Edkins and Menzies honed in on the culture that prevailed there. "Yeah, there was just such a cool, positive, familial type scene in Ottawa at that time, and I think it just changed my life in a good way and got me really into this kind of lifestyle – just touring and playing music." Edkins laughs, "I'm hooked now so I blame it on Ottawa for sure." After the two moved to Toronto and hooked up with Slorach in 2007, this residual influence was evident on METZ's earliest 7" offerings on local label We Are Busy Bodies.
It's difficult to track a band's narrative in a scene-saturated city like Toronto. It's a place where a lot of people are trying to make it work in a lot of different ways. Reaching through the noise, pockets of activity fueled by tried-and-true DIY methods over the past decade yielded such local gems as Buzz Record's garage scene. "I think it's always in a state of flux, you know? I can't really make much sense of it, but I think it's always changing and it seems like it's growing in a really cool, positive way. It's always nice to come back. There's new bands doing cool things, and yeah, Toronto's got a lot of cool stuff going on right now," Edkins explains.
Ethos makes attitude in an environment like that, and despite the bigger venues and popular draw for METZ that later came with their success, the idea of never being able to come home again seems foreign to the trio. "I think of it all as one community; those are a lot of our friends [playing in local bands], you know? And I think people making music of all varieties are sort of intermingling with each other and collaborating and supporting each other. You know, it's always what we tried to do: get eclectic bills for our shows we put on, and make sure there's local bands that we're digging that are playing those shows with us, so people can experience new things. Yeah, I think it's really cool, man, and we definitely catch up with everyone when we're home." In this way, bands like Odonis Odonis, New Fries, Weaves, Mimico, Fakes Palms, and Dusted have stayed part of METZ's core ecosystem, keeping their flame alive.
The end of METZ's "local band" era came with a bang after courting around an LP's worth of new material. Asking a band about their label is usually a cheap question, but the fact is that METZ now stands on the shoulders of the legendary Sub Pop, a truly iconic label that's banked so much prestige in the past 29 years that its current style of grey-haired counter-culture still feels tuned-in and legit. Edkins emphatically tells us what we want to know: is Sub Pop still cool enough to let its bands roam, or has it become the antithesis of what it's supposed to represent?
"Oh man, it's the most hands-off label I've ever even heard of. I mean, they're very much of the thinking that they just stay out of our business – they put out our records, you know, and I think we're really lucky to have that. Obviously, they've got a great tradition of records that they've put out, and they continue to put out really cool stuff, so to be a part of that is definitely awesome. But what's great is that they're just really wonderful people and they're so supportive of what we're doing, and they have zero input on the music we make or how we want to do things."
Having the backing of people like that who can cut through the bullshit is an amazing feat for a band in the current cultural landscape, which has devolved into various forms of YouTube fame and kingmaker blogs. But in any era success brings mainstream attention. So after their explosive 2012 debut, METZ's rightfully earned accolade has led to big tours, a big fanbase, and even a couple Polaris Prize nominations.
So the question is really about how Edkins, Menzies, and Slorach maintain their vision when exposed to an entirely new ecosystem, populated by an audience that may not get the language they're speaking. "I think it [the Polaris Prize] means something to a different group of people, you know? Like that's something that my mom and dad can understand and get into. But as far as METZ and how we've grown, it's kind of been gradual and organic. We just started doing our own thing in Toronto and it grew, lucky enough, and it still seems to be going that way. We keep touring around the world and the shows get bigger and the response gets better, and it's overwhelming."
Edkins explains that the trick to surviving as a band is to keep ploughing ahead and to keep everything in context. "You know, sometimes we end up doing a big festival somewhere and, yeah, it feels like we're a little bit like a fish out of water. Like, 'What are we doing here? This was never our intention.' But you kind of got to roll with it and take it for what it is, which is really just a new experience or a new challenge to try to wrap your head around."
So with the pandemonium of international touring that has occurred over the past three years, the kicker is that the only cliché that METZ falls for is that they've managed to follow the arc of a Canada's Wonderland vomit-fest: a long and steady build-up followed by a real wild ride. Edkins laughs it off, "Yeah, it can be really cool and at the same time kind of uncomfortable. But, you know, that's okay."