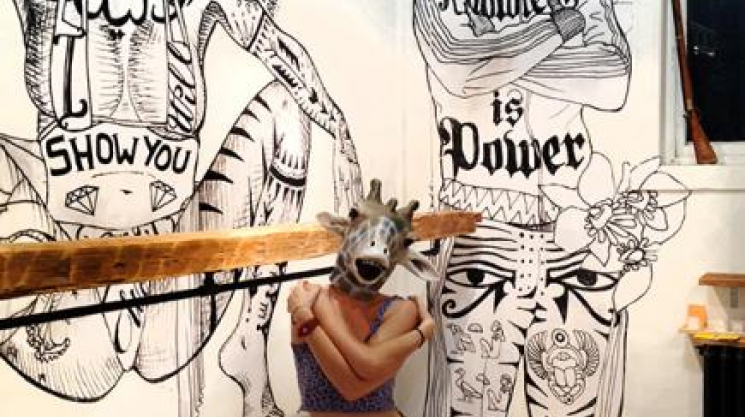 Thu, 03/14/2013 - 10:17 by vanessa
Montreal is a city of artists. If you've ever gone to a café, park, or museum in the middle of the day, in the middle of the week, then you know. When I first moved here well over a decade ago, I remember thinking to myself, "Doesn't anyone in this city go to work?" But gradually I came to realise that those people languidly sitting on terrasses sipping coffee over their open laptops, those strolling through parks on their phones, or those critically eyeing the bare walls of city buildings, are indeed working. MCs scribble lyrics into notepads on the 55 bus, musicians lug amps up the stairs of old loft buildings to their practice spaces, photographers loom backstage at venues in wait. That's just how we roll here. If you're paying attention, you might even see the shadow of MissMe, wheatpaste in hand, leaving her mark, rewriting history. What does she do? In her own words, "I do Artful Vandalism. I specialize in Street Offerings. It's a love thing, really."
Artists flock to this city. I'm not sure why. Maybe it's because it's one of the last cosmopolitan cities where people can afford to be artists. Maybe it's because artists identify with, and feed off this city's struggle for identity. Maybe it's the extreme weather (as I write this, it's a balmy -20 Celsius outside). Whatever the reason, this is the city that globetrotting street artist MissMe chose to call home. For the time being, anyway. "I am the daughter, grand daughter, great-grand daughter of immigrants after immigrants. From massacres to pogroms, my family doesn't really have a country to call our family home. I was born in Switzerland, grew up in France and now live in Canada…for now. […] Montreal is free. It's not called the Real City for nothing. It's true and accepting. That feeds an artist."
Call her what you will – a street artist, an artful vandal, an artistic historian, a political and social commentator, a public space-taker - MissMe chose her medium because of its primitiveness and simplicity. If you have something to say, you put it up on the wall. This is how humankind has done things since history began. History, by definition, is when things started to be recorded, and her street art is MissMe's old school way of recording her rendition. The walls of the city are a free forum for expression and transmission of ideas. Each illustration acts as a window into her subject, exposing her opinions on politics, social standards and sexual stigmas. "I was always an artist in one way or another. From drawing and painting at a young age, or dancing and singing. Always. It's the only way I know how to live and how to be me. Living another way is an impossibility. I never thought of it being a branded thing, like 'street art.' I just wanted to put ideas and drawing in my city. I wanted to be free of boxes and 'ways to do it.' No galleries, no canvasses, no 'brief,' Just freedom."
It's this freedom that allows her to rewrite little bits of history, denouncing the injustices of the popularized past and the idea that history is always written by the winners a la 1984. Walking down the street, bombarded by words and images that billion-dollar corporations have plastered there, you might be lucky enough to spy her Lady Lie-berty, who wears a native headdress in place of her crown, and holds a mini totem pole in place of her flame, or her Freedom Fighter, who dons a keffiyeh and a Coca-Cola shirt, with a pack of Marlboros in his pocket. If she gets you to think for a moment, her job is done.
She also uses her podium to chisel through sexual stigmas and celebrate femininity. One thing MissMe isn't, is shy when it comes to sex. Whether it be a theme in her illustrations or a topic of discussion, a frank conversation about it from a feminine perspective is refreshing. And it's about fucking time, to coin a phrase. So why not have a little Dessert for Breakfast (MissMe's blog)? Betty Boop, although a cartoon sex symbol, was never really seen as enjoying her sexuality. She was constantly sexually harassed and attacked by men, and was even forced to change her appearance from a sexy flapper to a conservative career girl, thanks to the Production Code of 1934. MissMe's Betty owns her sexuality. Same goes for her Daria, a sultry, cigarette-smoking babe, and a far cry from the frumpy, deadpan girl who blushed every time brooding cartoon hottie Trent talked to her. Through MissMe's work, we get to see a different side to some of our favorite pop culture gals: not just a sexy one, but a sex-loving one.
And MissMe's anti-Cosmo sex talk doesn't end with her illustrations. She's expanded it to include a blog and brand new radio show. "I am a Pop Culture girl. And I am a feminist. I have strong opinions about being a woman in our society. I don't have answers to the problems I face and see everyday, but my funky girls and I definitely have opinions. Dessert For Breakfast is more a discussion site. I was just tired of either having boring lesson-giving old-school angry feminist hairy-pussy-power ladies on one side, or the girly, stupidly romantic how-to-please-your-man-in-5-lessons/Love-yourself-but-lose-5kg-before-summer-or-you'll-die-alone other side. I felt my girls and I were not really represented anywhere."
Besides taking a Zinn-like approach to history and schooling people in sexual liberation, she also takes the time to honour her heroes, the Jazz Saints. A jazz-lover and singer who studied at the Conservatoire Populaire de Musique de Genève, MissMe pays tribute to her favourites – Billie, Sarah, Nina, George and Miles – while highlighting that their influence extends far beyond the music world. These people, fundamentally affected by civil rights in their time, became the champions of a generation of oppressed men and women. "Jazz talks to my soul…to my previous lives, maybe," she muses. Her attention to detail and symbolism in her Jazz Saints illustrations is a testament to her love of music and respect for these greats.
So while she calls Montreal her home for now, this soul-searcher and traveller will undoubtedly continue to explore the world, illuminating city walls and hopefully people's minds all along the way. "[Travelling] reminds you how small you are, why humility is truth, how fragile life is, and how important it is to be YOU. I am a traveller, in mind and body."
When I asked her if she's ever had a moment of self-doubt regarding the path she's chosen, she said: "Every day, for a minute or two, or more. Then I remember I don't do it for anybody to like or care. I do it for me, for what I believe in. And if people like it,