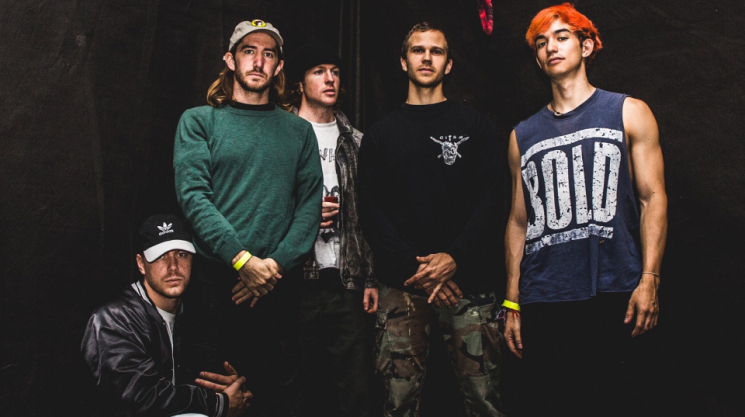 Just like the rest of us thumbing our way through our Insta feeds, Angel Du$t have a big-ass love for dogs. The music videos surrounding the U.S. quintet's just-released third album, Pretty Buff, confirm as much, with the clip for their energized "Big Ass Love" finding the group, miniaturized and living within a discarded speaker, getting slurped by a Frenchie who punctured the speaker cone with its curious tongue. The stop-motion animated scenes for album closer "Five" double down on the act's puppy love, showing a character going into a Godzilla-sized, building-toppling separation rage after his plasticine pet gets picked up by the local pound. Fans are also getting into the action by posting Instagram stories of their dogs giving Angel Du$t a tail-wagging seal of approval— ranging from a trio of tiny floofs circle-pitting to the sounds of Pretty Buff, to a more relaxed hound snacking on a strawberry during a separate listening session. Without a doubt, singer/guitarist Justice Tripp is all for the four-pawed connections the band are making with their fans right now.
"We're all dog super-fans, for sure. That's a big part of our personality," Tripp tells ION over the line from Burtonsville, Maryland, where the group are rehearsing for an acoustic set being held in Baltimore the next day. "We all follow our respective dogs. I have a bunch of bull terriers that I follow, and Tika the Iggy, an Italian greyhound; Jeff (Caffey, bass) and Daniel (Fang, drums) have a lot of little Shih Tzus they follow. I thought that was a weird thing, and that it was just us, but I'm seeing everybody is just as obsessed with dogs. That's a normal human thing. People love dogs!"
Angel Du$t—which also features guitarists Pat McCrory and Brendan Yates—are putting this same kind of good-spirited energy into their music. Backing up a bit, the group's underground pedigree includes membership in hardcore bands Turnstile, Odd Man Out, and Trapped Under Ice, and their earliest releases fittingly flirted with mean and gnarly, tar-thick barre chords as much as they did the occasional bubblegum hook. Pretty Buff, meanwhile, is Angel Du$t's boldest pivot towards jubilant pop. The aforementioned "Big Ass Love", for instance, dials into Feelies-style stun-gun acoustic strumming and the high-sheen pace-and-production of early '00s, Hurley shorts pop-punk; "Bang My Drum" is a wide-smiled, three-chord bop; "Take Away the Pain" soothes the soul with a steady tambourine and sky-soaring saxophone solo.
In addition to those expanded sonics, Tripp notes that producer Will Yip helped him "execute some melodies that are a little outside of my comfort zone." Pretty Buff marks the first time the frontman has shied away from half-shouts to fully sing his lines, a move that has him feeling excited, but exposed.
"Everyone in my band is a top musician, just incredible at what they do. I feel pretty comfortable playing guitar live, but it's vulnerable to sing words in a way where you can hear everything I'm saying.  It's very direct and honest— I've never put myself in this position."
In one of the album's most tender moments, Tripp sings a tribute to Spike, his pet Bull Terrier whom passed away during the making of Pretty Buff. The singer explains that Angel Du$t embarked on a quick leg of East Coast dates last year, shortly after holding a 14th birthday party for Spike at Tripp's home in Los Angeles. Tripp was forced to book an emergency flight back to California after learning his dog had been brought to the vet, and was experiencing critical liver and kidney failure. Tripp amazingly made the cross-country flight in time to say an emotional goodbye before Spike was put down. "Park", written shortly afterwards, is a bittersweet recollection of walks together with his dog. On it, Tripp offers: "time can be so cruel/but gave me memories with you, dude"
 "It's obviously very sad, but to have a dog that was a loyal companion well past his average lifespan...I feel like he was holding on for me to get there," Tripp reveals. "[Spike] needed me to tell him it was okay to die. Dogs are just crazy like that, they're super loyal. It's inspiring. I hope I can be that loyal to people."
He continues of "Park": "It's one of those songs about a dark subject, but I hope it's in a positive light, to [help] somebody feel good in that [same] situation. Maybe you don't even relate it to a dog, you relate it to a loved one, you know?"
Whether due to the sounds of their pop-positive Pretty Buff or their pup-centric socials feed, it's clear that plenty of folks are bonding with Angel Du$t right now, and it's a beautiful thing. The timing's right to celebrate this big-ass love together.
Tour Dates:
03/29 Los Angeles, CA - Lodge Room
03/30 Mesa, AZ - Club Red
03/31 Albuquerque, NM - Launchpad
04/02 Houston, TX - Warehouse Live Studio
04/03 Austin, TX - Barracuda
04/04 Fort Worth, TX - Ridglea Room
Photo: Derek Rathbun