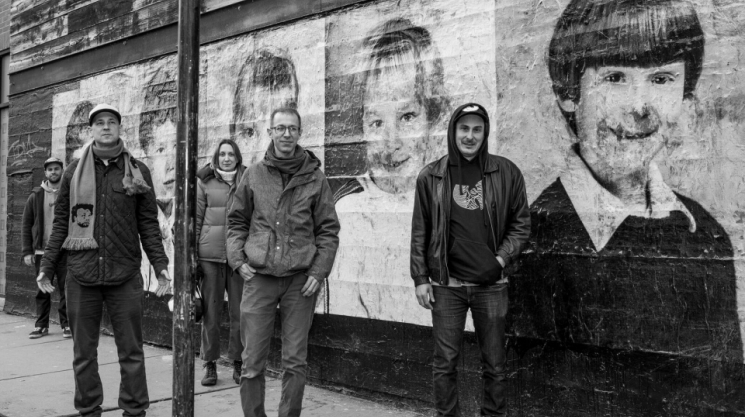 Mon, 06/04/2018 - 11:43 by karyn
At first pass, the ties between soon-to-be-retired metal masters Slayer and amorphous Chicago art rock collective Joan of Arc aren't exactly obvious. Despite the occasional foray into groove, the former held true to warped-and-wired dive bomb guitar solos and full-fury thrash beats for nearly four decades; since 1995, Joan of Arc bandleader Tim Kinsella and a revolving crew of collaborators have contorted themselves through an experimental catalogue that includes electronica-spiked indie rock, ambient guitar dueling, ochre-coloured bedroom folk, an instrumental score to 1928 silent film The Passion of Joan of Arc, and so much more. But, there it is, in the gatefold layout to 2017's He's Got The Whole This Land Is Your Land In His Hands: Slayer's menacing, inverted pentagram logo blazing full force on a hat worn by current vocalist/guitarist Melina. Considering she caught the Big Four's scariest band on their farewell tour just a couple of days before speaking with ION, and posted a pic of a slaytanic new snapback on her Instagram account, we might get an eyeful of the unlikely crossover in future layouts, too.
"I spent $160 at the merch table, pretty ridiculous—patches, two t-shirts, the hat obviously. I tried to get a bandana but they were out," Ausikaitis says on the line from the Windy City, where she's seeking out Serrano peppers ahead of a shift at the vegetarian restaurant she manages. Though she stocked up on concert mementos, she adds of saying goodbye to Slayer, "It was really sad. At the end they were walking off really slowly, and everybody was freaking out."
Joan of Arc, meanwhile, shows no signs of slowing down, the prolific outfit now set to issue their 23rd full-length, 1984, out now through Joyful Noise Recordings. Perhaps unsurprisingly, it pushes the act —at present comprising Ausikaitis, Kinsella, drummer Theo Katsaounis, bassist Bobby Burg, and multi-instrumentalist Jeremy Boyle—into uncharted sonic territory. While Kinsella has acted as frontman and de facto leader over the years, this latest song cycle has Ausikaitis taking the lead, delivering near-countrified synopses of her time growing up along the Massachusetts/Vermont state line. While now given the full Joan of Arc treatment, the songs of 1984 initially took shape as a series of a capella performances adjacent to a grad school project where Ausikaitis was "basically taking lessons in things that made me uncomfortable." "I took swimming lessons, exercise classes in karate. I took voice lessons with a friend of mine, this woman Azita [Yousefi], who is a pretty amazing musician," Ausikaitis explains of her teacher, who has also appeared on Joan of Arc recordings. The student notes of her own learning curve, "Turns out I was pretty good at singing."
Its lyrics evolving out of old journal entries, the raw and personal 1984 finds Ausikaitis' twang detailing memories of fatal sleigh ride accidents, teenage sex at her grandmother's house, and the minutiae of morning meals. Above a blend of washed-out synth, egg shaker rhythms, and porcelain-fragile piano lines, Ausikaitis delivers a reflective, "All my life I've been eating shit/Look at me, I'm a real punk kid." The line comes second-hand, based on the experiences of a childhood acquaintance. The accompanying music video presents a group of friends and family members internalizing the underdog lyric in their own unique way.
"The words are supposed to be this kid that I remember from when I was growing up who, you know, had a really tough time, [and] was pretty much a complete outsider. Even in our little town. Just seeing my dad saying those lines, who hasn't had the easiest life either, it was really weird."
The end result of 1984 was itself a surprise for the band. The album had been set to present the a capella performances, which eventually worked their way into formal Joan of Arc performances, with a clutch of unrelated instrumental cuts. Producer Nate Kinsella, however, "didn't do what we asked," and opted to lay it all together into one cohesive piece. Reflecting on how her vocals mesh with the pastoral slow-core of "Psi-fy/Fantasy", or the minimalist piano and electronic musings of "Truck", Ausikaitis explains, "I'd been hearing the songs the same way out of my own mouth for so long, and there are tones that he put with my voice that completely changed the key that I'm singing in."
Joan of Arc are now gearing up to tour behind 1984, a reconfigured combo re-contextualizing their new album for a live audience. While fitting in with the anything-goes approach of Joan of Arc, bringing the pieces to a wider audience also doubles down on Ausikaitis' grad school goals of becoming more comfortable with her past. "When you sit down and read [the journal entries] at first, you can hardly handle it, because, Jesus, if you think about the kind of things you were worried about when you were that age. I guess at some point, I realized that I was more of an interesting person than I had thought."